RECENT NEWS All News (most recent at top)
Gingerbread Dodecahedron (Monday, Dec 11th - Alyssa )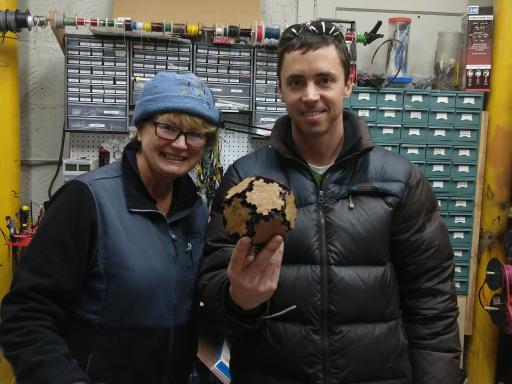 (Paul & Lynelle with their finished product)

Check out Paul & Lynelle's dodecahedron, cut precisely using our laser engraver. Note: Probably not as delicious as gingerbread normally is.

Two Loons Partnership (Sunday, Oct 15th - Miranda )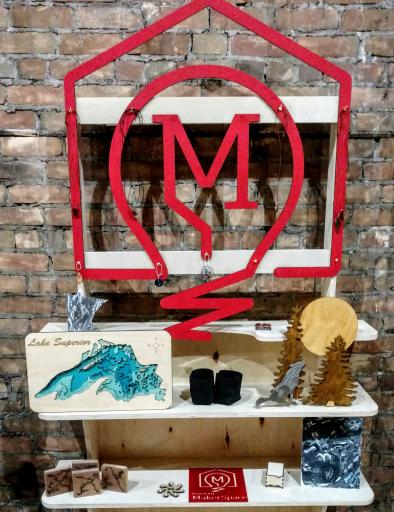 (Our display with a few pieces )

We have always wanted a way for members to be able to sell what they make to our local community. Two Loons Gallery and Boutique has now made that easier! We have partnered with them to have a display that shows off, and offers up for sale, items made by members of the MakerSpace, and they're even located in our same neighborhood, Lincoln Park! Go check them out.

Beautiful Cutting Board (Tuesday, May 16th - Joe )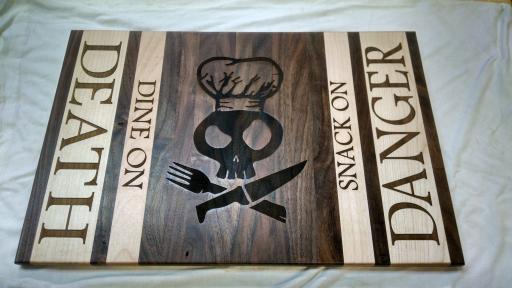 (Greg's board has a bit of attitude.)

Combination of using our woodshop for making cutting boards, and then big laser to engrave them is pretty sweet. Greg did a spectacular job with one recently.

UPCOMING CLASSES & EVENTS See All

Today
Thursday
Dec 14th

Tomorrow
Friday
Dec 15th

This
Saturday
Dec 16th

This
Sunday
Dec 17th

Class: Pottery 101 (12:00pm-2:00pm)[$35]
Learn to make a bowl or cup on the potter's wheel. Start to finish. Learn to center, pull, shape and trim pottery. Hand building is also offered if student prefers. Select glaze for instructor to fire in the kiln. Pottery is microwave, dishwasher and oven safe. Your piece will be ready to pick up in about 3 weeks after your class.

---

Class: Pottery 101 (2:00pm-4:00pm)[$35]
Learn to make a bowl or cup on the potter's wheel. Start to finish. Learn to center, pull, shape and trim pottery. Hand building is also offered if student prefers. Select glaze for instructor to fire in the kiln. Pottery is microwave, dishwasher and oven safe. Your piece will be ready to pick up in about 3 weeks after your class.

This
Monday
Dec 18th

Class: Welding 101 (4:00pm-6:00pm)[$90]
Learn the basics of welding. With a focus on terminology, applications and safety. At the end of class, you will have the opportunity to schedule one-on-one time with Matt for the second portion of the class where you learn and practice welding. Price includes two hour class along with three hour one-on-one time to be scheduled.

---

Class: Intro to Stained Glass (6:00pm-8:00pm)[$35]
Learn the steps to assembling your very own stained glass piece. Class will include all materials and instruction for wrapping and soldering up to 7 pieces of glass in tangram shapes, students can layout in their own design.

This
Tuesday
Dec 19th

This
Wednesday
Dec 20th

Event: Demo Night! (6:00pm-7:00pm)
Free event open to anyone. Stop by the shop to see to this week's demonstration! Our members demonstrate products, machines, and techniques. Usually hands on opportunities and always fun.

Next
Thursday
Dec 21st

Next
Friday
Dec 22nd

Next
Saturday
Dec 23rd

Next
Sunday
Dec 24th

Class: Pottery 101 (12:00pm-2:00pm)[$35]
Learn to make a bowl or cup on the potter's wheel. Start to finish. Learn to center, pull, shape and trim pottery. Hand building is also offered if student prefers. Select glaze for instructor to fire in the kiln. Pottery is microwave, dishwasher and oven safe. Your piece will be ready to pick up in about 3 weeks after your class.

---

Class: Pottery 101 (2:00pm-4:00pm)[$35]
Learn to make a bowl or cup on the potter's wheel. Start to finish. Learn to center, pull, shape and trim pottery. Hand building is also offered if student prefers. Select glaze for instructor to fire in the kiln. Pottery is microwave, dishwasher and oven safe. Your piece will be ready to pick up in about 3 weeks after your class.

Next
Monday
Dec 25th

Next
Tuesday
Dec 26th

Next
Wednesday
Dec 27th

Thursday
Dec 28th