RECENT NEWS [ ALL NEWS ] (most recent at top)
Great Holiday Gift Option

(Monday, Nov 28th - Joe )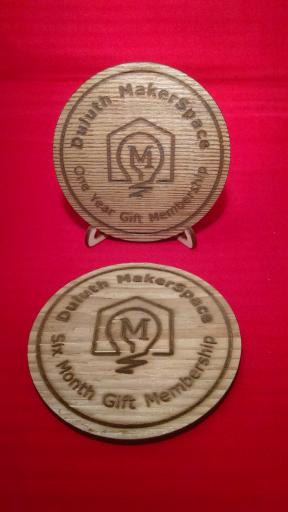 (Laser cut cedar gift certificates.)

What better gift than the gift of access to every imaginable tool and machine this holiday! Duluth MakerSpace is offering 6mo gift memberships for $270 including a free month for purchaser. Also full year membership for $450 includes 2 free months for purchaser. Stop by shop during staffed hours to receive a laser cut cedar gift certificate.

Huge CNC Project

(Thursday, Nov 24th - Joe )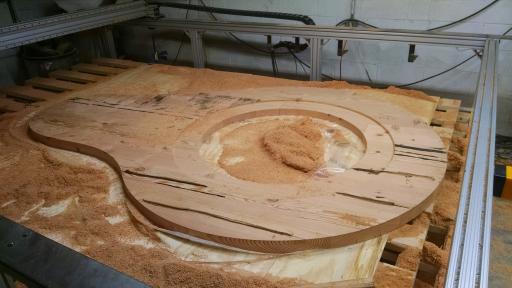 (Devin's Massive Smooth Avocado Shaped Creation)

The Big CNC finally did a project using most of it's large usable area. A smooth round 9'x6' timber glued table top. Turned out really nice. at 3" thick with lots of massive pocketing etc. it was several hours of machine time, but the results were very nice.



Comments
Miranda Durbin: That looks awesome!

Laser Cutter Versatility

(Thursday, Nov 24th - Joe )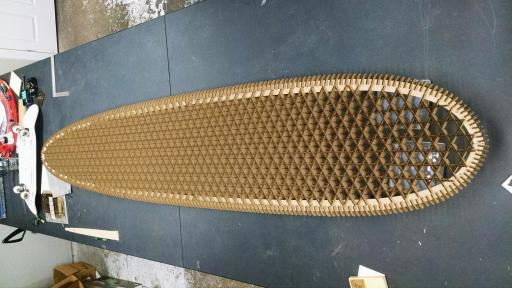 (Member Paul cut out hundreds of cardboard pieces for this slot-assembled surfboard form!)

Our big 100w laser is a joy to use and has thousands of applications. #1283: Producing a surfboard form for fiber glassing up! Bet we never thought of that :)

UPCOMING CLASSES & EVENTS

Saturday, Dec 10th

Sunday, Dec 11th

Class: Butcher Block Cutting Board(12:00pm-4:00pm)[$49]
Learn wood working techniques to create your own custom engraved butcher block cutting board. Learn to use the table saw, planer, router and laser engraver.

---

Class: Lapidary 101: Stone Cutting and Polishing(2:00pm-4:00pm)[$20]
Learn the principles for stone cutting and polishing in order to create something such as a pendant. Get hands-on experience with the 10" saw, the trimming saw, and grinding wheels. The class will cover basic tool use and how to operate them safely.

---

Event: DMS Membership Meeting(6:00pm-7:00pm)
Come discuss/vote on latest policies and plannings.
TBD

Monday, Dec 12th

Tuesday, Dec 13th

Class: Woodshop 101(6:00pm-7:00pm)[$12]
Learn the safety guidelines and the basics of the machines in the woodshop. Get an opportunity to run a number of the machines.

Wednesday, Dec 14th

Event: Demo Night! Small Forge/hot work!(6:00pm-8:00pm)
Free event open to anyone. Stop by the shop to see to this week's demonstration! Our members demonstrate products, machines, and techniques. Usually hands on opportunities and always fun.

Thursday, Dec 15th

Friday, Dec 16th

Saturday, Dec 17th

Sunday, Dec 18th

Class: Glass Bead Making(3:00pm-5:30pm)[$44.00]
Learn to create beads using a Hot Head torch and colored rods of glass. Class will cover basic application and shaping of molten glass on a steel mandrel.

Monday, Dec 19th

Tuesday, Dec 20th

Wednesday, Dec 21st

Event: Demo Night! Lego technics, come play!(6:00pm-8:00pm)
Free event open to anyone. Stop by the shop to see to this week's demonstration! Our members demonstrate products, machines, and techniques. Usually hands on opportunities and always fun.

Thursday, Dec 22nd

Class: Wire Wrapping: Bales(6:00pm-7:00pm)[$15]
Learn two different, simple bales. One includes a spiral. A technique that can be used in other projects. Bring your own button to put a bale on if you have one you like.

Friday, Dec 23rd

Saturday, Dec 24th