RECENT NEWS [ ALL NEWS ] (most recent at top)
Grand Opening Success!

(Sunday, Sep 18th - Joe )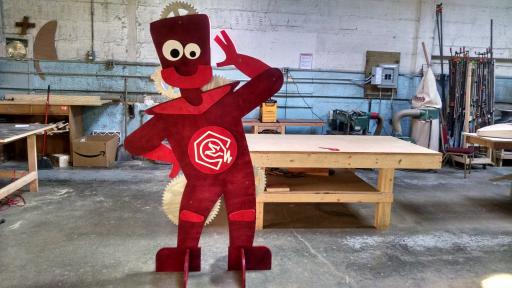 (The new MakerSpace robot some of our members made. )

Saturday's grand opening event was a complete success! We got the space cleaned up to a point we could be proud of and attendance was exactly where we hoped, close to 150 people came through. Stop by today as we continue the event noon to 3pm showing off our beloved space!

Woodshop Improvements

(Thursday, Sep 15th - Miranda )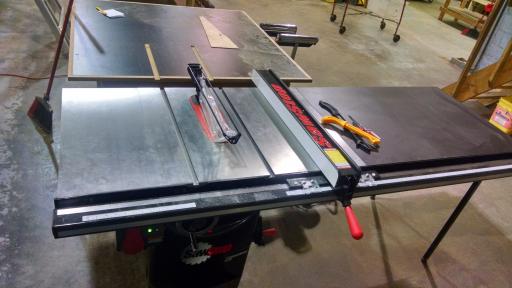 We've finally purchased a new table saw and it's a Saw Stop! This table saw will stop within 1/8" if skin touches it. This is a great new, safe addition to the woodshop.
We've also purchased a Bosch Sliding Miter Saw. Those larger cuts will now be possible. Come in and check them out!

Save The Dates!

(Wednesday, Aug 3rd - Joe )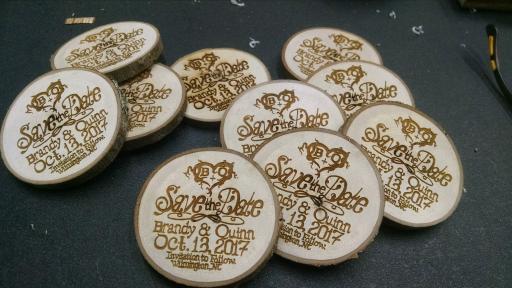 (Make your own save the dates! These were 3in maple slices)

The lasers are great for making little save the dates! Very easy project.

UPCOMING CLASSES & EVENTS

Friday, Sep 30th

Class: Watercolor Introduction(6:00pm-8:00pm)[$25]
Explore basic watercolor techniques and play with india ink to gain an understanding of the watercolor fundamentals. Then apply them to your own guided postcard masterpiece, complete with a glass of wine! Supplies provided.

Saturday, Oct 1st

Sunday, Oct 2nd

Class: Metalshop 101(12:00pm-1:30pm)[$17]
Learn the safety guidelines and the basics of the machines in the metalshop.

---

Class: Lapidary 101: Stone Cutting and Polishing(12:00pm-2:00pm)[$20]
Learn the principles for stone cutting and polishing in order to create something such as a pendant. Get hands-on experience with the 10" saw, the trimming saw, and grinding wheels. The class will cover basic tool use and how to operate them safely.

---

Class: Lapidary 101: Stone Cutting and Polishing(3:00pm-5:00pm)[$20]
Learn the principles for stone cutting and polishing in order to create something such as a pendant. Get hands-on experience with the 10" saw, the trimming saw, and grinding wheels. The class will cover basic tool use and how to operate them safely.

---

Event: Volunteer Forced Labor Camp(4:00pm-6:00pm)[$0]
Prior to DMS Membership Meeting, a group labor session to get bigger projects done. No skills required! All help appreciated.

---

Event: DMS Membership Meeting(6:00pm-7:00pm)
Come discuss/vote on latest policies and plannings.
TBD

Monday, Oct 3rd

Tuesday, Oct 4th

Wednesday, Oct 5th

Event: Open Make Night(6:00pm-8:00pm)
Stop in and see what our members are working on. Find inspiration for your own projects! Open to non members to hangout and see what members are up to.

Thursday, Oct 6th

Class: Soap Making 101(6:00pm-8:00pm)[$25]
Learn the basics of lye soap craft from start to finish. We'll cover safety, tips, resources, and the fundamentals of the age-old craft.

Friday, Oct 7th

Class: Weaving(6:00pm-8:00pm)[$27]
Using strips of birch bark, learn to weave a traditional Scandinavian style star ornament.

Saturday, Oct 8th

Sunday, Oct 9th

Monday, Oct 10th

Tuesday, Oct 11th

Class: Woodshop 101(6:00pm-7:00pm)[$12]
Learn the safety guidelines and the basics of the machines in the woodshop. Get an opportunity to run a number of the machines.

---

Class: Wire Wrap Jewelry(6:00pm-7:30pm)[$15]
Come try building your own wire-wrapped jewelry. All of the tools and materials will be provided along with some guidance on making a tree of life which can be used as an earring, pendant or window hanging! No experience necessary.

Wednesday, Oct 12th

Event: Open Make Night(6:00pm-8:00pm)
Stop in and see what our members are working on. Find inspiration for your own projects! Open to non members to hangout and see what members are up to.

Thursday, Oct 13th

Class: Introduction to Big CNC(6:00pm-8:00pm)[$23]
You will learn how to design a simple vector part using Inkscape and MakerCam to take to the big CNC and have it cut out the design.

Friday, Oct 14th