RECENT NEWS All News (most recent at top)
New Fancy Router Table (Friday, Jan 13th - Joe )
(Picture of table nearly finished.)

Very nice router table has been added to the DMS Woodshop! 3.5hp Porter Cable, plus a high-end Jessem Lift, and a huge array of 1/2" shank bits make this a great new asset for the space.

Wood CNC Rotary Axis Built (Thursday, Jan 12th - Joe )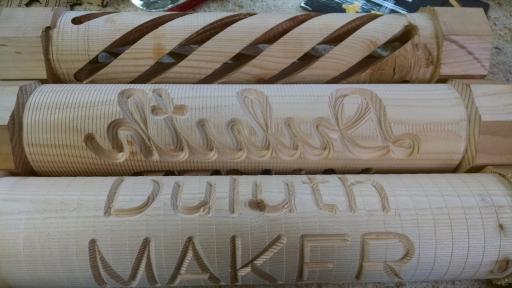 (three examples milled out of simple 4x4 construction lumber.)

We put a Rotary Axis together for the Big CNC. It spins the wood rather than moving along the Y axis. Text and helical designs and more are simple and elegantly accomplished! Max workpiece is ~7' x 7" diameter. Talk to Joe to get trained in on the attachment.

End Of Year DMS Potluck! (Wednesday, Jan 11th - Joe )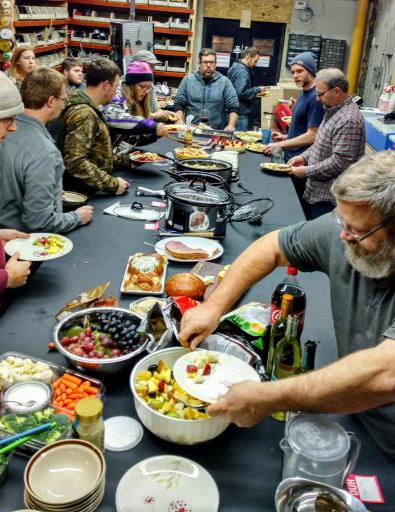 (What a great group of folks!)

Very End of December We had a lot of fun and good turn out for an end of year DMS potluck. As with any good potluck everyone got a fun taste of too much food and some time to hang out with great people. It may need to become ritual. Thanks everyone!

UPCOMING CLASSES & EVENTS See All

Today
Thursday
Jan 19th

Class: Glass Etching (6:00pm-7:30pm)[$18]
Learn how to use the CriCut to precisely cut a custom vinyl resist to use as an etchant guide to add a logo, text or other simple image to the glass piece. Bring in your own glass piece (a cup, bottle, mirror, picture frame glass, etc) or use our sample glass.

Tomorrow
Friday
Jan 20th

This
Saturday
Jan 21st

This
Sunday
Jan 22nd

Class: Arduino 101 (2:00pm-3:30pm)[$18]
Arduino! Automate, interact, log, build all sorts of amazing possibilities with an Arduino Micro-controller. This class is an introduction to the very basic programming of an Arduino and how to control very basic components. Completely geared towards beginners. No programming or electronics expertise recommended!

---

Class: Lapidary 101: Stone Cutting and Polishing (2:00pm-4:00pm)[$20]
Learn the principles for stone cutting and polishing in order to create something such as a pendant. Get hands-on experience with the 10" saw, the trimming saw, and grinding wheels. The class will cover basic tool use and how to operate them safely.

---

Event: DMS Membership Meeting (6:00pm-7:00pm)
Come discuss/vote on latest policies and plannings.
Recent Changes
February Fun Competitive Member Drive

This
Monday
Jan 23rd

This
Tuesday
Jan 24th

This
Wednesday
Jan 25th

Event: Demo Night! Science Night (6:00pm-8:00pm)
Free event open to anyone. Stop by the shop to see to this week's demonstration! Our members demonstrate products, machines, and techniques. Usually hands on opportunities and always fun.

Next
Thursday
Jan 26th

Next
Friday
Jan 27th

Next
Saturday
Jan 28th

Next
Sunday
Jan 29th

Next
Monday
Jan 30th

Next
Tuesday
Jan 31st

Class: Welding 101 (6:00pm-8:00pm)[$90]
Learn the basics of welding. With a focus on terminology, applications and safety. At the end of class, you will have the opportunity to schedule one-on-one time with Matt for the second portion of the class where you learn and practice welding. Price includes two hour class along with three hour one-on-one time to be scheduled.

Next
Wednesday
Feb 1st

Event: Demo Night! TBD (6:00pm-7:00pm)
Free event open to anyone. Stop by the shop to see to this week's demonstration! Our members demonstrate products, machines, and techniques. Usually hands on opportunities and always fun.

Thursday
Feb 2nd