RECENT NEWS All News (most recent at top)
Craft Room Upgrades (Thursday, Feb 8th - Joe )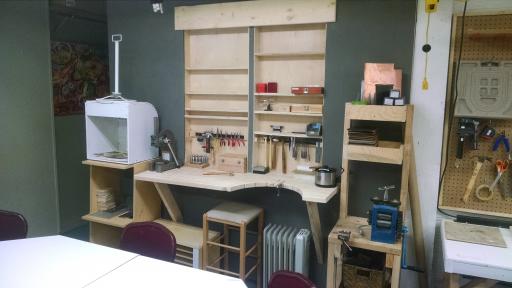 (Awesome Creative jewelry station setup!)

Shari has been doing some awesome work with the craft room! She has put dozens of hours into improving this space for everyone. Way to go Shari! She has improved shelving, painted a bunch, among other work. Most recently she built a custom jewelry bench with some awesome shelving built into the wall!

Gingerbread Dodecahedron (Monday, Dec 11th - Alyssa )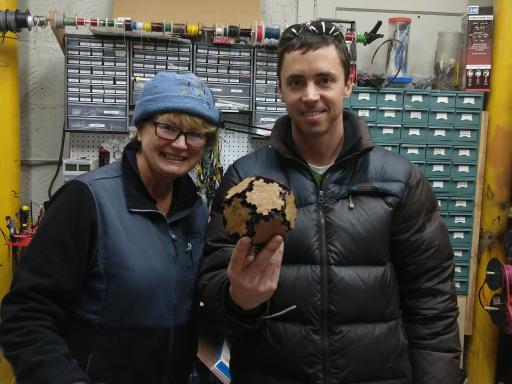 (Paul & Lynelle with their finished product)

Check out Paul & Lynelle's dodecahedron, cut precisely using our laser engraver. Note: Probably not as delicious as gingerbread normally is.

Two Loons Partnership (Sunday, Oct 15th - Miranda )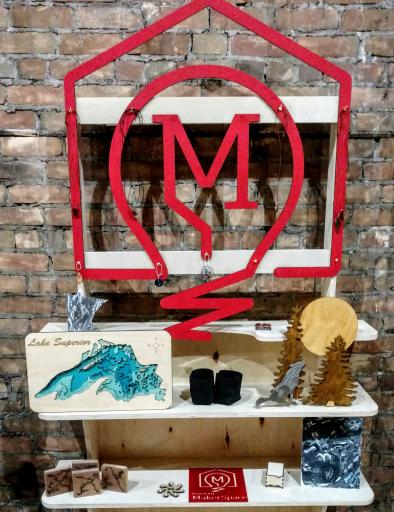 (Our display with a few pieces )

We have always wanted a way for members to be able to sell what they make to our local community. Two Loons Gallery and Boutique has now made that easier! We have partnered with them to have a display that shows off, and offers up for sale, items made by members of the MakerSpace, and they're even located in our same neighborhood, Lincoln Park! Go check them out.

UPCOMING CLASSES & EVENTS See All

Today
Thursday
Feb 22nd

Class: Welding 101 (6:00pm-8:00pm)[$90]
Learn the basics of welding. With a focus on terminology, applications and safety. At the end of class, you will have the opportunity to schedule one-on-one time with Matt for the second portion of the class where you learn and practice welding. Price includes two hour class along with three hour one-on-one time to be scheduled.

Tomorrow
Friday
Feb 23rd

Class: Lasered Plywood Box (6:00pm-8:00pm)[$25]
Build a small hinge box that is cut out on our 100W laser out of birch plywood. You can choose to personalize the top with an etching or cut out.

This
Saturday
Feb 24th

Class: Intro to Volunteering at the Duluth MakerSpace (1:00pm-2:30pm)[$0]
Volunteering at the MakerSpace can be fun and rewarding! Learn new skills, get acquainted with our facility, and meet some of our volunteer staff. Attend this FREE event to learn the many ways you can contribute to the Duluth MakerSpace! Class size is limited, sign up early. Food and drinks will be provided.

This
Sunday
Feb 25th

Class: Pottery 101 (12:00pm-2:00pm)[$35]
Learn to make a cup, bowl or spoon rest on the potter's wheel. Start to finish. Learn to center, pull, shape and trim pottery. Hand building is also offered if student prefers. Select glaze for instructor to fire in the kiln. Pottery is microwave, dishwasher and oven safe. Your piece will be ready to pick up in about 3 weeks after your class.

---

Class: Pottery 101 (2:00pm-4:00pm)[$35]
Learn to make a cup, bowl or spoon rest on the potter's wheel. Start to finish. Learn to center, pull, shape and trim pottery. Hand building is also offered if student prefers. Select glaze for instructor to fire in the kiln. Pottery is microwave, dishwasher and oven safe. Your piece will be ready to pick up in about 3 weeks after your class.

This
Monday
Feb 26th

This
Tuesday
Feb 27th

Class: Rock Engraving (6:00pm-8:00pm)[$20]
Engrave a rock with a small artwork or text! We will help you use our 40watt laser and mini-rock bed to engrave a small rock, mostly-flat, 3"x2" max size (2"x1" engrave area is optimal.) You can stop at a beach or bring a rock from home. (Weathered glass could also work!) We will have a few rocks to choose from as well at the shop.

This
Wednesday
Feb 28th

Event: Project Show-and-Tell (6:30pm-7:30pm)
Free event open to anyone. Stop by the shop to show off a project or see what other members have been working up.

Next
Thursday
Mar 1st

Class: Intro to Industrial Sewing (6:00pm-8:00pm)[$35]
Learn how to use the industrial sewing machines and serger to sew a canvas lunch bag! Should have basic sewing machine experience.

Next
Friday
Mar 2nd

Next
Saturday
Mar 3rd

Next
Sunday
Mar 4th

Class: Pottery 101 (12:00pm-2:00pm)[$35]
Learn to make a cup, bowl or spoon rest on the potter's wheel. Start to finish. Learn to center, pull, shape and trim pottery. Hand building is also offered if student prefers. Select glaze for instructor to fire in the kiln. Pottery is microwave, dishwasher and oven safe. Your piece will be ready to pick up in about 3 weeks after your class.

---

Class: Pottery 101 (2:00pm-4:00pm)[$35]
Learn to make a cup, bowl or spoon rest on the potter's wheel. Start to finish. Learn to center, pull, shape and trim pottery. Hand building is also offered if student prefers. Select glaze for instructor to fire in the kiln. Pottery is microwave, dishwasher and oven safe. Your piece will be ready to pick up in about 3 weeks after your class.

Next
Monday
Mar 5th

Next
Tuesday
Mar 6th

Next
Wednesday
Mar 7th

Thursday
Mar 8th