RECENT NEWS All News (most recent at top)
Member Drive A Success! (Sunday, Feb 26th - Joe )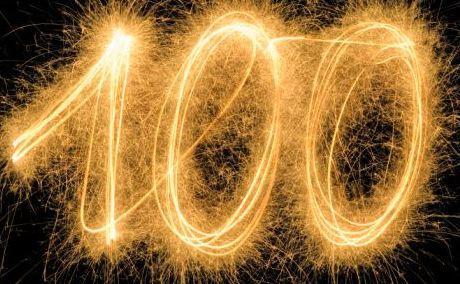 By the end of Saturday's Tour/Demo Night we had 104 active paid members! We reached our group goal! Way to go Everyone! Duluth MakerSpace is a complete success. Through Hard work and Volunteer Effort we all Built it, and now it's being enjoyed at a sustainable level. Boom! Spectacular Job. Thanks again to each and every awesome one of you!

Member Drive In Final Stretch! (Thursday, Feb 23rd - Joe )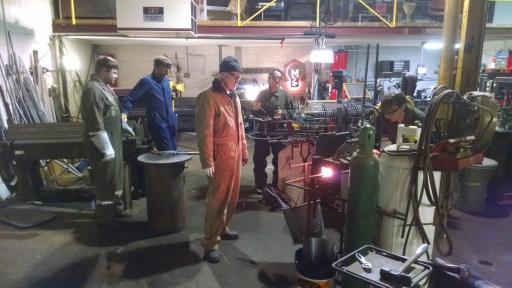 (Royal's Forge Bending Class produced some quality Trivets!)

Our goal for february was to hit 100 members by March 1st. We are getting very close! 94 members as of today. Only a few days left, but we might should be able to make it if we keep pushing! Great work volunteers! Come join this extraordinary group of cool people!

Fun Day Of Classes (Sunday, Feb 19th - Joe )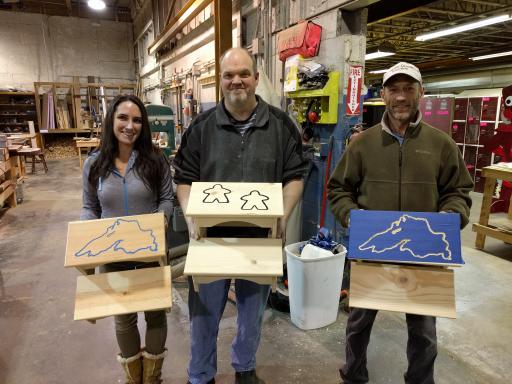 (Steven's step stool class turned out well!)

Rock engraving, lapidary and a step stool class all went well today, fun day down at the shop!


Comments
Miranda Durbin: Those turned out so great!

UPCOMING CLASSES & EVENTS See All

Today
Monday
Feb 27th

Class: DIY Mics and Pickups (6:00pm-8:00pm)[$20]
Have a project or instrument that could use a mic or pickup? This hands-on overview will cover the basics of inexpensive DIY microphone and pickup solutions, including electret condensers, piezo contact mics and hydrophones (record in the lake or bathtub!), electromagnetic pickups, and optical pickups.
Various kits are available for purchase from $12-$65.

---

Class: Introduction to Hand Tools (6:00pm-9:00pm)[$25]
In this class, I will go explain and demonstrate the tools and methods for working with hand tools. We will cover hand planes, hand saws, chisels, spokeshaves, marking tools, cabinet scrapers, and more. Students will try out all tools to get a feel for their use.

Tomorrow
Tuesday
Feb 28th

Class: 3D Printing Basics (6:00pm-7:30pm)[$15]
This class will introduce you to 3D printing with a short primer on how it works. Then you will be guided on finding a small model online and then printing it on one of the shop printers to take home.

---

Class: Wire Wrap Jewelry (6:00pm-7:30pm)[$18]
Come try building your own wire-wrapped jewelry. All of the tools and materials will be provided along with some guidance on making a tree of life which can be used as an earring, pendant or window hanging! No experience necessary.

This
Wednesday
Mar 1st

Event: Member Drive Party or Commiseration! (6:00pm-8:00pm)
Free event open to anyone. Free tours and last minute attempts for signups. If we can muster 100 or more members by 8pm today, we will be able to call the member drive, and DMS itself a success! Come join in the party or commiserate on how we missed it by just thaaat much.

This
Thursday
Mar 2nd

This
Friday
Mar 3rd

This
Saturday
Mar 4th

This
Sunday
Mar 5th

Class: Metalshop 101 (12:00pm-1:30pm)[$17]
Learn the safety guidelines and the basics of the machines in the metalshop. This includes the drill press, grinder, plasma cutter, cut off saws and more.

---

Class: Lapidary 101: Stone Cutting and Polishing (2:00pm-4:30pm)[$25]
Learn the principles for stone cutting and polishing in order to create something such as a pendant. Get hands-on experience with the 10" saw, the trimming saw, and grinding wheels. The class will cover basic tool use and how to operate them safely.

---

Event: DMS Membership Meeting (6:00pm-7:00pm)
Come discuss/vote on latest policies and plannings.
TBD

Next
Monday
Mar 6th

Next
Tuesday
Mar 7th

Next
Wednesday
Mar 8th

Event: Demo Night! TBD (6:00pm-8:00pm)
Free event open to anyone. Stop by the shop to see to this week's demonstration! Our members demonstrate products, machines, and techniques. Usually hands on opportunities and always fun.

Next
Thursday
Mar 9th

Class: Glass Etching (6:00pm-7:30pm)[$18]
Learn how to use the CriCut to precisely cut a custom vinyl resist to use as an etchant guide to add a logo, text or other simple image to the glass piece. Bring in your own glass piece (a cup, bottle, mirror, picture frame glass, etc) or use our sample glass.

Next
Friday
Mar 10th

Class: Introduction to Big CNC (6:00pm-8:00pm)[$23]
You will learn how to design a simple vector part using Inkscape and MakerCam to take to the 8' by 10' CNC (Computer Numerical Control) and have it cut out the design. This class is a step to learn to use any of the three CNCs we have at the space.

Next
Saturday
Mar 11th

Next
Sunday
Mar 12th

Class: Welding 101 (1:00pm-3:00pm)[$90]
Learn the basics of welding. With a focus on terminology, applications and safety. At the end of class, you will have the opportunity to schedule one-on-one time with Matt for the second portion of the class where you learn and practice welding. Price includes two hour class along with three hour one-on-one time to be scheduled.

Monday
Mar 13th