RECENT NEWS All News (most recent at top)
Accordion Fold Shelves (Friday, Apr 6th - Miranda )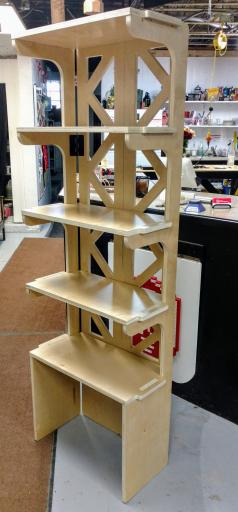 (Custom designed shelves )

Member Devan designed these accordion fold shelves and cut them out on the CNC. They turned out great!

Craft Room Upgrades (Thursday, Feb 8th - Joe )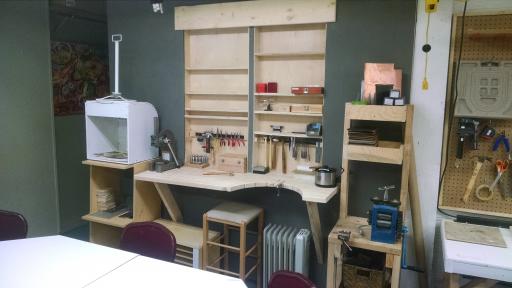 (Awesome Creative jewelry station setup!)

Shari has been doing some awesome work with the craft room! She has put dozens of hours into improving this space for everyone. Way to go Shari! She has improved shelving, painted a bunch, among other work. Most recently she built a custom jewelry bench with some awesome shelving built into the wall!

Gingerbread Dodecahedron (Monday, Dec 11th - Alyssa )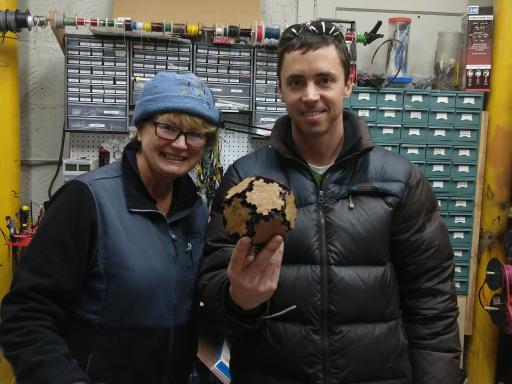 (Paul & Lynelle with their finished product)

Check out Paul & Lynelle's dodecahedron, cut precisely using our laser engraver. Note: Probably not as delicious as gingerbread normally is.

UPCOMING CLASSES & EVENTS See All

Today
Friday
May 25th

Tomorrow
Saturday
May 26th

This
Sunday
May 27th

Class: Pottery 101 (12:00pm-2:00pm)[$35]
Learn to make a cup, bowl or spoon rest on the potter's wheel. Start to finish. Learn to center, pull, shape and trim pottery. Hand building is also offered if student prefers. Select glaze for instructor to fire in the kiln. Pottery is microwave, dishwasher and oven safe. Your piece will be ready to pick up in about 3 weeks after your class.

---

Class: Pottery 101 (2:00pm-4:00pm)[$35]
Learn to make a cup, bowl or spoon rest on the potter's wheel. Start to finish. Learn to center, pull, shape and trim pottery. Hand building is also offered if student prefers. Select glaze for instructor to fire in the kiln. Pottery is microwave, dishwasher and oven safe. Your piece will be ready to pick up in about 3 weeks after your class.

This
Monday
May 28th

Class: Acrylic Painting Basics (6:00pm-8:00pm)[$30]
Learn to paint like the masters. Learn basic color theory and composition in a painting you can take away with you.

This
Tuesday
May 29th

This
Wednesday
May 30th

This
Thursday
May 31st

Class: 3D Printing Basics (6:00pm-8:00pm)[$15]
This class will introduce you to 3D printing with a short primer on how it works. Then you will be guided on finding a small model online and then printing it on one of the shop printers to take home.

Next
Friday
Jun 1st

Next
Saturday
Jun 2nd

Class: Metalshop 101 (2:00pm-3:30pm)[$17]
Learn the safety guidelines and the basics of the machines in the metalshop. This includes the drill press, grinder, plasma cutter, cut off saws and more.

Next
Sunday
Jun 3rd

Class: Pottery 101 (12:00pm-2:00pm)[$35]
Learn to make a cup, bowl or spoon rest on the potter's wheel. Start to finish. Learn to center, pull, shape and trim pottery. Hand building is also offered if student prefers. Select glaze for instructor to fire in the kiln. Pottery is microwave, dishwasher and oven safe. Your piece will be ready to pick up in about 3 weeks after your class.

---

Class: Lapidary 101: Stone Cutting and Polishing (2:00pm-5:00pm)[$30]
Learn the principles for stone cutting and polishing in order to create something such as a pendant. Get hands-on experience with the 10" saw, the trimming saw, and grinding wheels. The class will cover basic tool use and how to operate them safely.

---

Class: Pottery 101 (2:00pm-4:00pm)[$35]
Learn to make a cup, bowl or spoon rest on the potter's wheel. Start to finish. Learn to center, pull, shape and trim pottery. Hand building is also offered if student prefers. Select glaze for instructor to fire in the kiln. Pottery is microwave, dishwasher and oven safe. Your piece will be ready to pick up in about 3 weeks after your class.

Next
Monday
Jun 4th

Class: Acrylic Painting Basics (6:00pm-8:00pm)[$30]
Learn to paint like the masters. Learn basic color theory and composition in a painting you can take away with you.

Next
Tuesday
Jun 5th

Next
Wednesday
Jun 6th

Event: Project Show-and-Tell (6:30pm-7:30pm)
Free event open to anyone. Stop by the shop to show off a project or see what other members have been working up.

Next
Thursday
Jun 7th

Friday
Jun 8th