RECENT NEWS All News (most recent at top)
Two Loons Partnership (Sunday, Oct 15th - Miranda )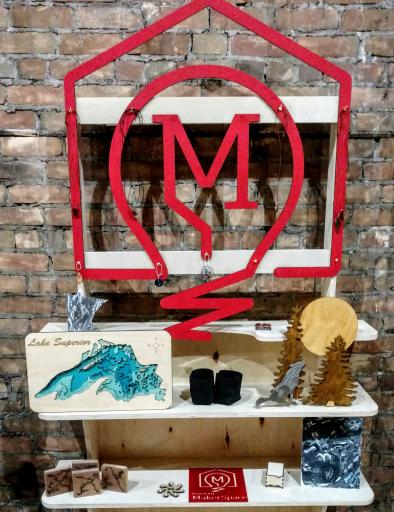 (Our display with a few pieces )

We have always wanted a way for members to be able to sell what they make to our local community. Two Loons Gallery and Boutique has now made that easier! We have partnered with them to have a display that shows off, and offers up for sale, items made by members of the MakerSpace, and they're even located in our same neighborhood, Lincoln Park! Go check them out.

Beautiful Cutting Board (Tuesday, May 16th - Joe )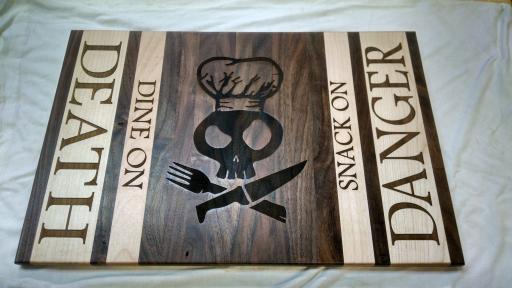 (Greg's board has a bit of attitude.)

Combination of using our woodshop for making cutting boards, and then big laser to engrave them is pretty sweet. Greg did a spectacular job with one recently.

3D Printed Bot (Monday, May 15th - Joe )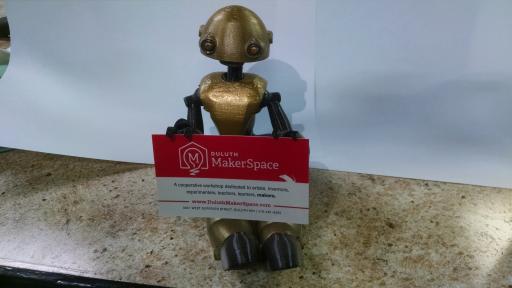 (Chelsey has spent some time sanding and painting to achieve a realistic old robot look)

Our 4 Makerbot 3D printers have been running well, we also have the fancier MendleMax3 finally producing as well. Easy to use tools to make most any part you can dream up.

UPCOMING CLASSES & EVENTS See All

Today
Tuesday
Nov 21st

Tomorrow
Wednesday
Nov 22nd

Event: Demo Night! (6:00pm-7:00pm)
Free event open to anyone. Stop by the shop to see to this week's demonstration! Our members demonstrate products, machines, and techniques. Usually hands on opportunities and always fun.

This
Thursday
Nov 23rd

This
Friday
Nov 24th

This
Saturday
Nov 25th

This
Sunday
Nov 26th

Class: Pottery 101 (12:00pm-2:00pm)[$35]
Learn to make a bowl or cup on the potter's wheel. Start to finish. Learn to center, pull, shape and trim pottery. Hand building is also offered if student prefers. Select glaze for instructor to fire in the kiln. Pottery is microwave, dishwasher and oven safe. Your piece will be ready to pick up in about 3 weeks after your class.

---

Class: Lapidary 101: Stone Cutting and Polishing (2:00pm-4:30pm)[$25]
Learn the principles for stone cutting and polishing in order to create something such as a pendant. Get hands-on experience with the 10" saw, the trimming saw, and grinding wheels. The class will cover basic tool use and how to operate them safely.

---

Class: Pottery 101 (2:00pm-4:00pm)[$35]
Learn to make a bowl or cup on the potter's wheel. Start to finish. Learn to center, pull, shape and trim pottery. Hand building is also offered if student prefers. Select glaze for instructor to fire in the kiln. Pottery is microwave, dishwasher and oven safe. Your piece will be ready to pick up in about 3 weeks after your class.

This
Monday
Nov 27th

Next
Tuesday
Nov 28th

Next
Wednesday
Nov 29th

Next
Thursday
Nov 30th

Next
Friday
Dec 1st

Next
Saturday
Dec 2nd

Next
Sunday
Dec 3rd

Class: Pottery 101 (12:00pm-2:00pm)[$35]
Learn to make a bowl or cup on the potter's wheel. Start to finish. Learn to center, pull, shape and trim pottery. Hand building is also offered if student prefers. Select glaze for instructor to fire in the kiln. Pottery is microwave, dishwasher and oven safe. Your piece will be ready to pick up in about 3 weeks after your class.

---

Class: Pottery 101 (2:00pm-4:00pm)[$35]
Learn to make a bowl or cup on the potter's wheel. Start to finish. Learn to center, pull, shape and trim pottery. Hand building is also offered if student prefers. Select glaze for instructor to fire in the kiln. Pottery is microwave, dishwasher and oven safe. Your piece will be ready to pick up in about 3 weeks after your class.

Next
Monday
Dec 4th

Tuesday
Dec 5th