RECENT NEWS [ ALL NEWS ] (most recent at top)
Large CNC Work

(Saturday, Oct 22nd - Joe )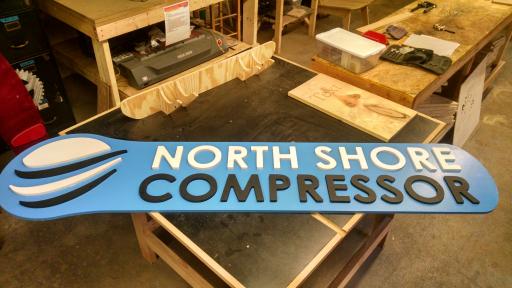 (Steve made a commercial sign, turned out very well.)

Our computer controlled wood routers are a lot of productive fun! Easy to learn and use, they are a real handy tool.

Lincoln Park Open House Event

(Tuesday, Oct 11th - Joe )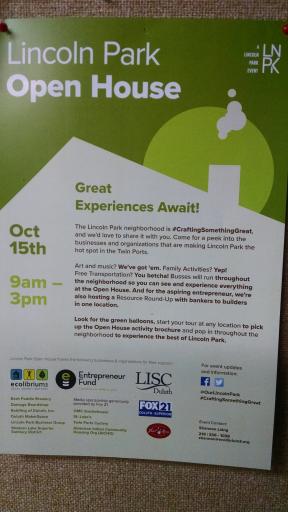 (Poster @ the shop)

Great experiences await in Lincoln Park! The people who live and work in the Lincoln Park neighborhood know about the great things we have to offer, and we'd like to invite you to a neighborhood Open House.
From Duluth MakerSpace to Frost River and Lincoln Park Middle School to WLSSD, you can test, taste, and experience amenities in the Lincoln Park neighborhood on October 15.
Best of all, you don't have to do the driving. Park near an identified location (look for the bright green balloons) and hop one of the free bannered event buses that will stop at all of the events throughout the day.

For More information on the event click HERE

Sixty Members!

(Monday, Oct 10th - Joe )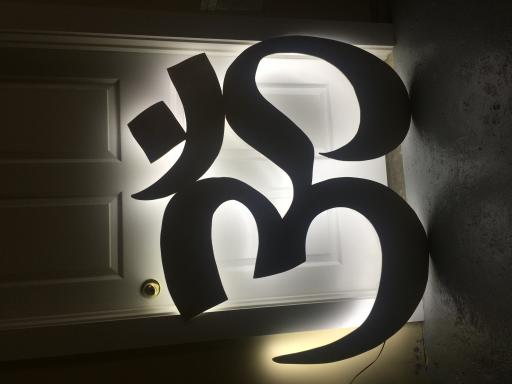 (Jessica's latest project was a large led backlit wood wall hanging. Turned out great.)

We've reached a new high paid membership level. We currently have 60+ paid members cooperatively working on projects at our great space. Great work everyone!

UPCOMING CLASSES & EVENTS

Saturday, Oct 22nd

Sunday, Oct 23rd

Class: Introduction to Big CNC(2:00pm-4:00pm)[$23]
You will learn how to design a simple vector part using Inkscape and MakerCam to take to the big CNC and have it cut out the design.

---

Event: Volunteer Forced Labor Camp(4:00pm-6:00pm)[$0]
Prior to DMS Membership Meeting, a group labor session to get bigger projects done. No skills required! All help appreciated.

---

Event: DMS Membership Meeting(6:00pm-7:00pm)
Come discuss/vote on latest policies and plannings.
TBD

Monday, Oct 24th

Event: Nerd Nite @ Teatro Zuccone(7:30pm-9:30pm)
All Shakespeare Edition Teatro Zuccone Doors open at 7:00, show starts at 7:30 $5.00 gets you in the door!
"Sleep No More: Shakespeare in Neil Gaiman's Sandman" by Shawn Herhusky.
"Rough Magicians: Shakespeare and His Fellow Actors" by Jason Scorich, writer and director of "Rough Magic," a play about the First Folio which premiered earlier this year.
"Shakespeare for Dummies or Iambic Penta-whaaaa?" by Chani Ninneman, Artistic Director of Wise Fool Shakespeare and director of Wise Fool's current production of Othello.

Tuesday, Oct 25th

Class: Arduino 101(6:00pm-7:30pm)[$18]
Arduino! Automate, interact, log, build all sorts of amazing possibilities with an Arduino Micro-controller. This class is an introduction to the very basic programming of an Arduino and how to control very basic components. Completely geared towards beginners. No programming or electronics expertise recommended!

Wednesday, Oct 26th

Event: Open Make Night(6:00pm-8:00pm)
Stop in and see what our members are working on. Find inspiration for your own projects! Open to non members to hangout and see what members are up to.

Thursday, Oct 27th

Class: Glass Etching(6:00pm-7:30pm)[$18]
Learn how to use the CriCut to precisely cut a custom vinyl resist to use as an etchant guide to add a logo, text or other simple image to the glass piece. Bring in your own glass piece (a cup, bottle, mirror, picture frame glass, etc) or use our sample glass.

Friday, Oct 28th

Saturday, Oct 29th

Sunday, Oct 30th

Class: Metalshop 101(12:00pm-1:30pm)[$17]
Learn the safety guidelines and the basics of the machines in the metalshop.

---

Class: Lapidary 101: Stone Cutting and Polishing(12:00pm-2:00pm)[$20]
Learn the principles for stone cutting and polishing in order to create something such as a pendant. Get hands-on experience with the 10" saw, the trimming saw, and grinding wheels. The class will cover basic tool use and how to operate them safely.

---

Class: Lapidary 101: Stone Cutting and Polishing(3:00pm-5:00pm)[$20]
Learn the principles for stone cutting and polishing in order to create something such as a pendant. Get hands-on experience with the 10" saw, the trimming saw, and grinding wheels. The class will cover basic tool use and how to operate them safely.

Monday, Oct 31st

Tuesday, Nov 1st

Wednesday, Nov 2nd

Event: Open Make Night(6:00pm-8:00pm)
Stop in and see what our members are working on. Find inspiration for your own projects! Open to non members to hangout and see what members are up to.

Thursday, Nov 3rd

Class: Wire Wrap Jewelry(6:00pm-7:30pm)[$18]
Come try building your own wire-wrapped jewelry. All of the tools and materials will be provided along with some guidance on making a tree of life which can be used as an earring, pendant or window hanging! No experience necessary.

Friday, Nov 4th

Saturday, Nov 5th