RECENT NEWS All News (most recent at top)
Shooting Pins (Wednesday, Oct 21st - HG )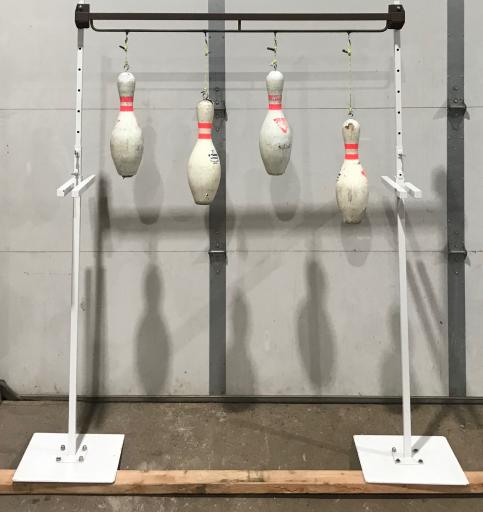 (Gobblin for a Turkey)

Some work by our resident yard artist, Mike O. "When you are a bowling pin artist and art fairs are dangerous to go to due to Covid, and your friend likes shooting sports, you take the pins that won't make good sculptures and make a swinging target."
Stay creative folks!

Monday Night Pottery (Wednesday, Oct 14th - HG )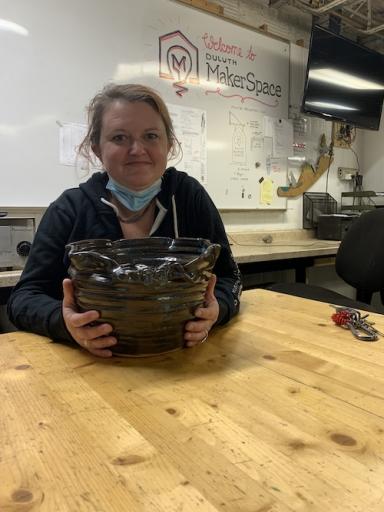 (Hot out of the kiln.)

It's Monday night and look what just came hot, out of the kiln! This sweet piece is by none other than our OG pottery guru, Angela.

If At First You Don't Succeed... (Wednesday, Oct 14th - HG )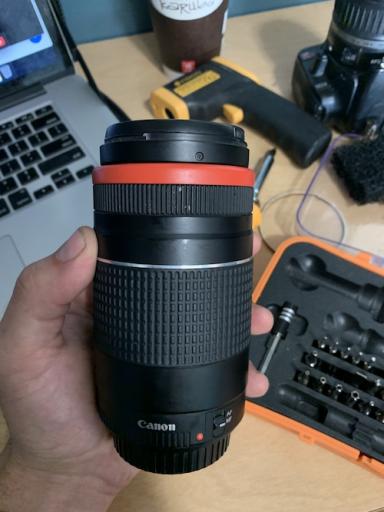 (Try, try, again!)

Sometimes you don't get it on the third try...But if you keep working, you'll get it!
Check out this cool project! After 5 prototypes, a little sanding, and paint DMS tech manager, Jesse and I, were able to put together a really nice fix to repair this canon zoom lens! These project are always fun as they require a lot of creativity and process to finish.

What project do you have to finish?

UPCOMING CLASSES & EVENTS See All

Today
Saturday
Oct 31st

Tomorrow
Sunday
Nov 1st

This
Monday
Nov 2nd

Meeting: Closed Board (7:00pm-9:00pm)
Monthly 501c3 Nonprofit Board Meeting to review function of the nonprofit. Board Member access only.

This
Tuesday
Nov 3rd

This
Wednesday
Nov 4th

Class: DMS Membership Orientation (6:00pm-8:00pm)[$0]
*This class is only for New Members to orient to Duluth MakerSpace. Attendees will be expected to have a current membership or pay for a months membership at the time of orientation.* A general orientation to everything Duluth Makerspace. In this mandatory class for RFID access, we go over important tool usage, as well as workshop expectations and function. Scheduled every two weeks. If you just can't make this orientation, please email duluthmakerspace@gmail.com to set up a time that will work. Please bring personal mask, eye, ear protection and form of ID to this orientation

This
Thursday
Nov 5th

This
Friday
Nov 6th

Next
Saturday
Nov 7th

Next
Sunday
Nov 8th

Next
Monday
Nov 9th

Meeting: Member (7:00pm-8:30pm)
Monthly Makerspace Member meeting to review current events, functions, and updates for the Duluth Makerspace Community. Scheduled the second Monday of every month. Please join us at the posted virtual link to join the meeting.

Next
Tuesday
Nov 10th

Event: DMS Clean Up! (5:30pm-7:30pm)[$0]
An opportunity to put order to the chaos that comes everyone using the space! Come on down with a mask and a pair of gloves to help with specific projects or just to tidy up the space! This time we will attempt to organize the sewing room and make the classroom usable again!

Next
Wednesday
Nov 11th

Next
Thursday
Nov 12th

Next
Friday
Nov 13th

Saturday
Nov 14th