RECENT NEWS All News (most recent at top)
Minnesota Swag (Thursday, Sep 30th - HG )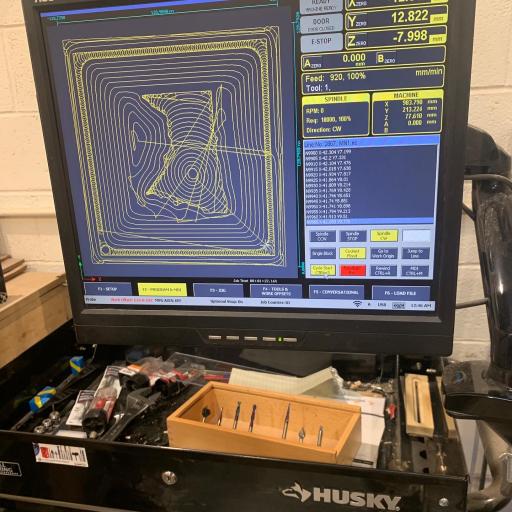 (Cement mold making on the Big CNC )

A joint project between a few of our Makerspace members, here we have prototype plug for cement casting being cut out on our 5'x8' CNC router. After this prototype is cut it will be lined with a lubricant and filled with cement. The result will be a coffee coaster with a Minnesota state relief in the center.

DIY Furler (Thursday, Sep 30th - HG )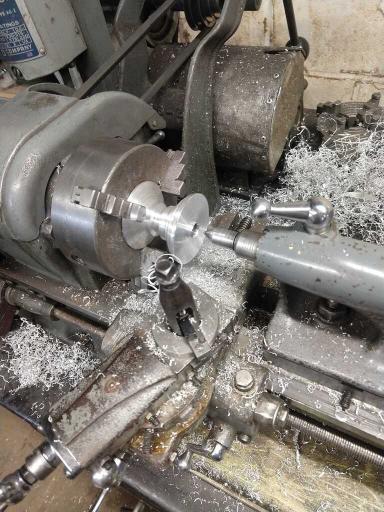 (Just had to spend a lil time on the metal lathe)

Check out this metalshop project from a few weeks ago. Using the metal lathe, Garrett cut a new jib furler for his sailboat. If you've noticed a large van parked in front of the space that would be recently joined members, Min and Garret. While they have been here only briefly, they've made a big splash in the community. They are now headed south for warm weather and, while we are sad to see them go, we wish them the best of luck on their journeys!

Leather Boxes (Tuesday, Sep 14th - Hg )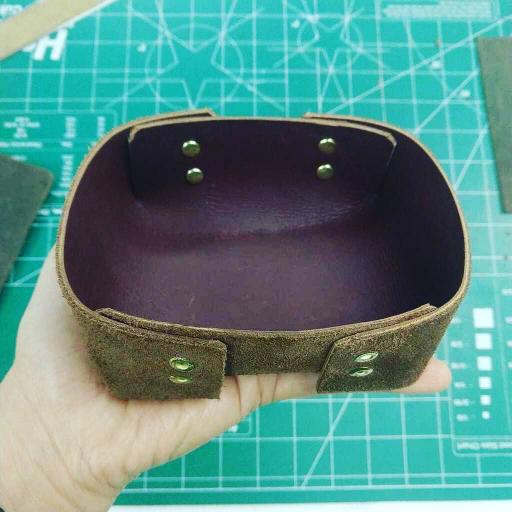 (Check out the Class!)

Holy Smokes, Batman! Check out these fantastic desk organizers crafted by makerspace member, Min Yi! After discovering our plethora of scrap leather, she dove head long into learning more.

Interested in trying it out for yourself? Sign up on our website for the upcoming class this Friday at 6pm! See ya then!

UPCOMING CLASSES & EVENTS See All

Today
Wednesday
Dec 8th

Tomorrow
Thursday
Dec 9th

This
Friday
Dec 10th

This
Saturday
Dec 11th

This
Sunday
Dec 12th

This
Monday
Dec 13th

Class: Intro to Pottery: Throwing Mugs (4:00pm-6:00pm)[$90]
This class consists of two sessions. Monday 12/13/21 at 4:00pm and Wednesday 12/15/21 4:00pm. Students will be introduced to the basics of pottery. Topics include: throwing, trimming, handle pulling/attachment, and glazing. The cost of the class includes kiln firing one piece made by the student. Firing additional pieces will be charged accordingly. An additional "Glazing session" will be scheduled with the student, or at the students discretion, the teacher will glaze pieces for the student.

---

Meeting: Member (6:00pm-7:30pm)
Monthly Makerspace Member meeting to review current events, functions, and updates for the Duluth Makerspace Community. Scheduled the second Monday of every month. Pizza will be provided.

---

Class: Intro to Pottery: Throwing Mugs (6:30pm-8:30pm)[$90]
This class consists of two sessions. Monday 12/13/21 at 6:30pm and Wednesday 12/15/21 6:30pm. Students will be introduced to the basics of pottery. Topics include: throwing, trimming, handle pulling/attachment, and glazing. The cost of the class includes kiln firing one piece made by the student. Firing additional pieces will be charged accordingly. An additional "Glazing session" will be scheduled with the student, or at the students discretion, the teacher will glaze pieces for the student.

This
Tuesday
Dec 14th

Class: DMS New Membership Orientation - In Person (6:00pm-8:00pm)[$20]
*This class is only for New Members to orient to Duluth MakerSpace. Attendees will be expected to have a current membership or pay for a months membership at the time of orientation.* A general orientation to everything Duluth Makerspace. In this mandatory class for RFID access, we go over important tool usage, as well as workshop expectations and function. If you just can't make this orientation, please email duluthmakerspace@gmail.com to set up a time that will work. Please bring personal mask, eye, ear protection and form of ID to this orientation

Next
Wednesday
Dec 15th

Next
Thursday
Dec 16th

Next
Friday
Dec 17th

Class: Intro to the X-Carve CNC (6:00pm-8:00pm)[$40.00]
Learn how to run the X-Carve CNC router. You will be guided through designing a small project then learning how to set up the X-Carve to cut your project out of wood.

Next
Saturday
Dec 18th

Next
Sunday
Dec 19th

Next
Monday
Dec 20th

Next
Tuesday
Dec 21st

Class: Intro to Pottery: Throwing Mugs (4:00pm-6:00pm)[$90]
This class consists of two sessions. Tuesday 12/21/21 at 4:00pm and Thursday 12/23/21 4:00pm. Students will be introduced to the basics of pottery. Topics include: throwing, trimming, handle pulling/attachment, and glazing. The cost of the class includes kiln firing one piece made by the student. Firing additional pieces will be charged accordingly. An additional "Glazing session" will be scheduled with the student, or at the students discretion, the teacher will glaze pieces for the student.

---

Class: Intro to Pottery: Throwing Mugs (6:30pm-9:30pm)[$90]
This class consists of two sessions. Tuesday 12/21/21 at 6:30pm and Thursday 12/23/21 6:30pm. Students will be introduced to the basics of pottery. Topics include: throwing, trimming, handle pulling/attachment, and glazing. The cost of the class includes kiln firing one piece made by the student. Firing additional pieces will be charged accordingly. An additional "Glazing session" will be scheduled with the student, or at the students discretion, the teacher will glaze pieces for the student.

Wednesday
Dec 22nd