ALL NEWS LAST 7 DAYS NEWS (most recent at top)
Raise The Roof Fundraiser (Saturday, Jun 10th - Mike )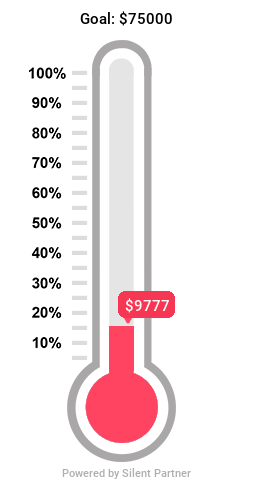 9/15/23 WE ARE NOW AT $9777.00

If you have been in the MakerSpace when it rains or thaws you know our roof needs some work. We sought bids last year and they were in the range of $65000-$70000. Considering Murphy and inflation we have set the fundraising goal at $75000.

The good news is we have received a number of unrestricted donations over the past 6 months. We also have a commitment for matching funds. So, every dollar we raise is two to the fundraising goal. This thermometer shows the combined donations and matching funds.

Donations and fundraising ideas welcome.

Let's get a new roof!

Helical Head (Monday, Jan 2nd - Mike )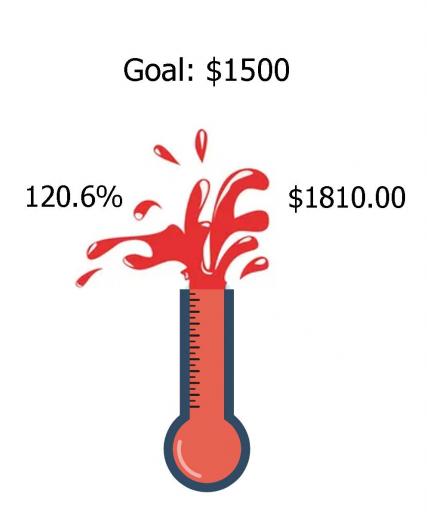 Thank you to all who donated to the DMS Helical Head Fundraiser. We've raised $1810.00 of our $1500.00 goal, and there are a couple of people who committed to donating still outstanding. The extra funds will help our small non-profit provide the best community shop/studio/work space and tools we can afford. Our 501(c)3 nonprofit provides budget friendly access to tools and equipment for wood working, metal fabrication, laser engraving, sewing, pottery, lapidary and so much more. New to the idea of a MakerSpace? Come take a tour. Contact Mike at 218-461-0069 to set one up.

Who We Are And Our Mission Statement (Thursday, Aug 4th - Board )
Who we are:
Duluth Makerspace is a 501c3 nonprofit providing an 11,000 sq foot community multi-discipline industrial, arts, and technology space where members get access to tools and equipment for a small monthly fee. We have acted as an incubator for small business, a workplace for artists, a creative outlet, and a location where ideas can become reality.

Some of our members have been able to find employment, start full or part time businesses, help other small local businesses with creative solutions, as well as build and improve personal "do it yourself" skills due to their learning and experience at our MakerSpace.

Our Mission:
Promote life skills, sustainability, creativity and inspiration by providing access to tools, technical equipment, work space and education to the community at an affordable price.


Tours (Monday, Jan 31st - Mike )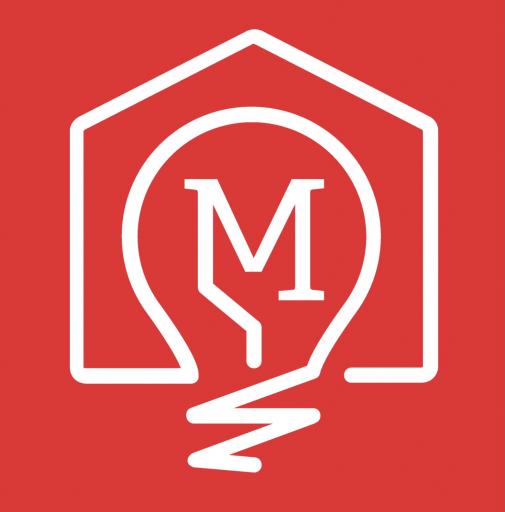 (Tours of Duluth Makerspace available)

Contact Mike to arrange a tour of Duluth Makerspace. 218-461-0069

Masks Optional (Friday, Jan 14th - Board )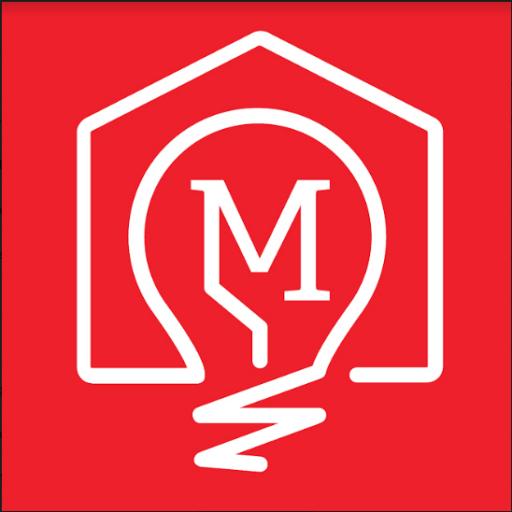 Please stay home if you have symptoms. Not sharing is caring.


Comments
Paul Travaglione: Do you see a time in the future when masking will not be required?
Mike Olson: Paul, I just saw this and updated it. Masks are optional.

Minnesota Swag (Thursday, Sep 30th - HG )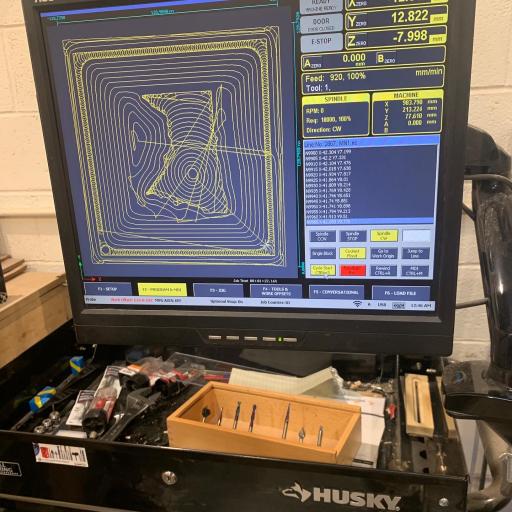 (Cement mold making on the Big CNC )

A joint project between a few of our Makerspace members, here we have prototype plug for cement casting being cut out on our 5'x8' CNC router. After this prototype is cut it will be lined with a lubricant and filled with cement. The result will be a coffee coaster with a Minnesota state relief in the center.

DIY Furler (Thursday, Sep 30th - HG )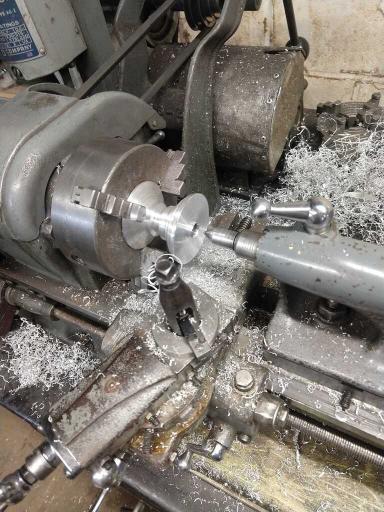 (Just had to spend a lil time on the metal lathe)

Check out this metalshop project from a few weeks ago. Using the metal lathe, Garrett cut a new jib furler for his sailboat. If you've noticed a large van parked in front of the space that would be recently joined members, Min and Garret. While they have been here only briefly, they've made a big splash in the community. They are now headed south for warm weather and, while we are sad to see them go, we wish them the best of luck on their journeys!

Leather Boxes (Tuesday, Sep 14th - Hg )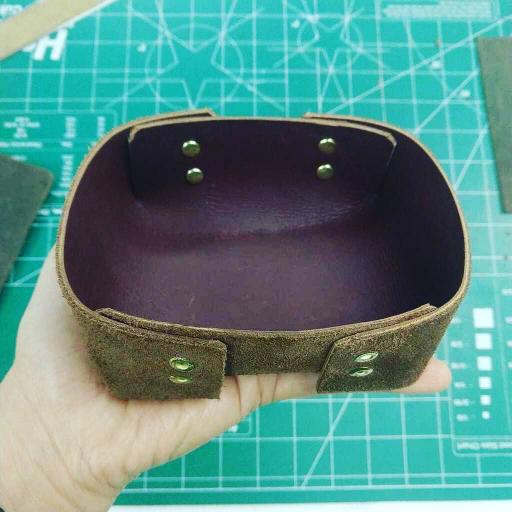 (Check out the Class!)

Holy Smokes, Batman! Check out these fantastic desk organizers crafted by makerspace member, Min Yi! After discovering our plethora of scrap leather, she dove head long into learning more.

Interested in trying it out for yourself? Sign up on our website for the upcoming class this Friday at 6pm! See ya then!

Joe's New Building (Tuesday, Sep 14th - HG )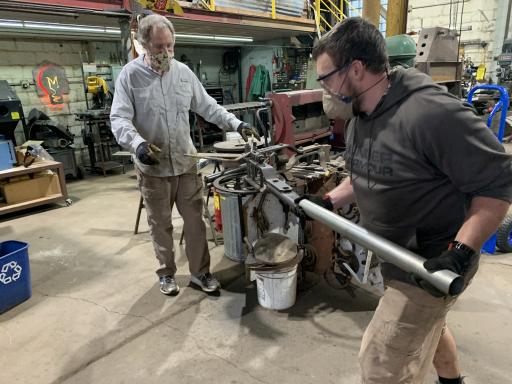 (Check it out this Saturday! )

Makers in Action!
DMS members, Joe and Kyle, working together to bend rebar forms in the metal-shop, for a foundation in the works. Looks like a bit of work but it will pay off in the end.



Vending Machines (Tuesday, Sep 14th - HG )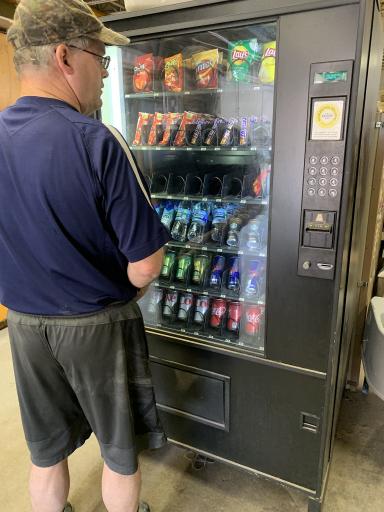 (SNACKS!)

Oooh 😮 snacks for our makers! A new addition to the shop is our vending machine to keep the creativity storm brewing. Check it out!

Devan Spotting (Tuesday, Sep 14th - HG )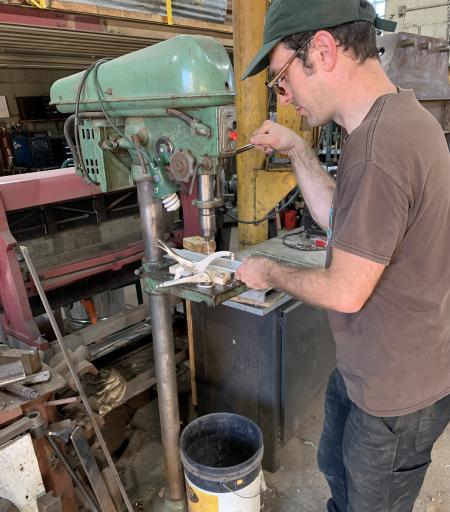 OG member and maker, Devan, working in our metal shop fabricating an L bracket for a quick trailer repair.

Interested in touring the space? Check out our website for scheduled tours Mondays and Wednesdays!

Agate Festival Success (Friday, Aug 27th - HG )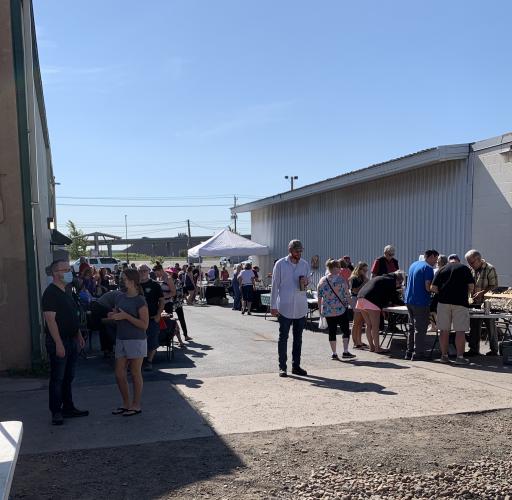 (Woot )

Thank you to everyone who turned out for our First Annual Agate Festival this last Saturday. We were beyond happy to host so many curious agate aficionados and locals alike.

We are looking forward to an even event bigger event next year in collaboration with a beer release from @ursa_minor_brewing. Stay tuned for more details! See ya next year!

A big thanks goes out to all of the sponsors for our silent auction donations from makers and local business alike. Thanks you!

Zen Rakes (Friday, Aug 27th - HG )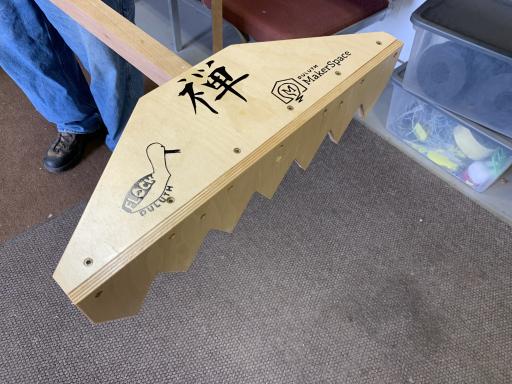 (Soooo Peaceful )

Check out this cool rake project by @flockduluth for the Zen Garden up at Enger Tower. Upon hearing the needed a special rake for the maintenance of the garden, he was all over learning how to use our new CNC machine and recycled materials to solve the problem. Nice work!

Headed South (Friday, Aug 6th - HG )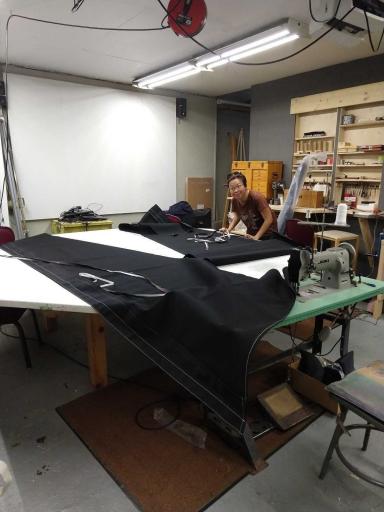 (New Sail Cover)

Another awesome project from @svpeep for their sailboat down south. This is a cover to keep sun of their sails when not in use, which significantly extends the life of the sail. This adventures couple has been quite busy during brief stay

Metalshop 101 Is Back (Friday, Aug 6th - hg )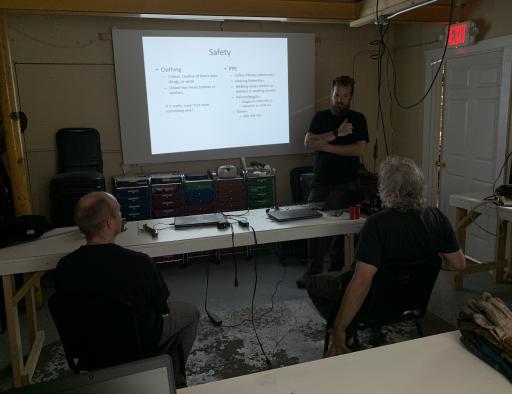 (Schools in Session)

A little bit of classroom time for our welding class here @duluthmakerspace before getting into the metalshop. Check out our calendar for our upcoming class schedule!

Techshop Is Hoppin (Friday, Aug 6th - hg )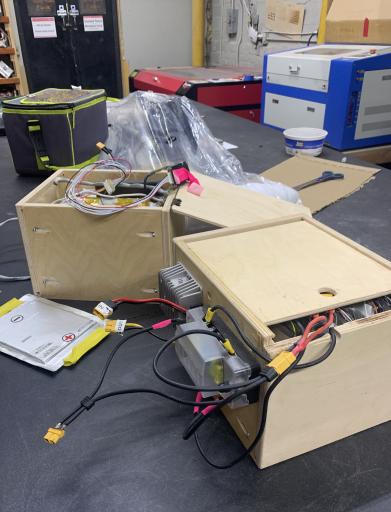 (DIY Batteries )

The tech shop has been real busy as of late with new member and maker, Garett, busy at work. To power his new electric trolling motor, he wired up these batteries. These diy batteries will make the whole system significantly less expensive. Way to get creative!

Board Repair (Tuesday, Jul 20th - HG )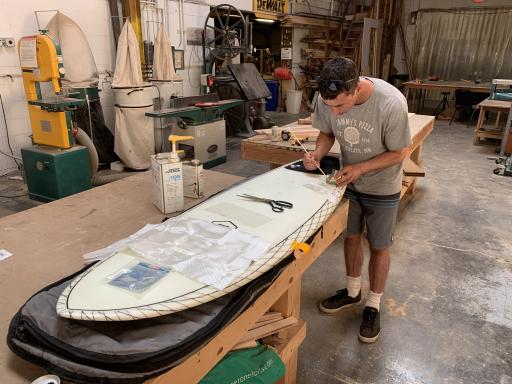 (Ready for the Next Wave!)

Pictured here is longtime Makerspace member, Paul, repairing a ding on his surf board. A surprisingly easy process to keep the board watertight and ready for the next waves. Nice 👍 work!

X-carve On Copper (Sunday, Jul 18th - HG )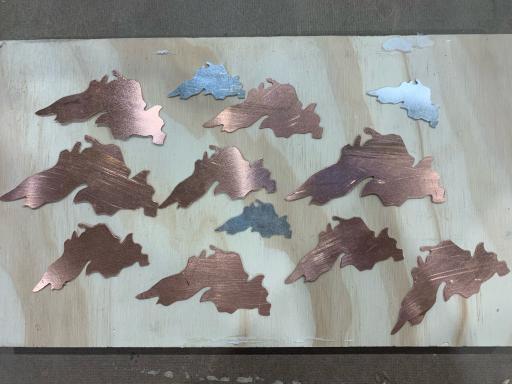 (Way faster than by Hand )

Check out our trusty @x.carve getting the job done! Makerspace member and agate enthusiast, @northernravenstudio, had been cutting these Lake Superior outlines by hand to use for agate pendants. Now with the use of this tool she can save her hands and time from the arduous progress of cutting these out.

ROCKS! (Wednesday, Jul 14th - HG )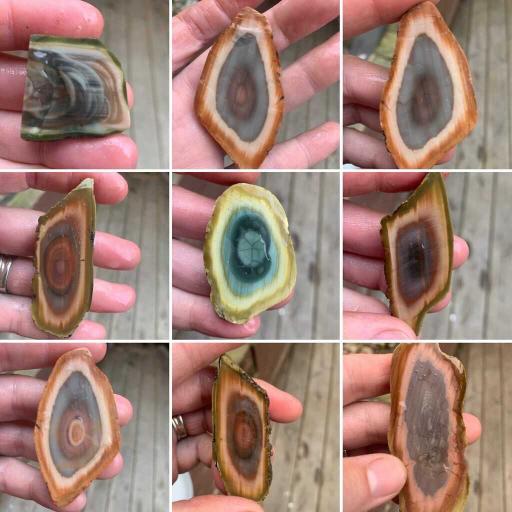 (Look at these Gitchee Gummee Beauties)

Look 👀 at these cool slab cuts out of our lapidary studio from one of our members, @northernravenstudio! Give Abbey a follow for more!

Interested in learning more about rock cutting and work? Schedule a tour on our website (link in bio) and check it out for yourself!

You can also stop by for our first Annual Gitche Gumme Agate Festival, Saturday, August 14th at 10am.


DMS Got A Garden (Wednesday, Jul 14th - HG )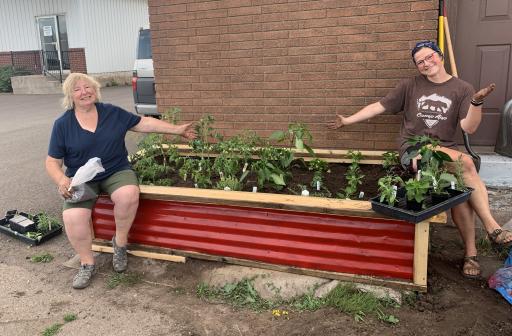 (Grow Baby, Grow!)

Our first garden bed is built and planted thanks to the amazing volunteers here @duluthmakerspace!

Can't wait to have @shoreviewnatives come through with our new native plant and grass garden to further benefit our local ecosphere!

Second Floor Renovation (Thursday, Jun 10th - HG )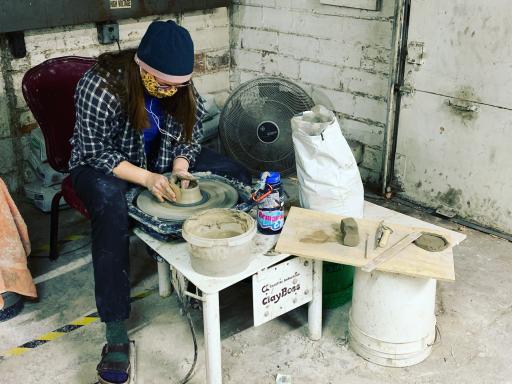 (New place to turn out some clay!)

We are nearing the end of the renovation of our second floor to host our new pottery and lapidary studio. We are shooting for a deadline in late July to prepare for our open house event during the 1st annual Gitche Gumee Agate festival.

It's been a huge project and has taken so many amazing volunteers to get us here. We are beyond excited to have the new studio and make it available to our community.

* pictures is one of our dedicated members and volunteers working in our temporary pottery space.

Motorcycle Upgrade (Thursday, Jun 10th - HG )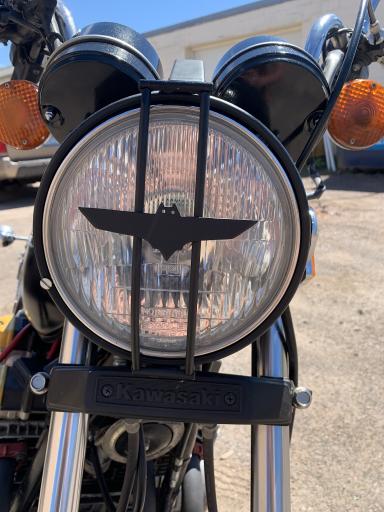 (Batbike!)

Check out this fun detail job that came out of the metal shop!

Pink Pig (Thursday, Jun 10th - HG )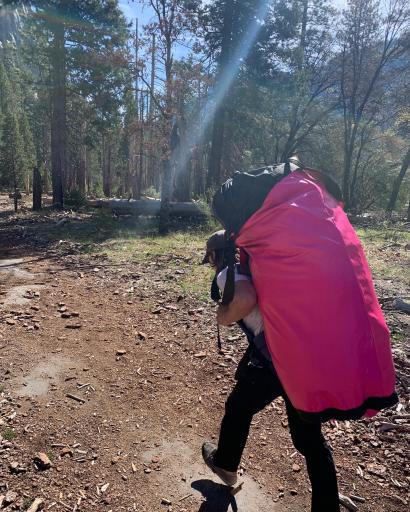 Check out this project! A haul bag commonly referred to as "the pig" is used in climbing to bring essential items such as food and water up as climbers ascend a rock face.

DMS members decided to make an attempt of El Capitan via the Salathé Wall and in order to climb a big wall they would need a big haul bag. After a local dumpster score of the seemingly appropriate fabric, it was game on for these climbers.

Trailer TLC (Thursday, Jun 10th - hg )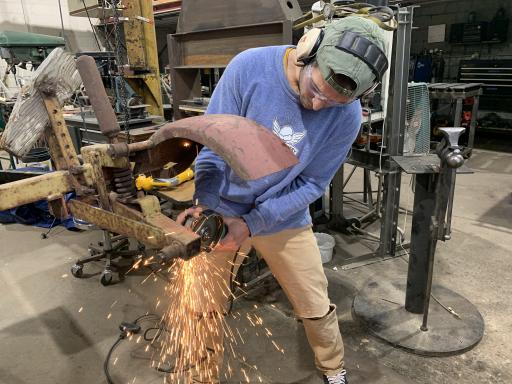 (Just needs a good spit shine)

DMS member, Tony, working on a trailer to haul a new sailboat! Look at the sparks fly!

Pottery In Wheel Time ;) (Monday, May 31st - HG )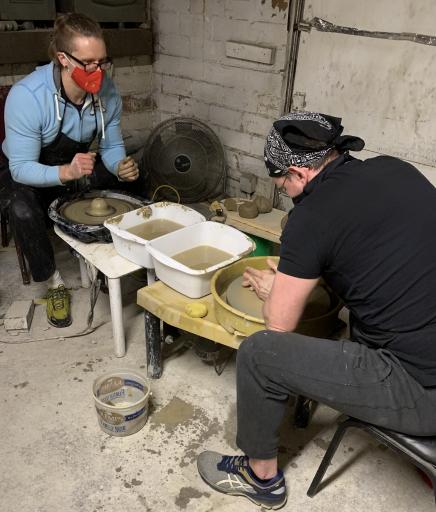 New DMS members, Nick and Andrew, working in our temporary ceramics studio as we near the end of our renovations. We love seeing hands on learning here at the space!

Pottery fan, or maybe just interested in learning more about the space? Sign up for a tour on our website!

Creativity In The Pottery Studio (Monday, May 31st - HG )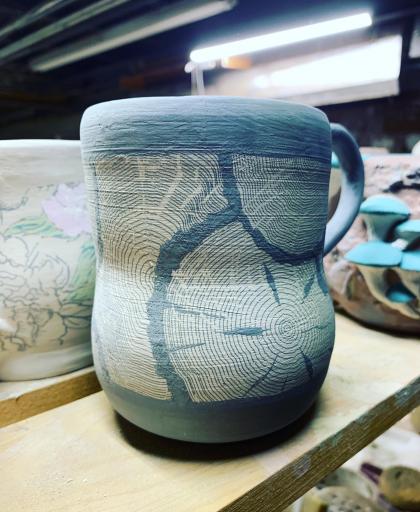 (Mugs!)

Pump the brakes! Check out these amazing mugs turned by DMS member Alexis. Inspired by artist @loriphillipsceramics, Alexis spent some serious time on these and they are looking fantastic. Can't wait to see them after they are fired! Stay tuned!

1st Annual Gitchee Gummi Festival (Monday, May 31st - HG )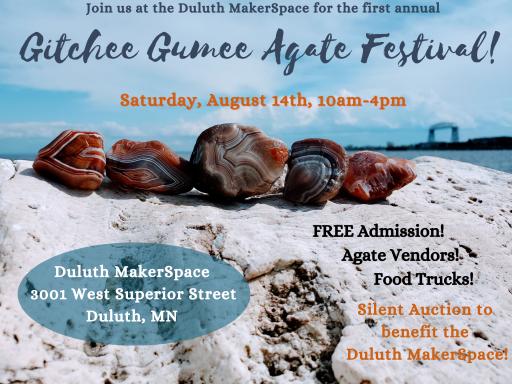 (Save the Date!)

Duluth Makerspace is beyond excited to be hosting the start of Duluth's first Annual Agate Festival, August 14th, 2021. With over 14 agate vendors, a silent auction benefiting the space, open house tours of our newly renovated pottery and lapidary studio, and many of your favorite local food trucks present, it will be one for the books! Mark your calendars📆, see ya then!

New Garden (Friday, May 7th - HG )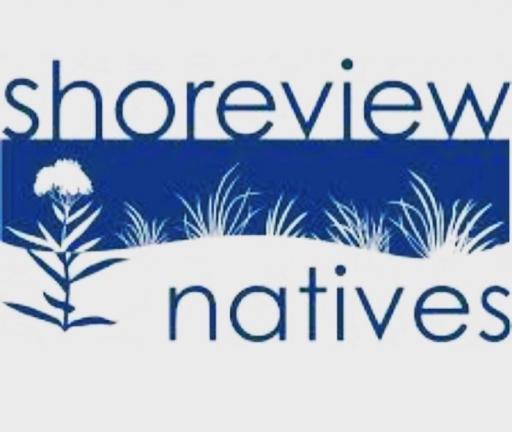 (DMS got a Green Thumb)

We are so excited to announce @duluthmakerspace and @shoreviewnatives will be teaming up this summer to bring our community a little bouquet of native prairie and a living sanctuary for our bees!

What does that mean?

@shoreviewnatives helps "home and business owners translation outdoor spaces into landscapes that support aesthetic, ecological, economic, and social goals. They specialize in installing gardens featuring local and regional plant species." Essentially we get to play postive and active role in supporting our community with our garden!

If your interested in working with @shoreviewnatives, see their website shoreviewnatives.com or message them on Instagram @shoreviewnatives

Check Out These Rails (Friday, May 7th - HG )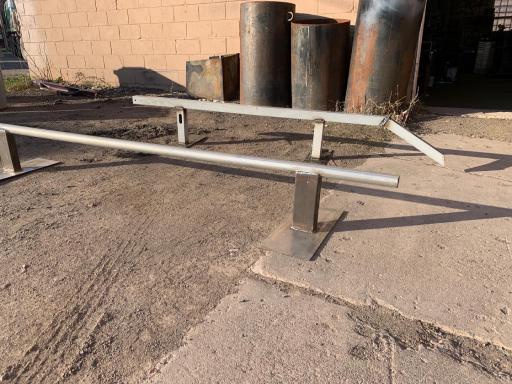 It's always good to learn new skills and to test our ability to create. Check out these skate rails welded in the DMS metal shop. Crafted completely from scrap metal, and a little bit of creativity, these rails are off to a good home.

Busy Night (Friday, May 7th - HG )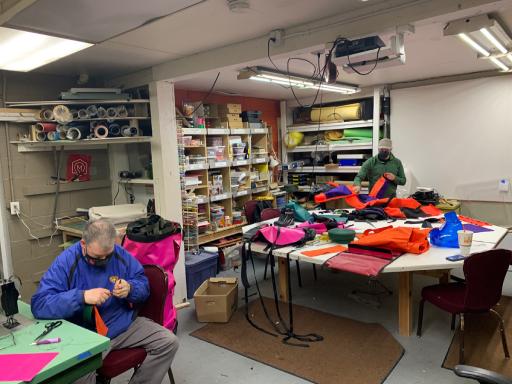 (Too many cooks)

Busy night in the craft studio here at DMS! Spelunking gear, dog agility course bags and haul bags to ascend El Capitan in Yosemite are being engineered and sewn all at once. Bit of a conga line to use our industrial sewing machines.

Alexandriasoraus (Friday, May 7th - HG )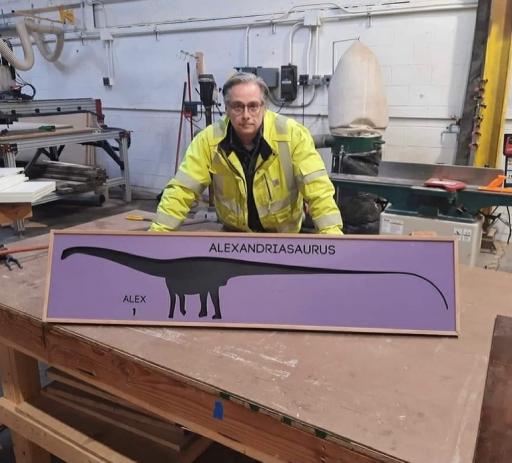 (A brand new species )

A finished CNC project by DMS member for his dinosaur loving granddaughter's 2nd birthday. While we might not find fossil record of this species, I think Alex will be pretty excited about this discovery.

Caving Or Splelunking? (Friday, May 7th - HG )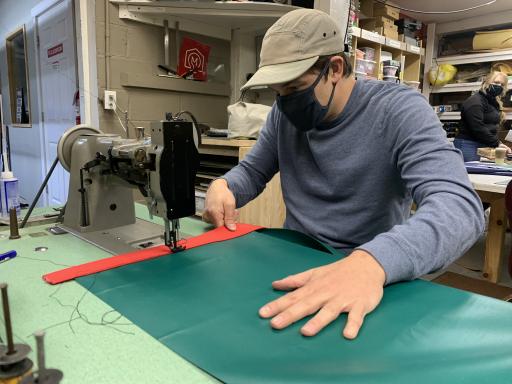 (I guess there's a difference )

Long time makerspace member, Max, sewing a dry bag for spelunking. After some trial, error, and design work; it's all coming together!

Duluth Makerspace Represent (Friday, Apr 16th - hg )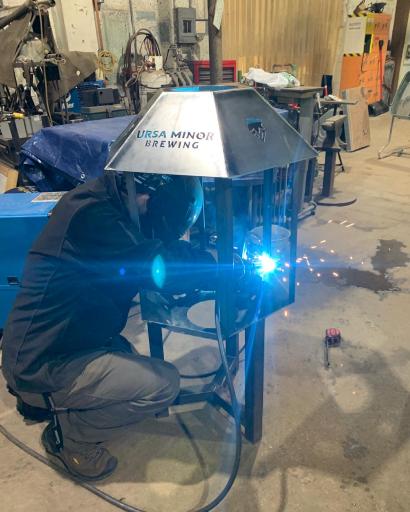 (Welding for Beer? )

Our metal shop manager is at it again working on some new fireplaces for @ursa_minor_brewing! Check em out!

Kerouac Dreams (Friday, Apr 16th - hg )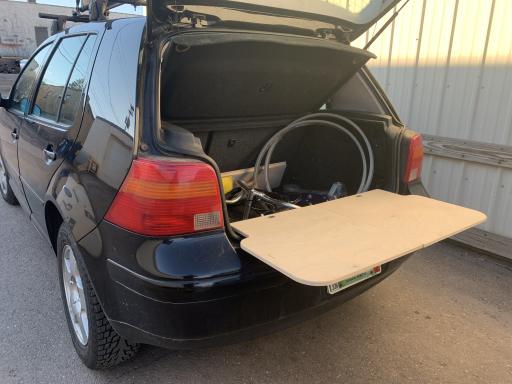 (Headed West )

Check out this classy creation by makerspace OG, Devan! With Kerouac dreams of a road trip west, Devan decided to add a little functional flare to the bumper of his steel chariot! After a little modeling and jig work, he created a file on our #xcarve machine. Here's the final result of his bumper table for car camping!

Makerspace Maple Syrup Boiler (Friday, Apr 16th - hg )
(Tis the Season )

It's that time of year again and the sap is flowing! Check out this big ol sap boiler that came out of the DMS metal shop! Nice work Nicole & Bill!

New Tools! (Friday, Apr 16th - hg )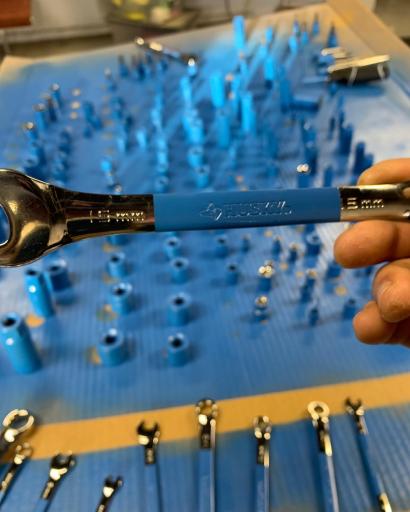 (New Tools for the Shops )

Duluth Makerspace got some shiny new tools! Custom blue paint job should hopefully keep them somewhat organized. Check em out!

Blacksmithing (Tuesday, Mar 30th - Hg )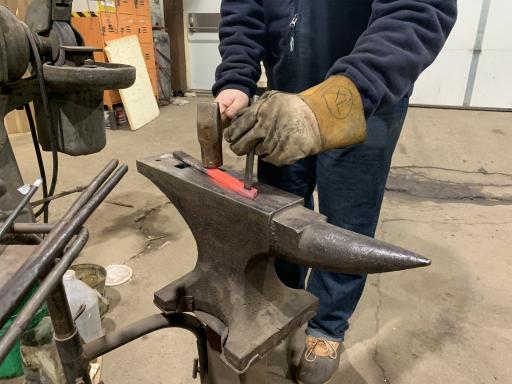 (While the Iron is Hot! )

A little work in the metal shop!!
If your interested in seeing more of the shop we host tours on Mondays and Wednesdays!


Spelunking King (Saturday, Mar 27th - hg )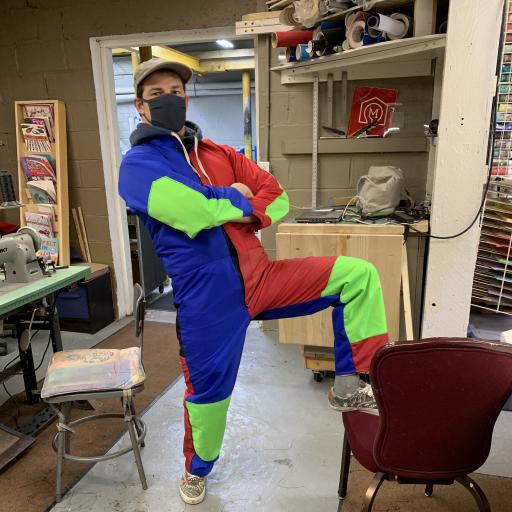 (Show him to the Caves! )

A suit fit for spelunking! Remember Max? He was that one guy cutting up a old suit and making a paper pattern. Look at him now in all his glory! Great Job 👏!

Dumpster Dundee (Tuesday, Mar 16th - hg )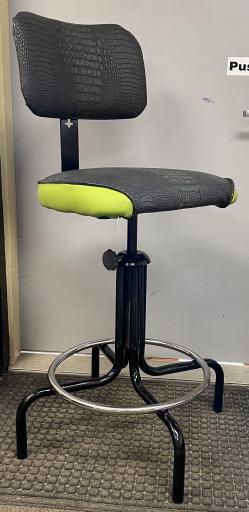 (New phone who dis? )

A couple years ago or so, this vintage industrial stool lived in the DMS metal shop. The seat was ripped, the padding was shot.

Saving it from the dump, Mike O. decided to give it new life. Working with a designer friend, he was able to recreate a wonderfully functional chair for his new office space! Well done!!

Off-road Ability! (Tuesday, Mar 16th - hg )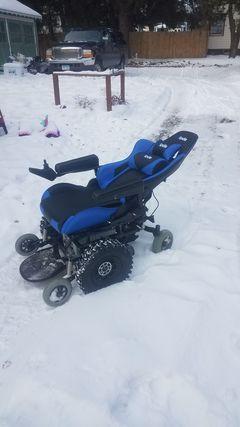 (Happy Trails!)

A great project by new DMS member Owen! Meeting the need of a 9 year old boy who is bound to a wheelchair, Owen decided to give him a little more terrain capabilities. By affixing a gaming chair to a high weight capacity wheelchair and installing a larger tire set, Owen was able to make a chair fit for the road less travelled.

Community Is Our Greatest Project At DMS! (Friday, Feb 26th - hg )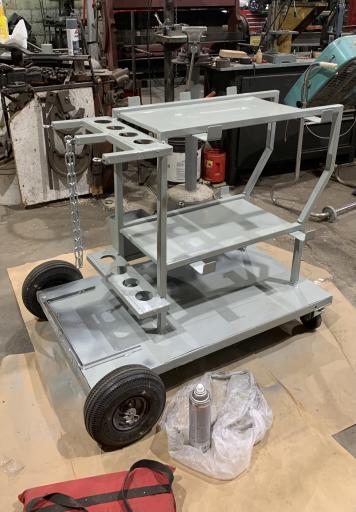 (THANK YOU!)

A makerspace project that had to be shared! Following our successful internal fundraiser (2.5k!) for a new multi welder in the metal shop, a need arose for the new cart to hold two gas cylinders. DMS board member and active metal shop enthusiast Mike O. responded to the call with this beauty! A big thanks to all those who donated and to Mike for the custom cart!

2nd Floor, Big Strides (Friday, Feb 26th - hg )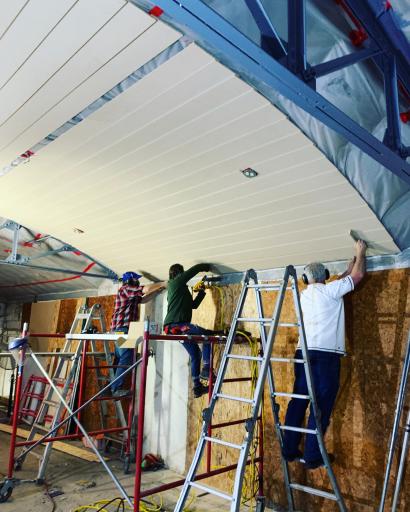 (Cant stop this Train!)

We have been making big strides to finish renovating our pottery and lapidary studios. This project has taken much time and helping hands. Thanks to the help of so many amazing volunteers we will soon be able to open up some new projects!

Original Gangster (Wednesday, Feb 24th - HG )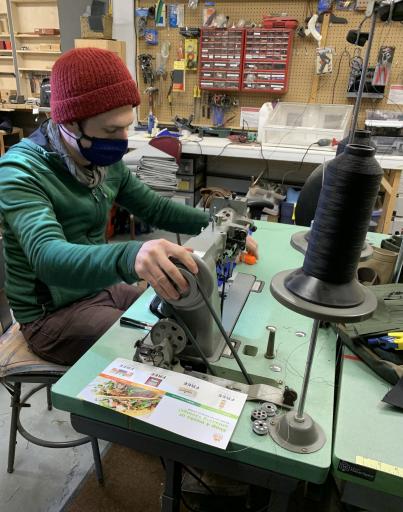 (What doesn't he know ;P)

The master machinist with one of his loves. DMS member Devan has been around since the get go of the space and specializes in industrial sewing as well as a myriad of other tools here at the space.


Spelunking In Style (Tuesday, Feb 23rd - )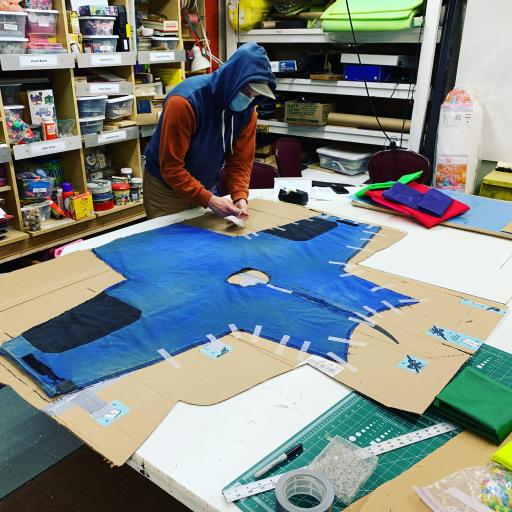 (Spellcheck please... Spelunking??)

Max working on extracting a pattern from an old suit for his new spelunking uniform. He thought it would be good to add a pop of color.... or maybe two

Groovy Superior (Wednesday, Feb 17th - hg )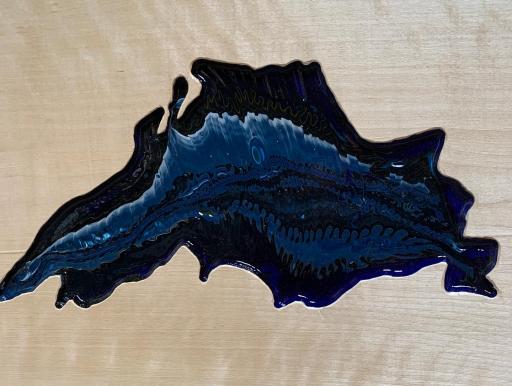 (Woodshop Prodigy )

Woah! Check out this great project by new DMS member, Jeremy! After getting in the woodshop, Jeremy has found his groove making handmade projects like this with epoxy paints and live edge timber.

If your interested in buying one these handmade wall pieces, they are available in Duluth at Two Loons and in Superior at Once Again Used and New.

Chewbacca In The Pottery Studio! (Thursday, Feb 11th - hg )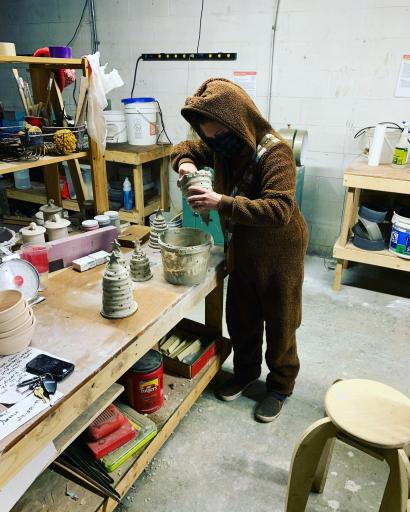 (Insert Chewy sound here: >>>>)

A photo from the archives: Our friend Chewie in the temporary pottery studio working on finishing touches on incense burners before setting them in the kiln to bisque.

Birdseye View (Thursday, Feb 11th - hg )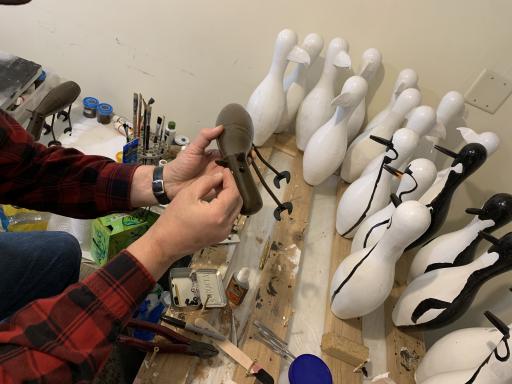 (MOOSE! )

One of our boardmembers and the owner/operator of @flockduluth finishing the details of his moose families. Check out all his other great projects at @flockduluth !

(Tuesday, Feb 2nd - )
PUUKO! (Tuesday, Feb 2nd - HG )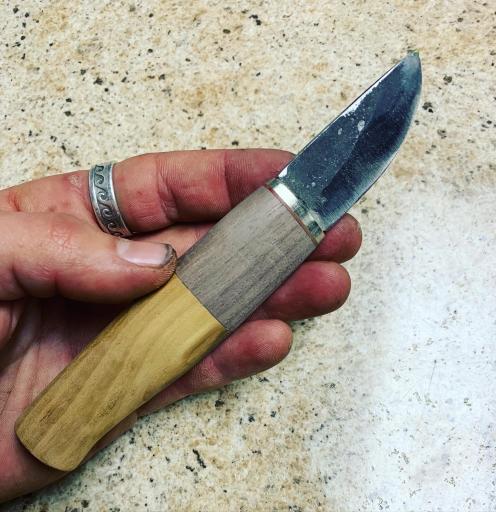 (A sharp little Finnish Knife)

Oooh puukko blade! Custom little Finnish knives coming out of the DMS metal shop from a new DMS member, Stephen! More details coming soon!

Back From The Dead (Tuesday, Feb 2nd - hg )
(DIESEL!!)

Pictured here is long time DMS member and volunteer desk staff member, Josh, restoring an old diesel generator. After it had been sitting in a garage for a few year it need some serious attention. After some work in our metalshop, he got it running smooth. Great work, Josh!


Comments
Brian Cornell: Congratulaltions!

Flock Duluths Newest Members (Friday, Jan 1st - hg )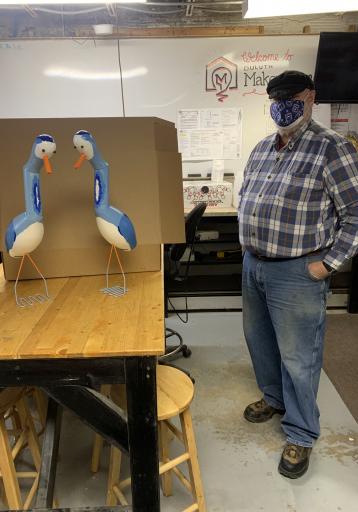 (Some Creativity to Kickoff 2021)

Longtime DMS member @flockduluth with his newly developed blue herons. Bringing in the new year with some creativity!


Comments
Brian Cornell: Looking good, bud!

Go Timberwolves! (Thursday, Dec 17th - hg )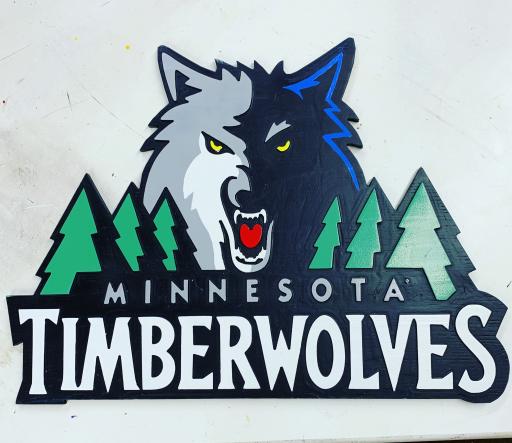 (Another great project from the x-carve )

Check out this great finished project from one of our newer members! After finishing the cutting work on DMS @x.carve, Manny did a fantastic job getting the colors just right on this creative piece. #xcarve #xcarveproject #diyhomedecor #makerspacemovement

Gorgeous Chair (Thursday, Dec 17th - hg )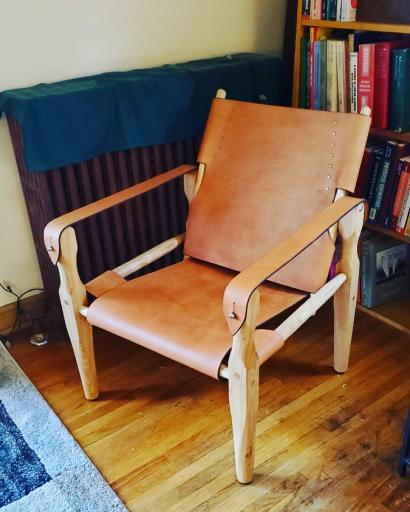 (Leather and Wood, a wonderful combination )

Check out this beautiful chair built by a new member, Mark!

If you are an aspiring woodworker, leather crafter, or pottery expert, Makerspace is here for you to create your wildest dream. Come check it out! Contact us for a tour at info@duluthmakerspace.com. #makersgonnamake #duluthmakerspace #woodworking #leatherwork

Max Pack (Thursday, Dec 17th - HG )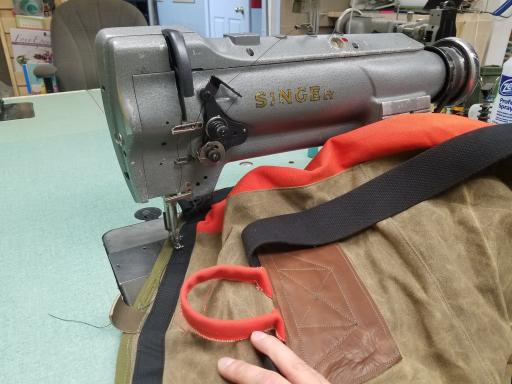 (Finishing Touches!)

Little sewing snapshot from OG member, Max. Our industrial sewing machine work with even the heaviest of canvas. Pictured here is Max finishing the final touches on his roll top backpack. #make #diy #sewingproject #makerspaces

Stocking Stuffers (Sunday, Dec 6th - hg )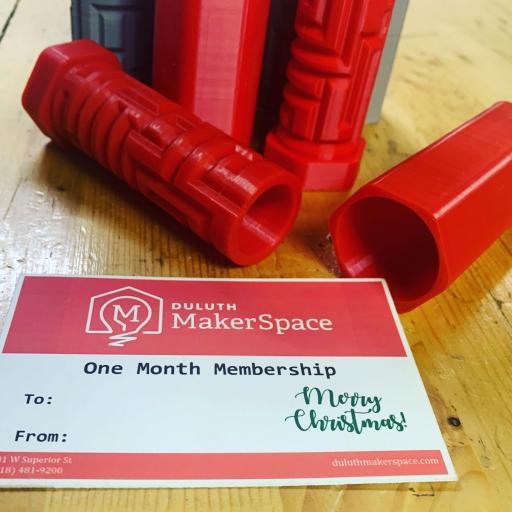 (A perfect solution for the maker in your life )

Looking for a stocking stuffer for the maker in your life?

Pick up one of these 3D printed puzzle scrolls with a months membership inside. 2 lucky buyers will receive a 2 month membership for the price of one stocking stuffer. Or buy 5 stuffers and get 6 months of membership for the price of 5 months.

Please email info@duluthmakerspace for pick up and purchase details!

Wiring Project (Wednesday, Dec 2nd - hg )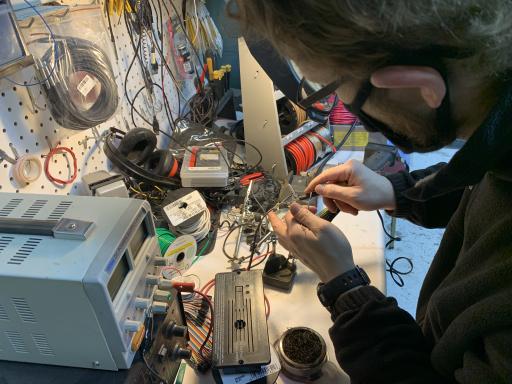 (Makers gonna Make)

Did you know DMS has a tech shop full to the brim of tools for your creative use?! 🤯

Using the space is longtime member and volunteer staff, Josh, who is wiring a power supply for a tiny house kitchen appliance.

Come check it out and get creative at Duluth Makerspace! #diy #tinyhouse #makersgonnamake #makersofinstagram #electronics

In The Metalshop (Monday, Nov 23rd - hg )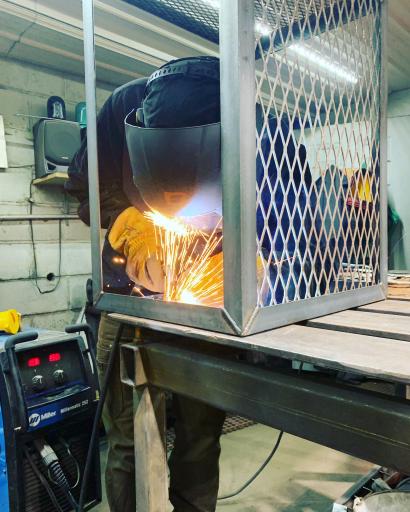 (Welding Away)

A closer look at DMS metalshop in action with Matt, the metal shop manager. He's currently working on a wood box for a diy smoker.


Custom Car Clamps (Monday, Nov 23rd - HG )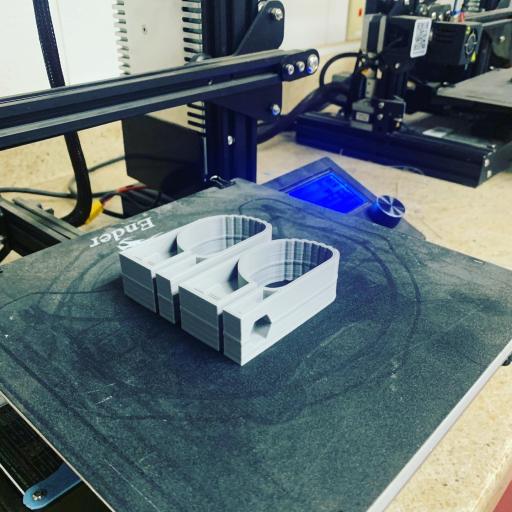 (Say it 3 times faster)

Check out these fantastic 3D printed, custom VW bar clamps designed by DMS member Paul, for a Yakima roofbox. After a few iterations, he's hoping he's got the right design this time round. #trytryagain #outsidethebox #duluthmakerspace #3dprinting #design

So Many Projects (Tuesday, Nov 10th - HG )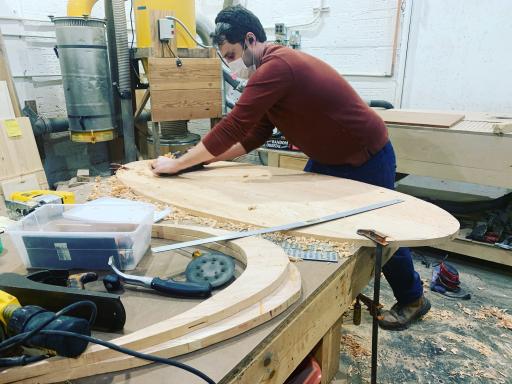 (Is it cold outside or, is it just me?)

So many projects going on right now @duluthmakerspace ! Here's new member Michael planing on his soon to be coffee table.
Got a project this winter? New to making? Come to Duluth Makerspace and start!

A Yurt From TurtleHare Farm (Tuesday, Nov 10th - hg )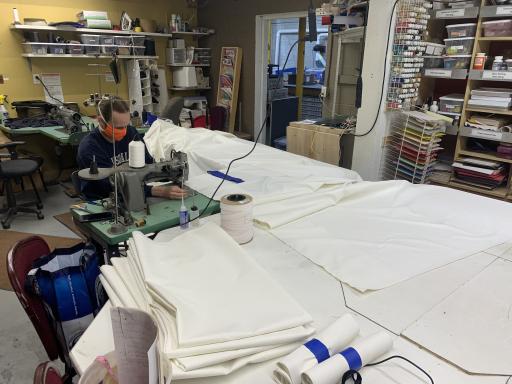 (Looking for a get away?)

New DMS members from @turtleharefarm workings on a liner for their yurt! They plan to use this yurt for guest to stay in while touring the farm(see their Instagram for more details). It's seems as though it's quite a "big" project 😂. Good luck to these makers, and check our gram for upcoming after photos!

The Door Making Machine (Tuesday, Nov 10th - hg )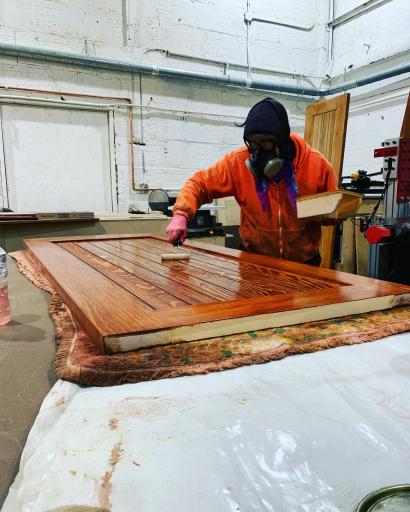 (Doris!)

DMS member Dorris putting the finishing touches on her doors before winter. This is 1 of 5. She's a door making machine!#woodworkingcommunity #duluthmakerspace

Give To The Max (Monday, Nov 2nd - hg )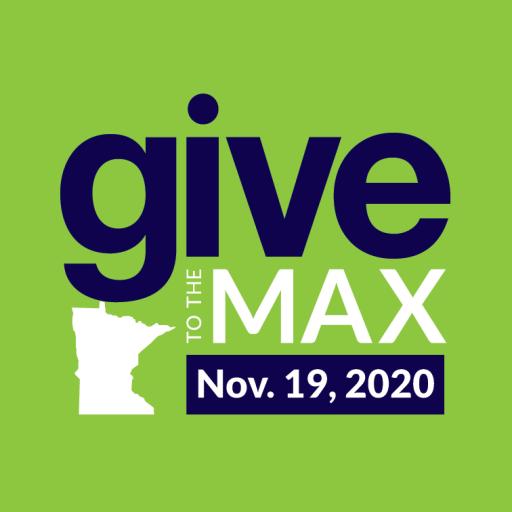 (A great chance to support local community!)

Give to the Max is a statewide outpouring of support for thousands of nonprofits and schools across Minnesota! Our Giving Holiday is scheduled for Thursday, November 19, but you don't have to wait to support nonprofits. Early Giving began November 1, so search GiveMN.org for your favorite nonprofits like Duluth Makerspace and make a gift today!

Fix It! (Monday, Nov 2nd - HG )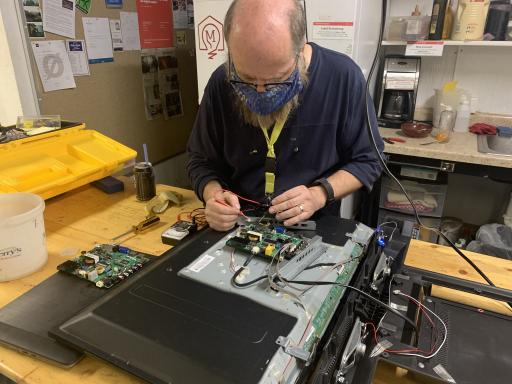 (Fix it at the Makerspace!)

One of our dedicated staff members and a maker here at DMS, Howard, is pictured here salvaging his broken tv. After a little trial and error he was getting real close to getting it working!

Shooting Pins (Wednesday, Oct 21st - HG )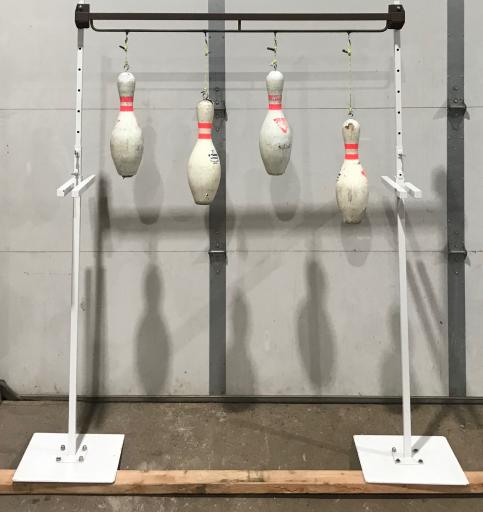 (Gobblin for a Turkey)

Some work by our resident yard artist, Mike O. "When you are a bowling pin artist and art fairs are dangerous to go to due to Covid, and your friend likes shooting sports, you take the pins that won't make good sculptures and make a swinging target."
Stay creative folks!

Monday Night Pottery (Wednesday, Oct 14th - HG )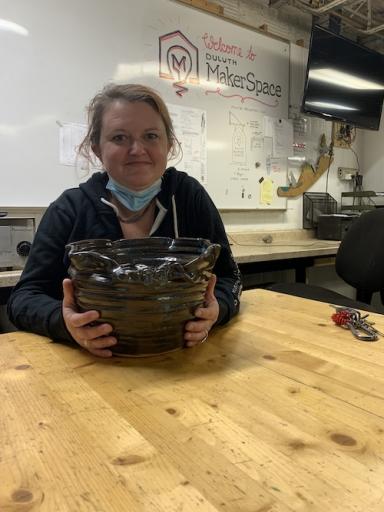 (Hot out of the kiln.)

It's Monday night and look what just came hot, out of the kiln! This sweet piece is by none other than our OG pottery guru, Angela.

If At First You Don't Succeed... (Wednesday, Oct 14th - HG )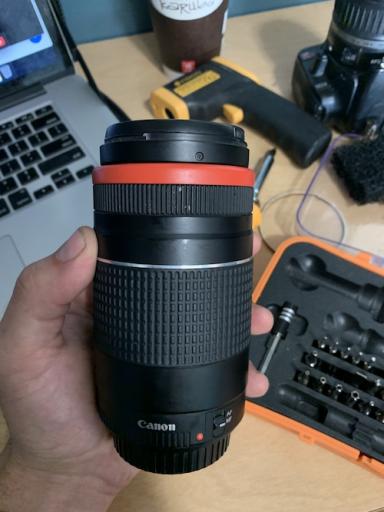 (Try, try, again!)

Sometimes you don't get it on the third try...But if you keep working, you'll get it!
Check out this cool project! After 5 prototypes, a little sanding, and paint DMS tech manager, Jesse and I, were able to put together a really nice fix to repair this canon zoom lens! These project are always fun as they require a lot of creativity and process to finish.

What project do you have to finish?

Make It Fast With A Foil (Wednesday, Oct 14th - hg )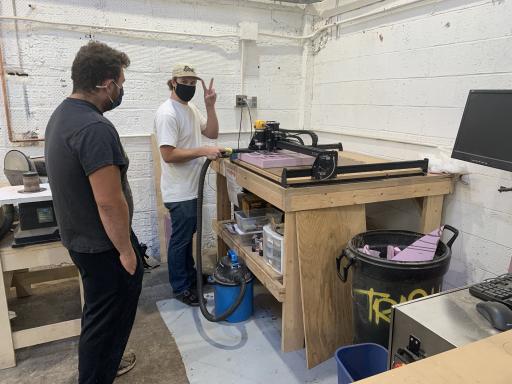 Check out some of our new members, from UMD, working in our wood-shop. These two are waiting as the CNC cuts out the supports for a profiled spoiler on a race car. This all is part of a final project for their senior year!

Fixing It W/ Mike! (Wednesday, Oct 14th - HG )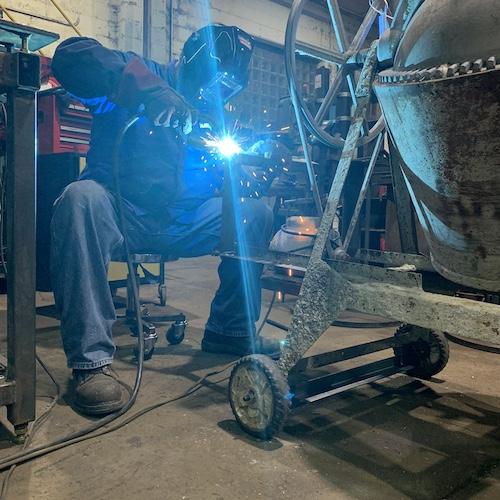 (Make it In the Metal Shop!)

A little repair project by one of our board members, Mike O.!

Here at Duluth Makerspace, our metalshop is packed full of tools ranging from mills and lathes, to an extensive assembly of welders. All for makers to create anything they put

Work Night On The Second Floor! (Friday, Sep 25th - Hg )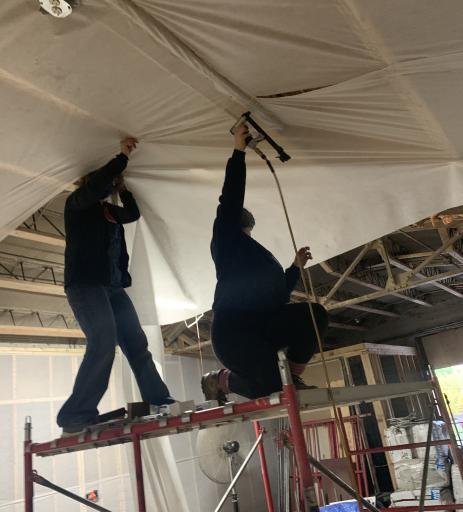 Hey Makers ! Give a big shout out to these guys for all the work that got done in the pottery studio remodel! Thanks guys! 💪

Interested in helping out? Join the @pottery channel or check slack for more upcoming work nights! We will be hosting them Tuesdays and/or Thursdays weekly! It's a great way to meet some pottery people, see ya there!

Design And Redesign (Friday, Sep 25th - HG )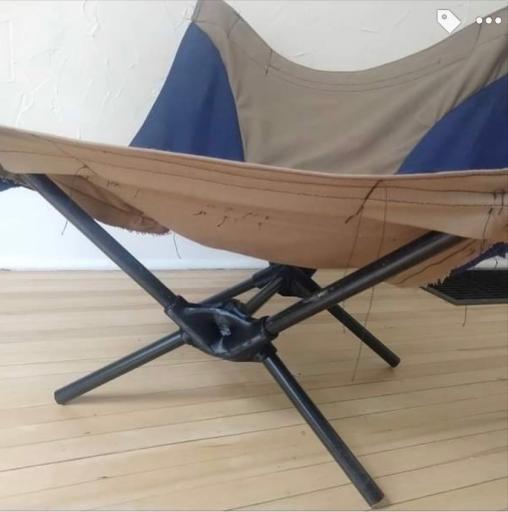 (3rd times the charm?)

If we're honest most of the time we dont get it right on the first go as makers. The process of constantly redesigning and progressing to a better product is always rewarding!

Check out this project by Paul from a few weeks ago. After a few iterations of design, Paul was able to print a functioning joint on our 3d printers!

Now he's just looking for a little sewing help to clean up the fabric! Wanna help?

Work Or Play .. Maybe Both (Sunday, Sep 20th - HG )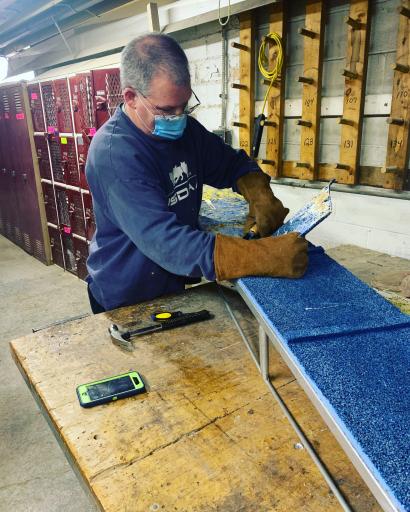 Check out DMS member, Randy H., refinishing his obstacle for a K-9 agility course. If you didn't know Randy is a huge dog lover! In addition to loving dogs, he likes working with them too! Randy trains dogs to run agility course all over the state.

(Monday, Sep 14th - )
First Time Craftsman (Monday, Sep 14th - HG )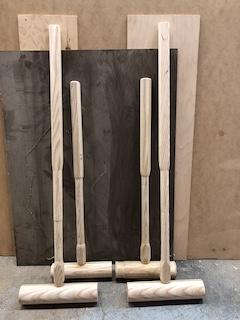 (Dive in and make!)

Though it was DMS member, Hans, first time in the wood shop; he dove headlong into building a set of croquet mallets for his dad. After getting familiar with one of our lathes and asking a few questions, he was able to turn out a complete set.

If you have a project in mind but are new to the shop world, come on down to the Duluth Makerspace. In addition to a thorough orientation course, we have plenty of resources to get you on the ground running.

Keep The Ball Rolling (Tuesday, Sep 8th - H.G )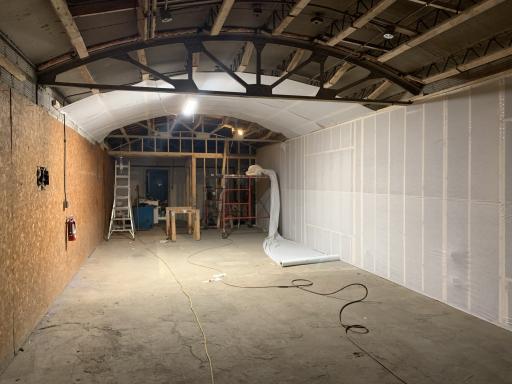 (We Passed our Inspection! )

Exciting News!
Thanks to all the hard work of a key group of makers, Duluth Makerspace recently secured a construction permit from the city! While it might look a little rough now we can't wait to have have a newly finished, designated studio for both our lapidary and pottery equipment!

We Are Open! (Thursday, Jul 23rd - HG )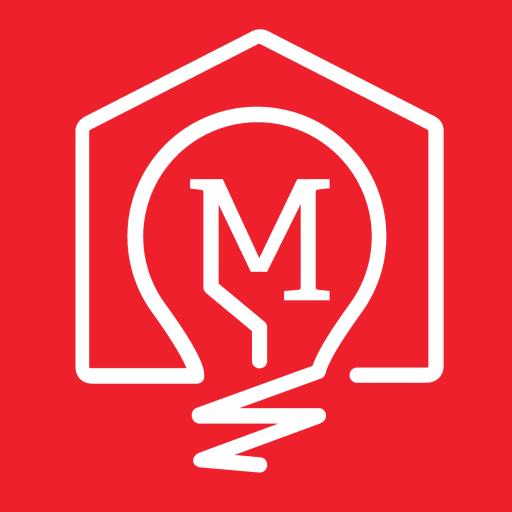 (Come on back! )

Hello makers,
The Duluth Makerspace is open and in full function. If you are interested in using the space as a member, we are limited to RFID holding members only, due to limited staffing (To gain RFID access you must take an orientation class and be approved). Additionally, for the foreseeable future we will not be holding classes. As we adjust our norms at the Makerspace to support recommendations by the CDC, we ask you to be understanding as we move through difference phases of reopening. You can expect these health measures enforced by DMS during this time:

1. Members will be required to wear masks (cloth or surgical) while in the space
2. Maximum 25% building capacity
3. Established hand-washing protocols for everyone.
4. Communication regarding any changes, alerts, or issues as we move through this process will be through slack and on the DMS website. Please check these sources for updated details.

Please contact duluthmakerspace@gmail.com with any questions. Thanks everyone for the support! Hope to see you all soon!

Reopening (Monday, Jun 8th - HG )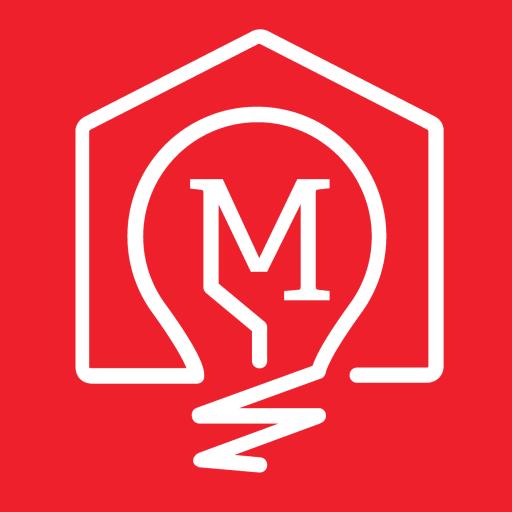 (Its time to get the ball rollin )

We are excited to announce that DMS will resume operation as of June 29th.
As we adjust our norms at the Makerspace to support recommendations by the CDC, we ask you to be understanding as we move through difference phases of reopening.
You can expect these health measures enforced by DMS during this time:
1. Members will be required to wear masks (cloth or surgical) while in the space
3. Rearranged workspaces and paths, to help with social distancing.
4. Maximum 25% building capacity
5. Established hand-washing protocols for everyone.
6. Communication regarding any changes, alerts, or issues as we move through this process will be through slack and on the DMS website. Please check these sources for updated details.
7. Member only access to reduce possible exposure

Please contact duluthmakerspace@gmail.com with any questions. Thanks everyone for the support! Hope to see you all soon!


DMS & Coronavirus (Sunday, Mar 15th - Alyssa )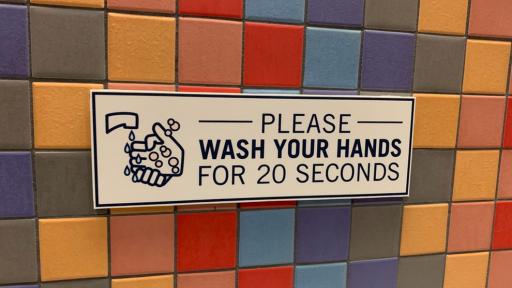 Hello Makers! In an effort to help slow the progression of COVID-19, Duluth MakerSpace will not be having public hours for the rest of the month. We will reevaluate for April and update you again then. If you are a member with fob access nothing will change for you, but please maintain the recommended 6' social distances, wash your hands, and stay home if you or a family member is not feeling well. If you are a member without fob access please contact us on slack, via email, or Facebook. Thank you!

Nice Planer ! (Friday, Feb 21st - Hg )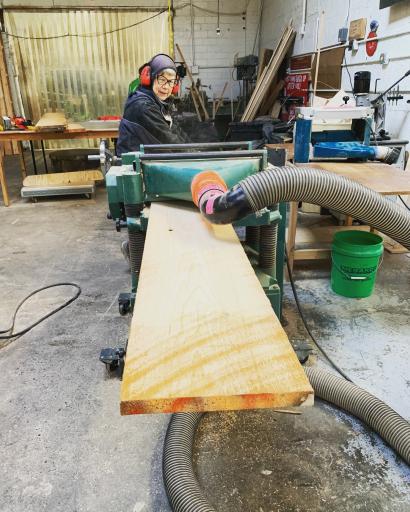 Nothing like a 20 inch planer.

Going West (Friday, Feb 21st - Hg )
Duluth Makerspace member, Jeremy, working to get his split board ready for a trip out west and making a jig for the new splitboard he's making.

When In Need - Make (Thursday, Feb 13th - Hg )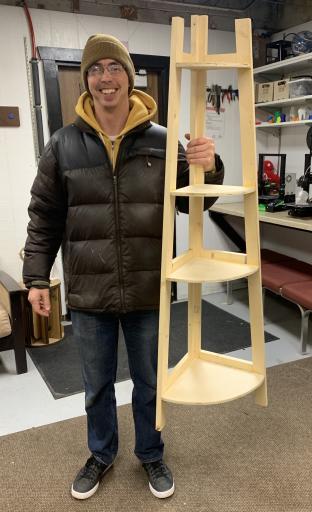 Paul needed some storage. After doing a little Pinterest perusing, He came to the makerspace with a design in mind and made this ! Got a creative mind, innovative ideas, or just looking for a crafty community of thinkers, artist, and inventors? Know someone like that? Check out the Duluth Makerspace!

CNC Art (Friday, Feb 7th - Hg )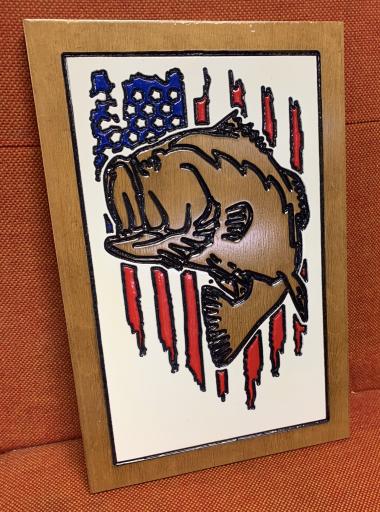 (Check it out )

Really great piece made on the CNC machine by DMS member, Manny. Manny only just started using the CNC a router, and it looks like he's been learning fast.

Reduce, Reuse, Recycle (Friday, Feb 7th - Hg )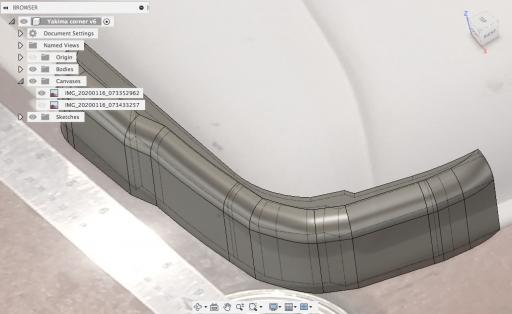 (Car topper saved from the dump )

Reduce,Reuse,Recycle!
We've all heard it a thousand times. DMS member Paul, took it to heart. A broken car top carrier from the dump, a little work in Fusion 360, and he's got a new car top carrier! •
•
Check out the link below for the 3D model made in Fusion 360, with image for tracing/reference: https://a360.co/2RPsD44

CNC Progress (Friday, Jan 31st - hg )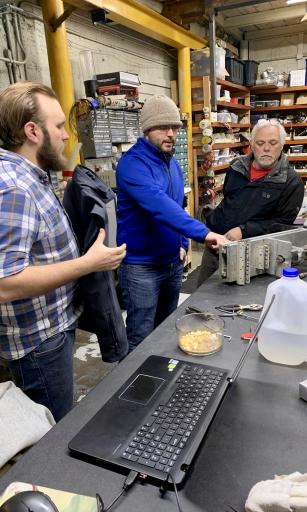 (Final Parts Order In! )

Our very own CNC dream team, working out the last details of our large CNC rebuild. Very exciting to be so close to being done!


Climber Creativity (Friday, Jan 31st - HG )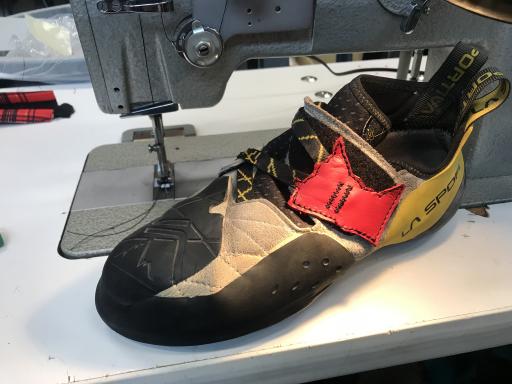 (So Sweet !)

Making lemonade out of lemons.
Yours truly, thinking out of the box to create a one of a kind climbing shoe repair. #make #wornwear #duluthmakerspace

His Employee Party Is Better Than Yours (Monday, Jan 13th - hg )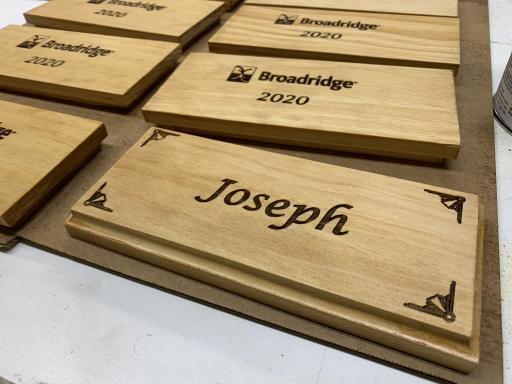 (Nailed It)

Check out these great name plates that DMS member Mark Berkely put together for his employers holiday party! After a little time in the wood shop and some experimenting on the lasers, Mark got a nice finished project. Good job keeping it creative, Mark!

It's Ski Season! (Monday, Jan 6th - hg )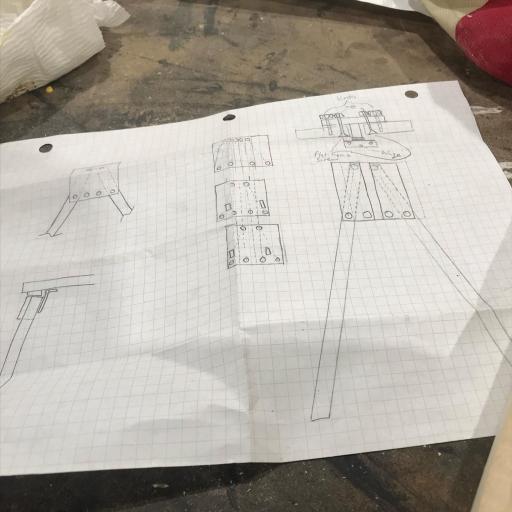 (Gotta Get Those Skis Waxed )

Check out this project in the making by DMS member, Nathan! After deciding he would build his own waxing station for his skis, he got to work figuring how his bench would fold away. With a little elbow grease it looks like this project is coming along nicely.

Industrial Sewing (Thursday, Jan 2nd - hg )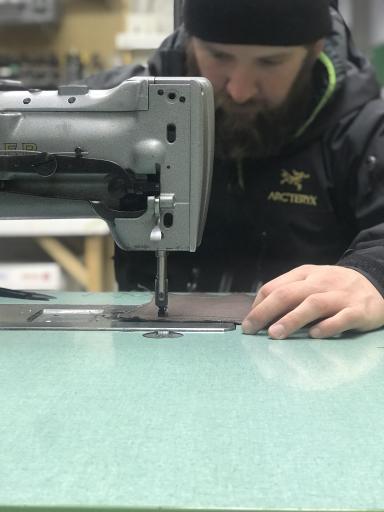 (Broken? Fix it. )

Duluth Makerspace member, Kyle C, learning how to run one of our industrial sewing machines. In addition to this machine, we also have anther walking foot sewing machine and industrial surger machine.

Interested in putting together that canvas tent for winter camping, or fixing the boundary water pack that you've had for year? Come down to the Makerspace and use our industrial sewing room!

Cribbage Table (Monday, Dec 30th - HG )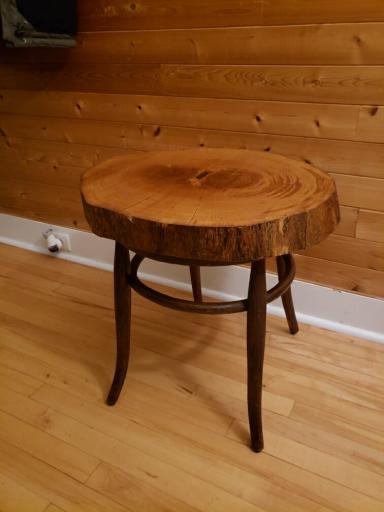 (A Seemingly Popular DIY Gift.)

Check out this great cribbage board and coffee table made by new DMS member Megan W! It's got storage for cards underneath and it reused the base of an old stool base for legs.

With the idea of a cribbage board cut into a tree round, Megan came to the Makerspace seeking a place to make her idea come to life. What she found was a much larger tree round than she was expecting and decided why not make it a table. With a lot of sanding, router work, and finishing she had the table ready to gift for many a cold winter night to come.

Whats your next project ?

We Do Pottery! (Thursday, Dec 26th - hg )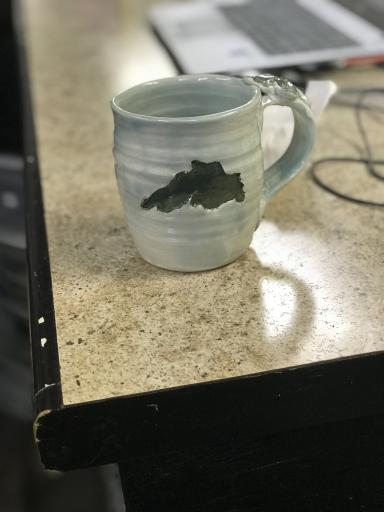 (Get Your Hands Dirty !)

Did you know we do pottery at the Makerspace!

If you didn't know, now you do! We've are so happy to host an open pottery wheel and kiln available for all members to use. Please contact our pottery studio manager Anna K. for personal lessons and look to our website calendar for upcoming classes. Thanks see ya all soon!

One From The Archives (Sunday, Dec 22nd - hg )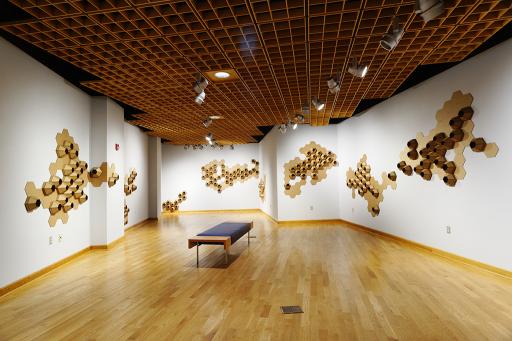 (All done on our 100 W Laser)

Heres a project from the archives, from a past member, displayed at VAE gallery in North Carolina. She used our 100 W laser to complete her project. The following is her explanation of the purpose of the exhibit.

Eun-Kyung Suh constructed multiple pentagonal and hexagonal boxes that can be arranged next to one another on a wall in appropriate patterns symbolizing ethnic enclaves. Her focus is the assimilation process of immigrants of color and their formation of ethnic concentrations in the settled areas. Immigrants often cluster in close geographic areas and develop migrant networks, thus forming ethnic enclaves. The transitional phase of learning a new language and social norms of the country restricts immigrants' activities within the enclave and subsequently sequesters them from the larger societal context. These constructed ethnic enclaves include geological patterns from immigrants' origins to act as havens where their heritage can be preserved and fortified.

A Little Ingenuity Goes A Long Way (Wednesday, Dec 11th - hg )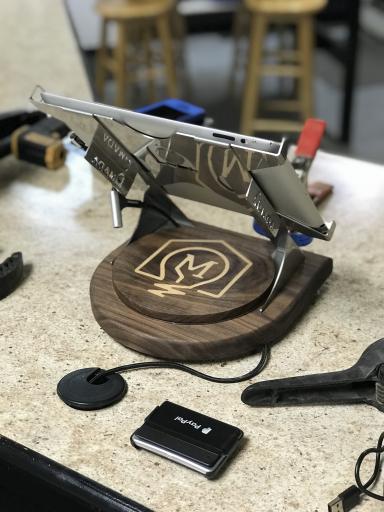 (Partly function / Partly fun )

With our old tablet on the fritz, the Makerspace was in need for a new device. Sourced from the community, we procured a new iPad; but it didn't fit our old stand! With the opportunity to create something new, heads were put together and an idea struck. The new stand comprised of a swivel from the old, a new frame and a lot of CNC work from DMS member Randy, turned a unique project. All in all, a big thanks to all members involved. This kind of creative project certainly highlights the drive that makes this community so great.

Open House (Thursday, Dec 5th - hg )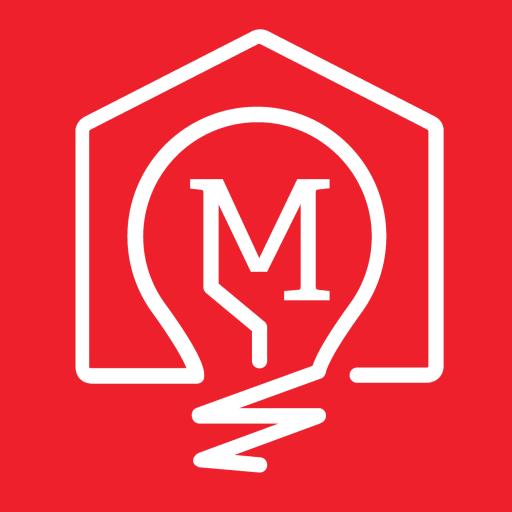 (Join Us )

Due to the lovely weather making travel difficult, last Saturday, we decided to host yet another Open House! Come down & check out the Duluth Makerspace! We will have tours running, small hands-on demos, and lots of exciting news to share. Beverages by Bent Paddle and some snacks too. See ya there!

Community Is Our Greatest Asset (Monday, Nov 18th - HG )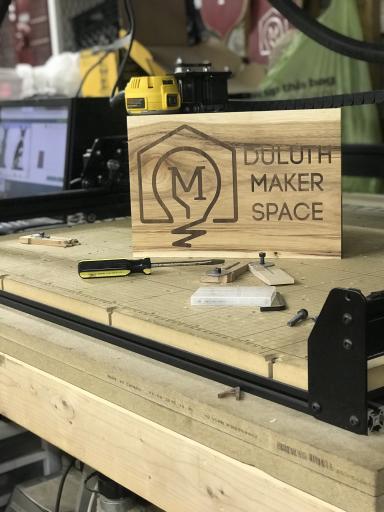 (We need you !)

Welcome to the Duluth Makerspace a cooperative workshop, run like a fitness gym, where a monthly membership pays for shared access to electronics, wood-shop, metal-shop, tech-shop, crafts room, classrooms, etc! Similar places have been sprouting up across the country. They are a real community asset driving innovation, education and cooperation. Our biggest asset is the other members.
Because our community is our greatest asset, we strive to always build more of it. So this November 30th, we will be hosting an open house inviting all to explore our space. Come on down and give the space a tour and see what sparks you imagination. See more details in the calendar on our website.

We Got The Permit! (Saturday, Nov 9th - HG )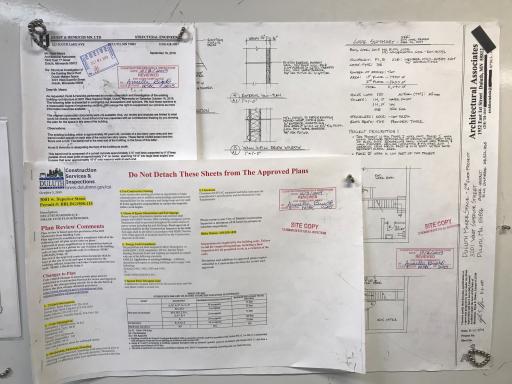 (Mission is a Go!)

Ok, this is it guys! We have received our approved permit plans from the city! Now we can begin our work on the second floor! So what does this mean for you?

What you can do is come on down and help us start working? We need volunteers to start renovating! View the how to video posted in our slack channel (#dms2ndfloorremodel) for more details! Or come on down, this coming Thursday, the 14th for a work day!

Whats Happening In The Woodshop (Thursday, Oct 31st - hg )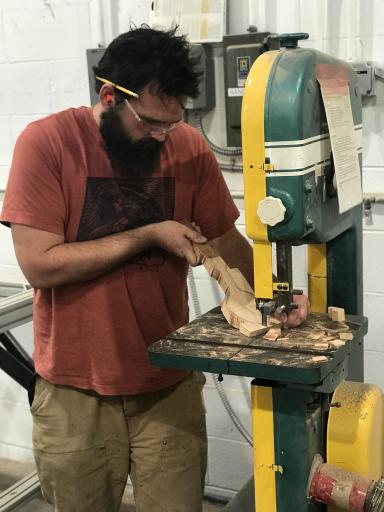 (A lil peek into the woodshop)

A little peek in our woodshop! With winter on its way and the days growing shorter, its the perfect time to started getting creative @duluthmakerspace. Come on down and check us out or check out the website for upcoming events like our Open House this November 15th.

Devans DIY Bike Rack (Wednesday, Oct 23rd - HG )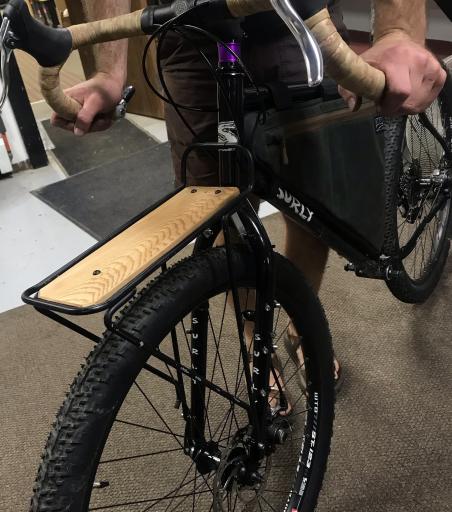 (A New rack for exploring the Pacific Northwest)

With a bike trip planned in the the backcountry trails of the Pacific Northwest, DMS members Max and Devan began prepping what they would carry and how. Deciding that he would need a rack for the front, as well as the back; Devan devised a front rack by recycling an old rear bike rack. The result was quite a dashing front rack with a piece of varnished cedar for the base. Nice Work !


Comments
Tony Evans: This is awesome!

Member Drive Month ! (Wednesday, Oct 2nd - hg )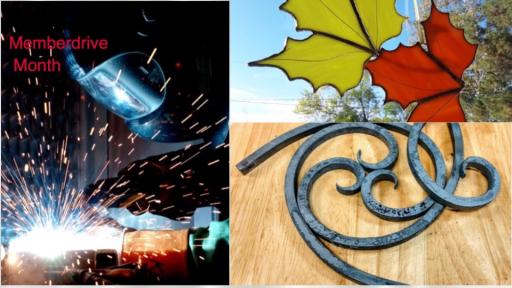 (Bring your friends, family and coworkers!)

Its that time for our annual Member-drive ! We encourage everyone to spread the word and let as many folks know about us as they can. Tell a friend, family member, or coworker all about the space and. All throughout the the month of October, we will be hosting a plethora of classes and special events such as an open house and student night. More details to come! See ya at the Duluth Makerspace!

Gecko (Monday, Sep 23rd - hg )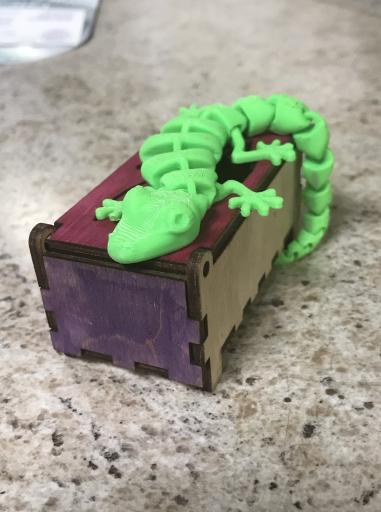 (A little Gecko to start the week )

Check this little guy out! A fun project from your Duluth Makerspace 3D printer lab.

Media Desk (Monday, Sep 23rd - hg )
(Another Phenomenal woodwork project )

Another fun product from the work shop from DMS member, Ian Nicks. Upon realizing he was in need of a media station he got to work in the wood-shop @duluthmakerspace. This desk/media center is the result of a little creativity and elbow grease. Looks like it turned out great!


Randys Table (Monday, Sep 9th - hg )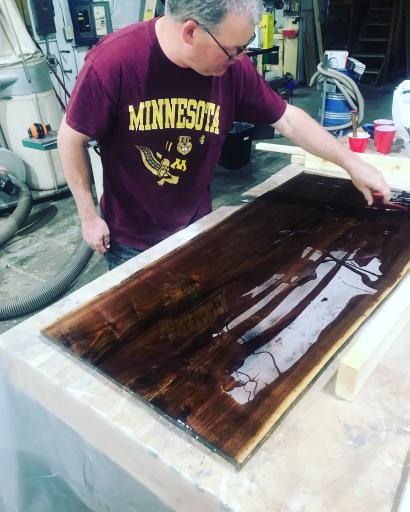 (Beginnings )

Monday beginnings ! This is DMS member Randy, finishing his new table project with an epoxy top. Randy doesn't have a background in woodworking, so he figured he'd start with a table. Gotta start somewhere ! Get creative this week !

Classes (Tuesday, Sep 3rd - hg )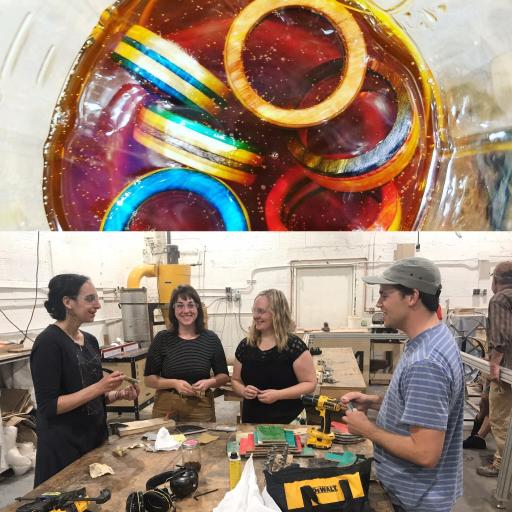 (Share the knowledge !)

Pictures from a skateboard ring making class hosted last week. If you are interested in teaching a class or have taught a class, the maker space needs your help. If interested please contact myself at duluthmakerspace@gmail.com with your idea or class. Thanks !!

Ian's Woodworking (Tuesday, Sep 3rd - hg )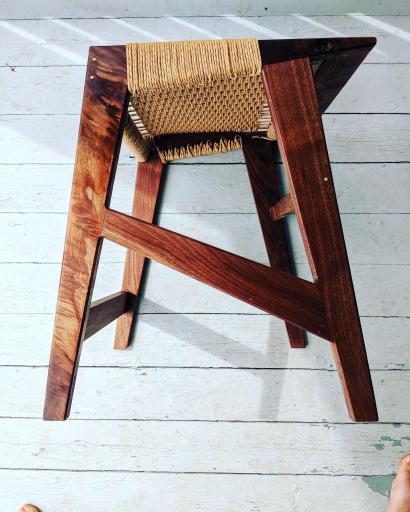 (More fine Craftsmanship out of the Woodshop !)

More fine work completed in @duluthmakerspace wood-shop by DMS member Ian! Keep up the creativity and keep making it happen!

Nefertiti Revisited (Thursday, Aug 22nd - hg )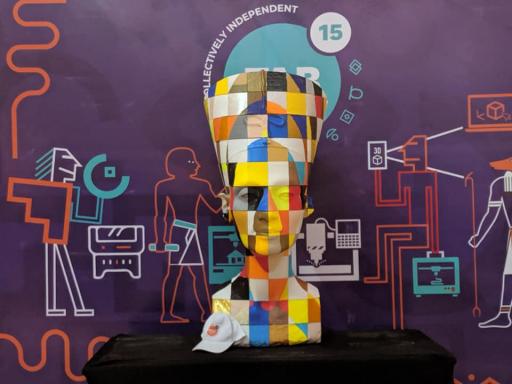 (Its Done ! )

This is part two of a post from a week ago, about a globally conglomerated, 3D printed statue of a Egyptian queen, Nefertiti. She reigned as queen of Egypt from 1353-1336 BC and may have ruled as Pharaoh after her husband's death. As part of a long running event, Fablab 15 and Makerspaces all over the globe, got together and created a statue to represent the deep history of Egypt and its rich culture. Here is the final result and another congrats to DMS member Jesse F. for being a part of this collaboration. Learn more here : https://www.facebook.com/pg/wethebuilders/photos/?ref=page_internal

Keep On Trucking ! (Wednesday, Aug 21st - Hg )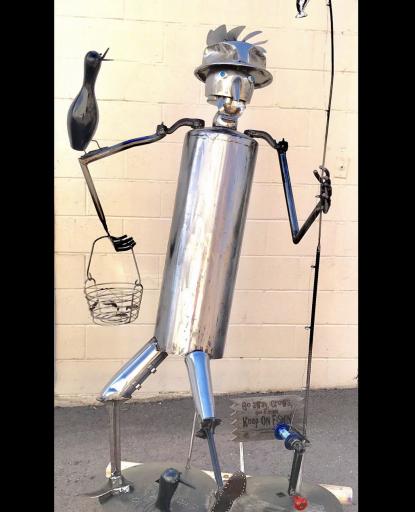 (Another awesome sculpture ! )

Another fun creation from member Mike O. This piece was created for the Minnesota State Fair Scarecrow Comp. This sculpture was based on a cartoon character from the 60's referencing the roaming nature of the nation at the time. It's welded out of recycled materials such as muffler, old shoe horns, and various other materials; all creatively assembled at the @duluthmakerspace. Keep on trucking, Mike.

3D Tap Handles !! (Friday, Aug 16th - Hg )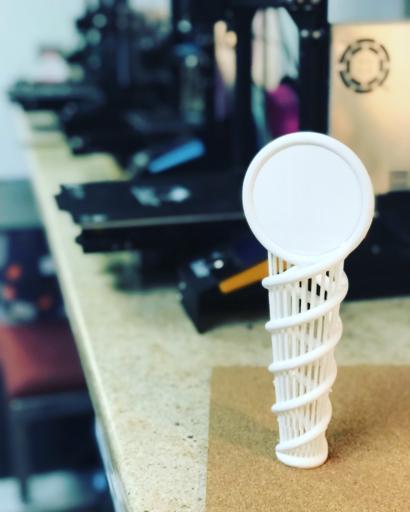 (So cool ! )

A great new tap handle for Duluth Kombucha, compliments of DMS member Troy compliments of the 3d printers at DMS and creator @robotrickshaw. Go see it in action @duluthkombucha !

Nefertiti Resurrected - From Stone To Plastic (Sunday, Jul 21st - HG )

(The Egyptian Queen )

As part of a 15 year running event, Fab Lab Egypt and Fab Lab new Cairo, are hosting the annual gathering for all Fab Labs and maker-spaces around the world. Each year, members of worldwide Fab Labs gather to share and create communities around the different local and global interests regarding digital manufacturing, innovation, and technology.

This year it's gonna happen in Egypt, which has more than 7000 years of making history. This year, they are assembling a large version of the original, an 18" sculpture of Bust of Nefertiti which is currently on display in Germany. As a brief history recap, Nefertiti reigned as queen of Egypt from 1353-1336 BC and may have ruled as Pharaoh after her husband's death.

In comes the Duluth Makerspace. Jesse Ferguson, a member at DMS, decided that this would be a cool project to work on and so, took up his share. They will begin to assemble these 3D printed pieces of the sculpture will be built at Fab15, a conference taking place July 28th to August 4th in Cairo and ElGouna Egypt. Congratulations to Jesse for collaborating on this unique project.

Storage Space (Wednesday, Jul 17th - HG )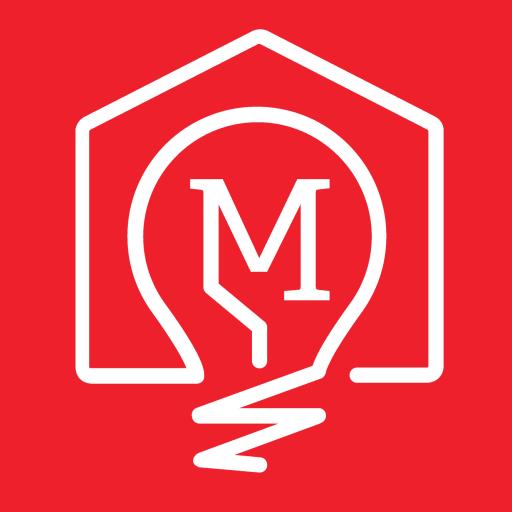 (Do need storage space ?)

Hello Folks !
A few spots in our storage area have opened recently!
If you are looking for more storage space at the Makerspace inquire with duluthmakerspace@gmail.com or on slack @hylandgarvey. Thanks!

Game On (Wednesday, Jul 17th - HG )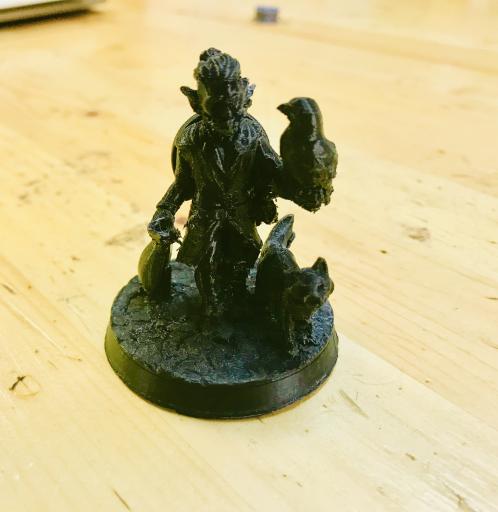 (Ready for a mythical adventure ?)

Mark has been working on printing D&D character from the get go of his time at DMS. Check out this new mini figure that he just printed! He is figuring how to get a more precise figurine with every reiteration. Looks ready for an adventure to a dark forrest or misty mountain village. Game on !

Practice Makes Perfect (Wednesday, Jul 10th - HG )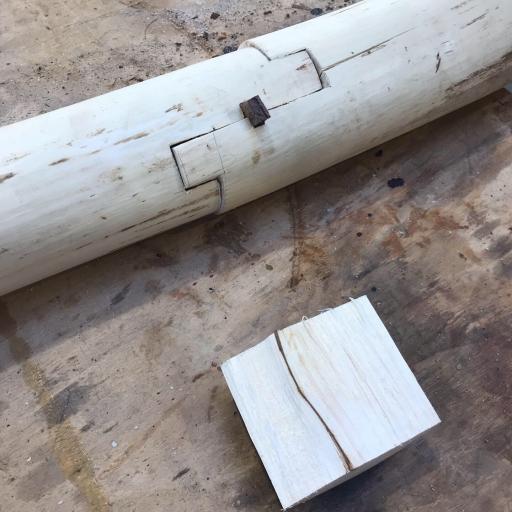 (Everything takes time )

Practice makes perfect! Duluth Makerspace member Dan continues to work on his joinery skills with this finger lap join. As does anything, these skills take time and practice. Looking good Dan !

Ingenuity (Saturday, Jul 6th - hg )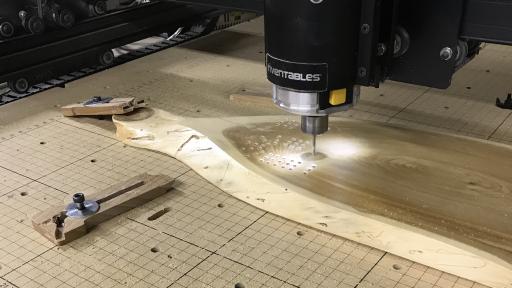 (Weddings can get boring .... but not this one )

DMS member Andy, decided to spice up his wedding day with these sweet cribbage boards. Once he figured out the X-carve, he got right to work.

Second Floor Cleanup (Success) (Thursday, Jun 27th - HG )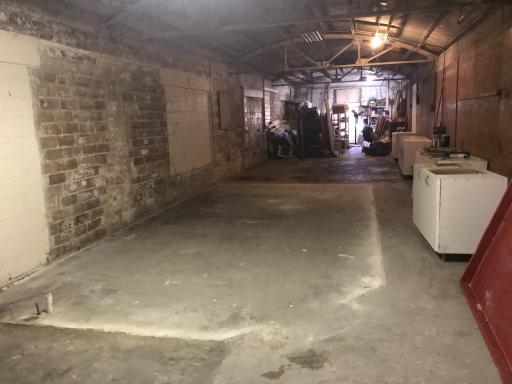 (Progress)

A belated thanks to all those who sacrificed a Saturday, cleaning and prepping the 2nd floor for upcoming renovations. This is a huge undertaking for the Duluth Makerspace, and is only to be achieved one step at a time. Again, thank you so much to those who volunteered. Check the calendar for upcoming events that will help increase the functionality and aesthetics of our amazing space.

Sharpening Ol' Skills (Monday, Jun 3rd - Hg )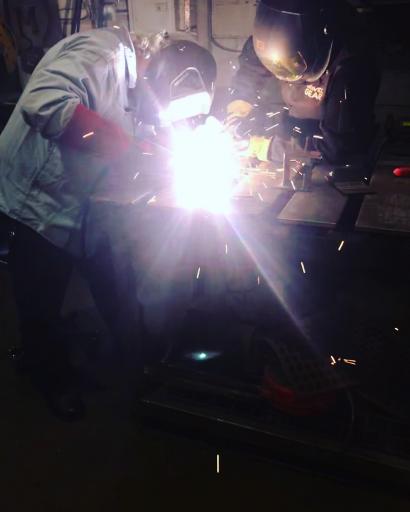 (Turns out you can always teach a old dog new tricks! )

It had been a while since DMS member, Steve, picked up a welder and did some work. To remedy this, he set up a 101 class with one of our metal workers and tuned up his skills. Pictured above is Steve, working on a spot weld.

Do you need to sharpen up those welding skills ?
Or are you a total beginner with a project in mind ? Let us now and we'll set up a class at the Duluth makerspace!

DIY Kitchen Island (Monday, May 27th - Hg )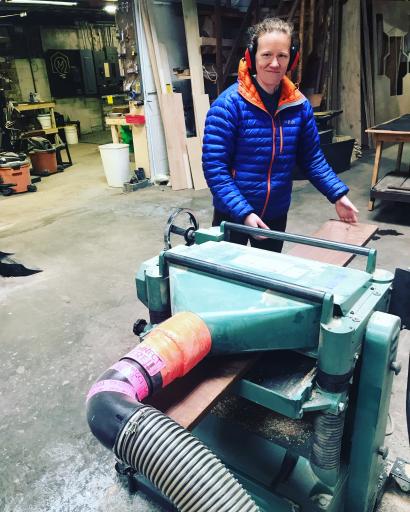 (Why not just do it yourself!)

Whatever the idea is, the Duluth Makerspace is the place to make it happen!

DMS member Lisa, needed more counter-space. So after a little deliberation, she decided to make her own. Keep up the creativity !

Memorial Day Weekend (Thursday, May 23rd - HG )
DMS will be closed to the public this Memorial Day Weekend. Thanks

Wool Daddy (Wednesday, May 22nd - Hg )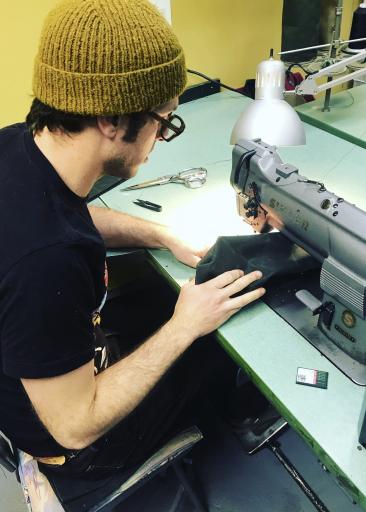 Here we have the DMS executive director Devan (@sextmachine ), working on the classic rolltop bag in our industrial sewing workshop. He makes it look to easy.

Tails In Motion (Wednesday, May 22nd - Hg )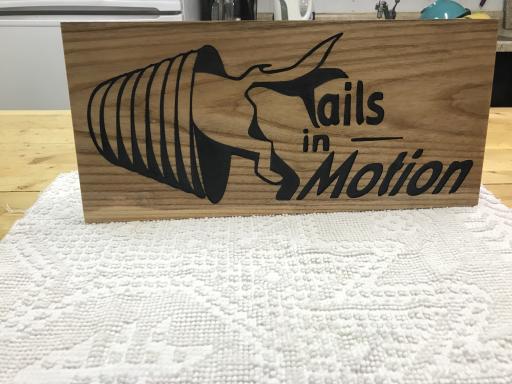 (Randy at it again ! )

DMS member Randy strikes again with the use of our CNC machine. Check out this creative sign he created for a friends business !

Reuse,Reduce .... Retool ? (Friday, May 10th - Hg )
(Finding a new purpose for scrap wood )

DMS woodworker, Ian has been hard at work. As of late he's completed a bed frame, coffee table and side table. Using the scraps from these projects he is now on to another project! Ian is using the lathe to carve new handles for his chisel set using the left over wood from his project. Way to stay creative!

Royal Pines (Friday, May 10th - Hg )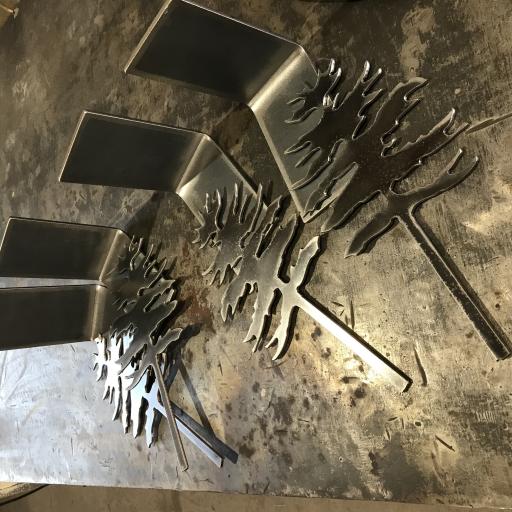 (Northern Finish )

DMS member and resident metal worker, Royal is at it again. After plasma cutting his iconic pine trees out of steel, he works his magic. In everything from bookends to garden rails, he includes these to finish with a beautiful northern touch. Looks great!

Jacobs Lights (Saturday, May 4th - Hg )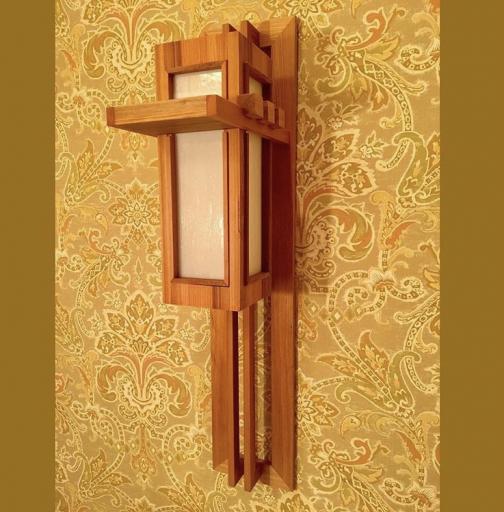 (It's Finished ! )

Look familiar ?
Check out the finished product of DMS maker Jacob! His Frank Lloyd design inspired custom lamps finished extraordinary! Check @remedy.work on Instagram for full details and more photos !

Woodshop 101 (Saturday, May 4th - Hg )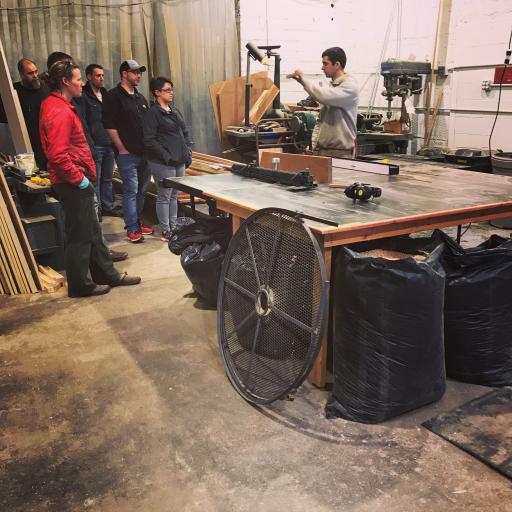 (Safety first)

Big shout out to DMS Woodshop Manager, Eric E. for yet another thorough Woodshop 101 class. It's great to let your imagination free, to see an ornate chair or cabinet in a piece of oak; however safety in the shop always comes first. Thanks for reminding us how to safety create! More classes coming soon!

Jacob's Intricate Light Fixtures (Saturday, Apr 27th - Hg )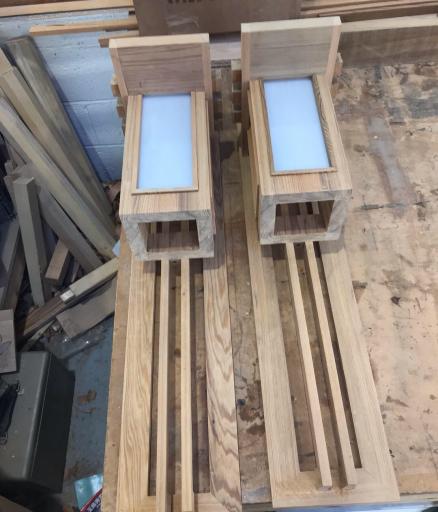 (Can't wait to see final result!)

The process of building custom light fixture is one of focus and patience. Here DMS member, Jacob, finished the process of assembling these custom light fixtures out of a cypress. Piece by piece, he meticulously nails and glued these piece together. Stay tuned for the finished product

Exotic Furniture For The Bedroom (Saturday, Apr 27th - Hg )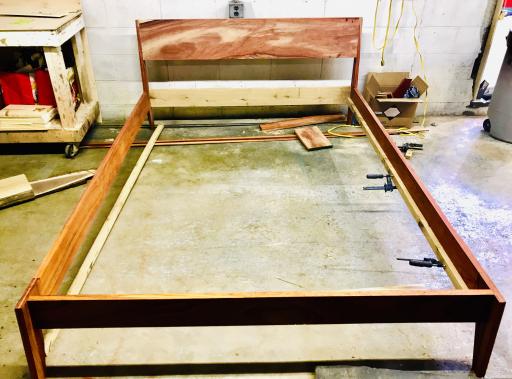 (It's foreign )

Another fine piece of work by Duluth Makerspace member, Ian. Its a sturdy build with quite ornate lumber. Padauk (pronounced pa-doo) or Pterocarpus soyauxii is generally sourced form West Africa. Its an elegant orange-brown hardwood tree often grows in small groups and is common in dense equatorial rain forests. The tree grows to a height of 100 feet and possesses excellent weathering properties. You learn something new everyday!

Drum Kit Facelift (Friday, Apr 19th - Hg )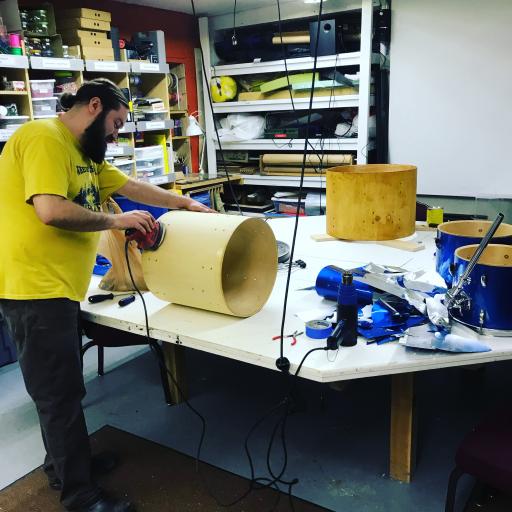 (Rat-a-tat)

From old to new! DMS member, Alec deciced it was time to give his drum kit a new look with Homegrown just around the corner. Picture here is, post-removal of the cracker blue vinyl. Once sanded, he plans on giving them a few coats of stain. Way to be creative!

Woodshop Work (Friday, Apr 19th - Hg )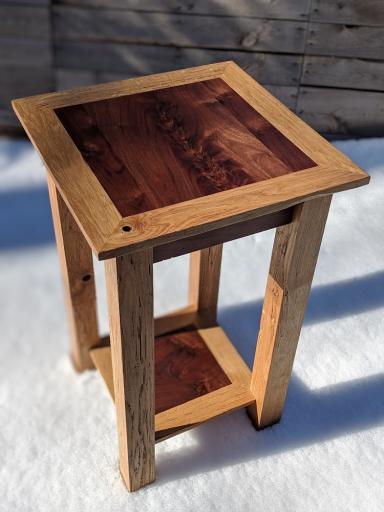 (Amazing what a little stain does )

It's amazing what a coat of stain can do. Beautiful finished product of DMS member Ian. A great example of the work from our full fledged wood-shop @duluthmakerspace !

Even Barbie Needs A Toilet. (Thursday, Apr 4th - Hg )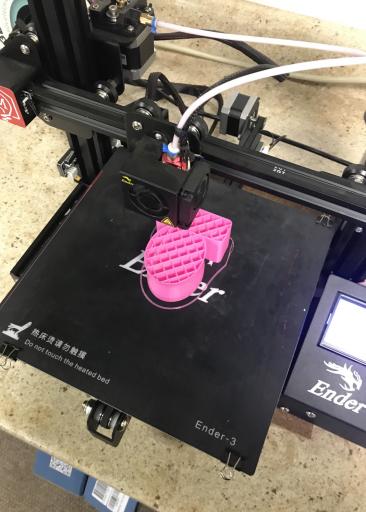 (Pretty Pink 3D potty )

Even Barbie needs a toilet.
DMS Chris' daughter requested a pink potty for her Barbie and, Chris creatively answered the call. Here, he is having one of our new 3D printers print such a pretty pink thunder-throne for the dolls. Well done, Chris!

A Smashing Hit (Thursday, Apr 4th - Hg )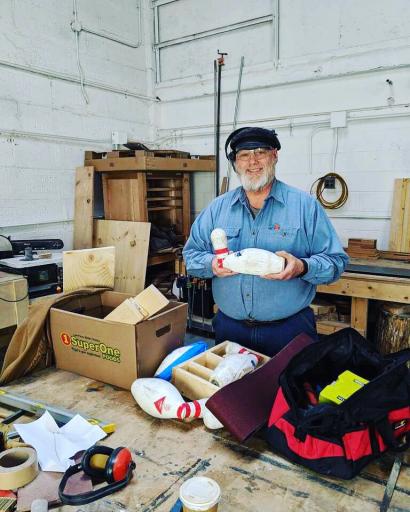 (Mike and his art )

DMS member and artist, Mike Olsen presenting the essential piece of his self described "yard art". He recycled old bowling pins and turns them into animals of the North. Way to keep creating!

Alien Miniature (Saturday, Mar 30th - Hg )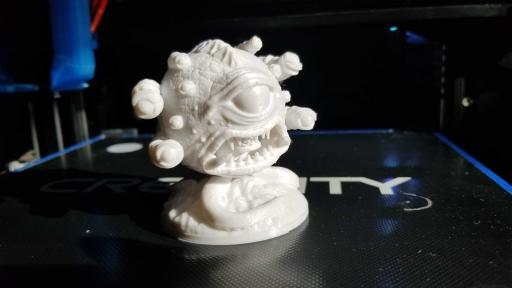 (They came from space ! Not really, just a 3D printer . )

DMS tech shop manager Jesse F., has been up to some 3D printing experimenting. Here is a 2 part miniature he printed up last week! Check it out.

Old 2 New (Monday, Mar 25th - hg )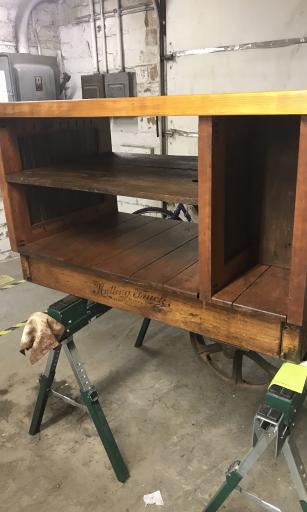 (Bringing the old back to new )

From Old to New !

DMS member Erik has now done a few of these old cart makeovers. Seems as though, he's really getting a hang of it.

Kool Kimono (Sunday, Mar 17th - Hg )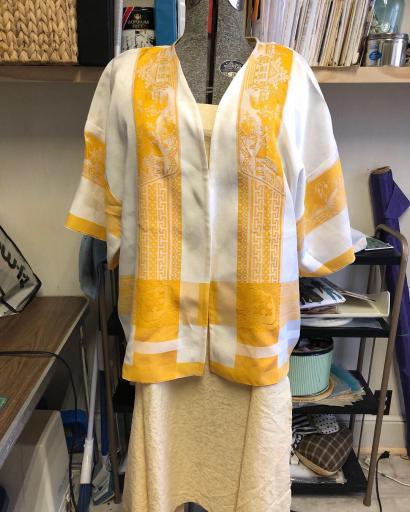 (Some see tablecloth others upcycled kimono )

Check out this amazing upcycled kimono, created by our very own DMS member Maria. I guess she saw something different in this cloth then just a vintage tablecloth.

Royal Trees 🌲🌲 (Friday, Mar 8th - HG )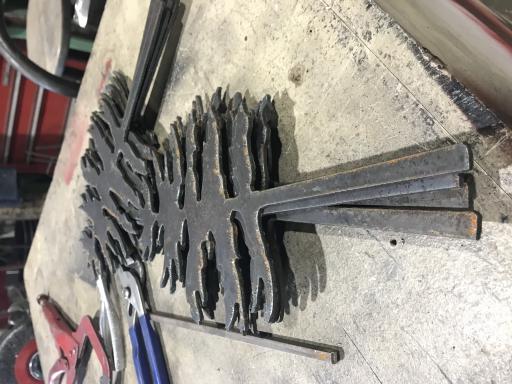 (More cut-outs )

One of the initial steps in Royals work is getting his cutout designed. Essentially, he provides a design and a CNC plasma cutter does the work. Coming soon, more steps of his welding process!

Dogs ! (Friday, Mar 8th - HG )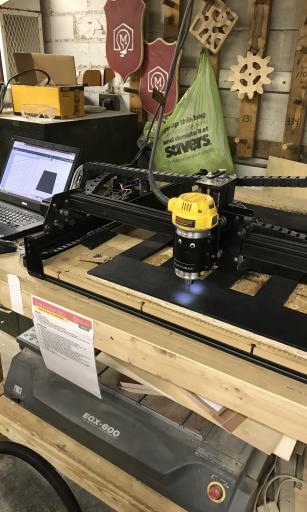 (Cut out in process for a jump fence, used in a obstacle course for dogs )

DMS Member Randy is an avid dog lover! He is so interested in dogs, he regularily participates in agility competitions for dogs. After doing this for a while he got involved in the planning of the courses. Here he is cutting out a side panel for one of the obstacles, on the CNC machine.

Howard's Game (Wednesday, Feb 27th - HG )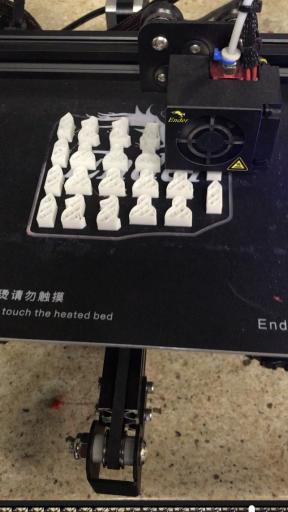 (When Life gives you Lemons, you make Lemonade. )

DMS members Howard, recently bought a used Game of Thrones board game with most of the pieces for a steal, all he had to do was create the gameplay pieces. Way to be creative, Howard ! #makerspace #3Dprinting

Northern Light Community School Tour (Wednesday, Feb 27th - HG )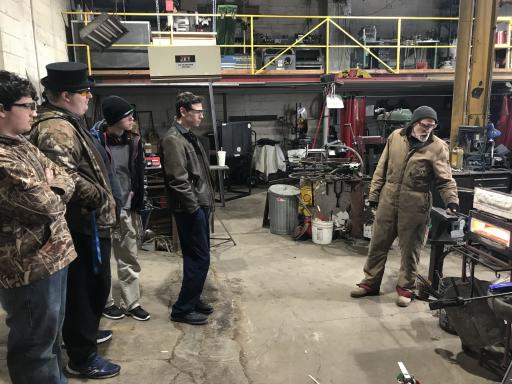 (Creative Sparks are Flying )

Here is a group from Northern Lights Community School, a charter school located in Warba, Minnesota. DMS member, Royal, volunteered a blacksmithing demo for the group, and the creative sparks were truly flying.

Maintaining The Tool Of The North (Friday, Feb 22nd - HG )
(Whatever it takes, keep it running !)

Royal using the shop for an essential repair on his trusty Arien #letitsnow !

New Tent (Friday, Feb 22nd - HG )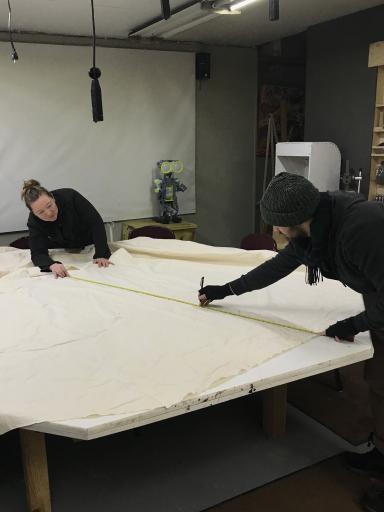 (Focused ! )

DMS members, Leeann and Hunter, are hard pressed and focused, getting this tent all laid out.

Woodshop 101 ! (Monday, Feb 18th - HG )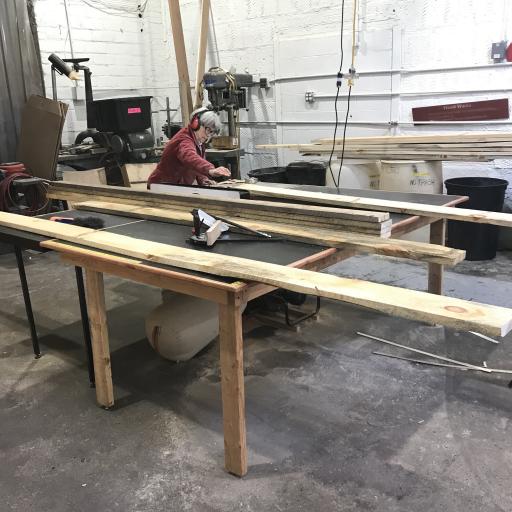 Just as reminder we have our 3rd Woodshop 101 class of the month, Tuesday the 19th ( tomorrow ) . Contact Rick U. or Erig E. with questions. See ya there !

A Tropical Take On A Northerner's Game (Thursday, Feb 14th - Hg )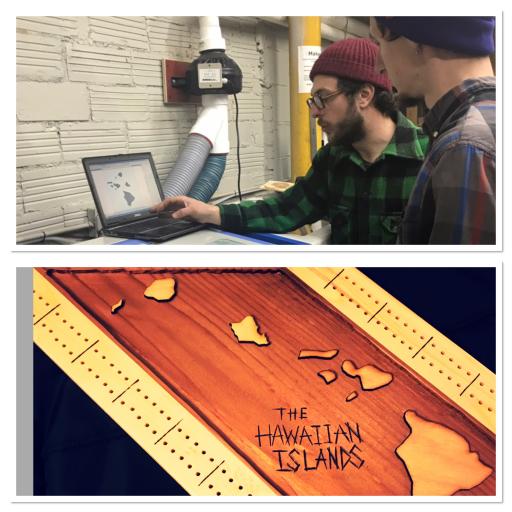 (I can see it now palm trees, white sand, blue water ..... oh it's snowing again )

To complete his cribbage game for parents, Jeff thought it would be a nice touch, to do a laser cutout of Hawaii. Only thing holding him back was how to use 40 watt laser. Good job learning a new skill.Looks like it turned out quite tropical!

Members Demo Night (Saturday, Feb 9th - HG )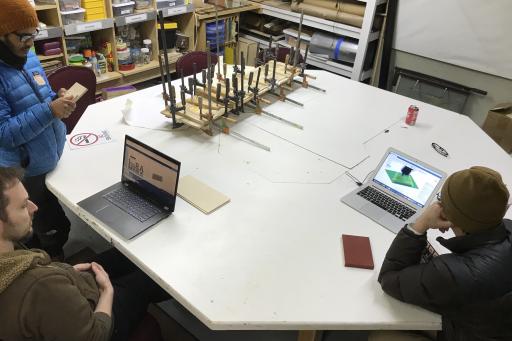 (Learning about all the three dimensional potentials of the x-carve )

Photos from our demo night. All the talk was had about 3D uses of the x-carve cnc machine. Using these applications, Paul did some neat prototyping of a fin for his surf board .
We hold a demo night the first Wednesday of every month. It's free and open to the public, so come on down the next time !

Dungeons And Dragons Meets 3D Printer (Saturday, Feb 9th - Hg )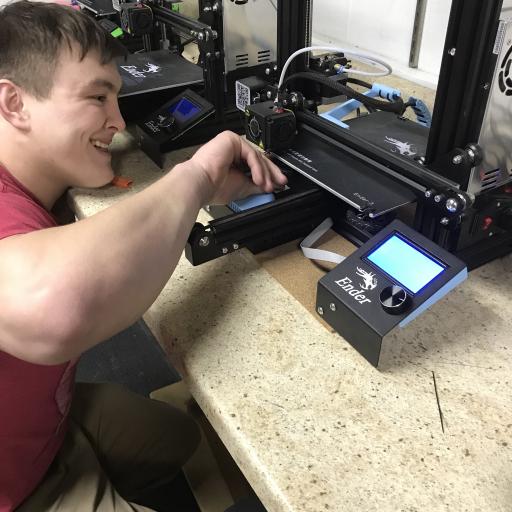 (Gotta be accurate )

Here we have DMS member, Justin getting the 3D printers plate level before he start his print of a few D&D characters for his next game .

Hunters HOT New 🔥🔥woodstove (Saturday, Feb 9th - H.G )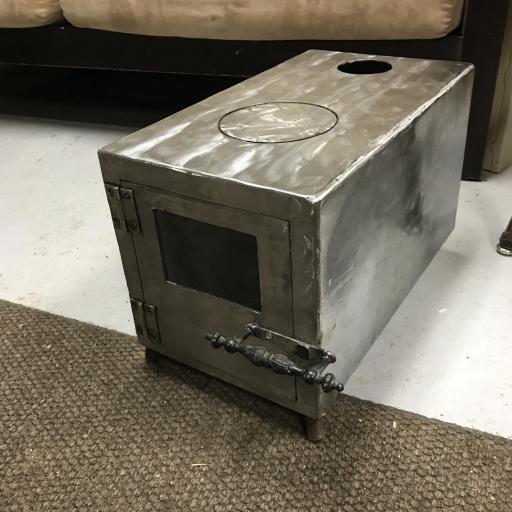 (Keeping the yurt life toasty )

Check out this portable wood stove fabricated by DMS member Hunter. Sounds like Hunters yurt is going to be warm and stylish this winter !

Jeremy's Custom Paddle (Monday, Feb 4th - Hyland Garvey )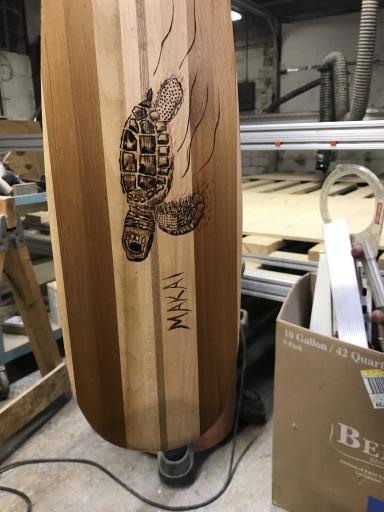 (Jeremy is stayin busy with his woodwork )

While simulatneously working on a series of snurfboards, DMC member Jeremy B. has whipped together a really good looking paddle. In addition to its looks, the paddle has got great ergonomic feel and some custom design as well!

Diy Mukluks (Tuesday, Jan 29th - Hyland Garvey )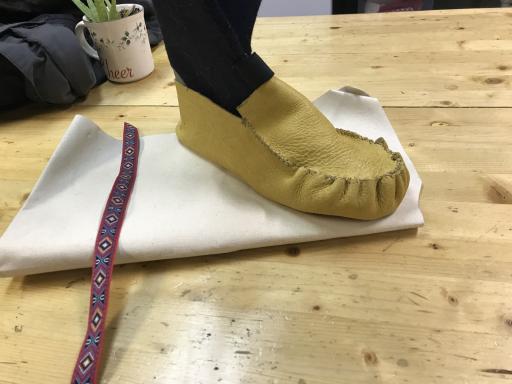 (Brrr it's chilly ... time to break out the Mukluks )

With all this chilly weather look like DMS member Chris's DIY mukluks are gonna come in handy !

What Goes Up Must Come Down .... With A Parachute? (Sunday, Jan 27th - Hyland Garvey )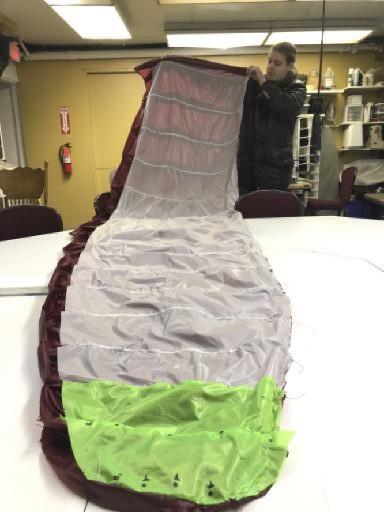 (Brice's rocket parachute )

Looks like the UMD's High Power Rocket Club newest rocket will be in good "hands" with this swell
chute. Lookin good!

X-Carve Class With Randy (Saturday, Jan 26th - Hyland Garvey )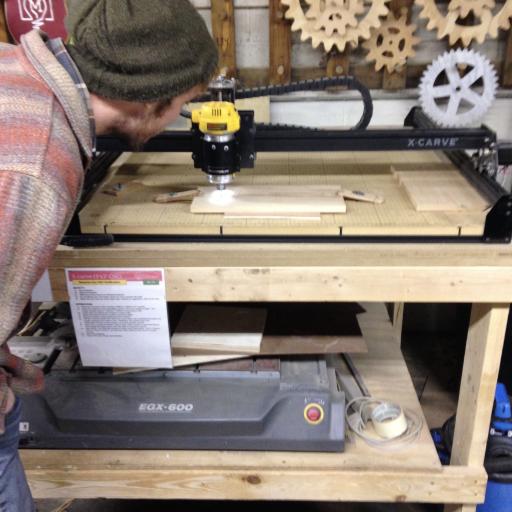 (Congrats on teachin your first class ! )

Randy took on the challenge of teaching a class on the xcarve ( cnc machine ) . Congrats Randy !
•
•
• Interested in teaching a class yourself ? DM me or message Hyland on slack !

More Progress On 3D Printers (Saturday, Jan 26th - Hyland Garvey )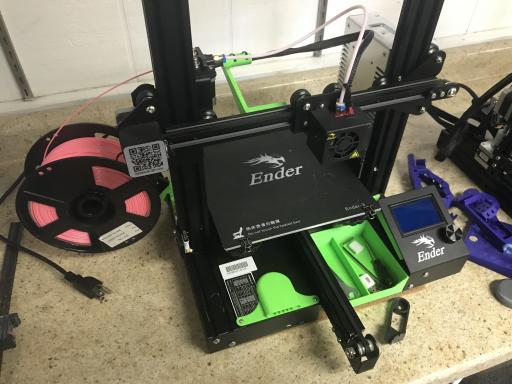 (Progress made on new printers )

Thanks to focus on Jesse's part , the 3D printers are almost finished and ready to crank out creations. Good work !

Fancy Snurfboard (Saturday, Jan 26th - Miranda )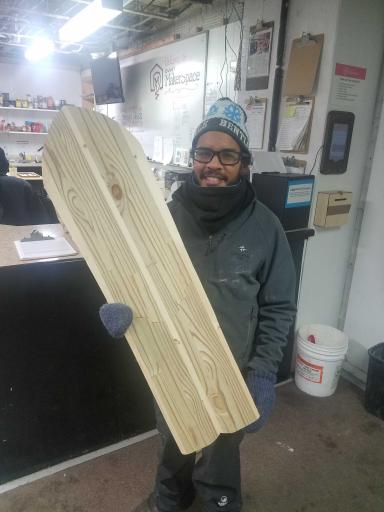 (Jeremy and his snurfboard)

Member Jeremy worked on a snurfboard! Hopefully it warms up a little so he can put it to use.

Tech Shop Cleanup (Monday, Jan 21st - Hyland Garvey )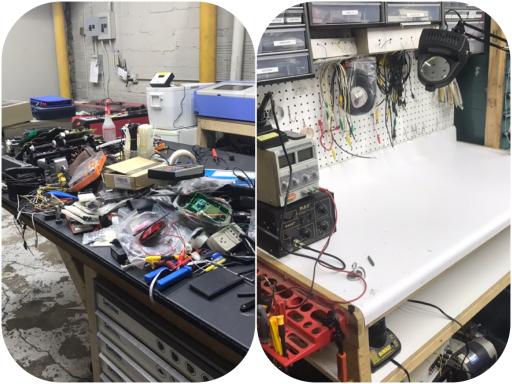 (Shoutout for the Cleanup )

Big Shoutout to Jesse Ferguson . He put some time and effort into cleaning and reorganizing the tech shop. Only the beginning !

Royal Towel Rack (Friday, Jan 18th - Hyland Garvey )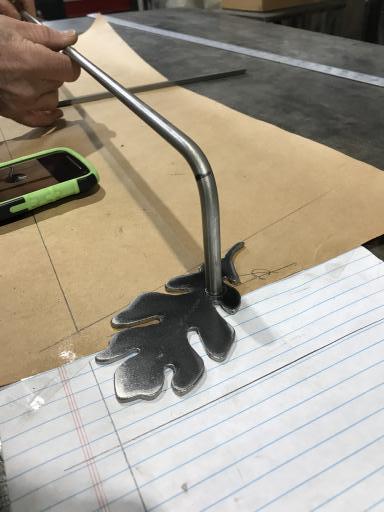 (Artists take on a seemingly simple project )

Sounds like Royals been at the metal fabricating game for quite a while. Above, is a towel rack he's putting together for his home . All stainless steel with a plasma cut maple leaf on either side, to add some character to his creation. Looks great !

Eric's Skis (Thursday, Jan 17th - Hyland Garvey )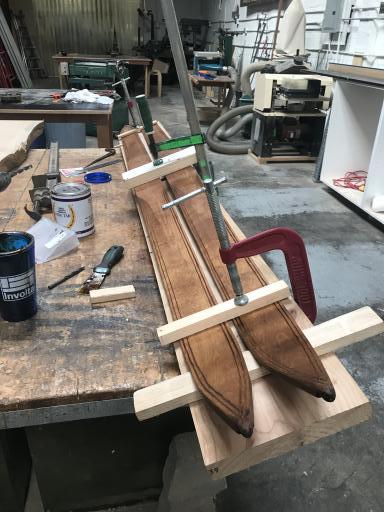 (DIY XC skis )

Check out these awesome backcountry xc skis Eric put together !

Fired Pottery (Thursday, Jan 17th - Hyland Garvey )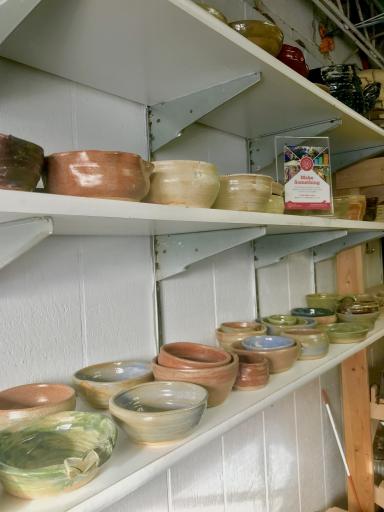 (Fired pottery ready for pickup! )

All fired pottery has been set downstairs and is ready for pick up! Come and get it!

New 3D Printers (Tuesday, Jan 15th - Miranda )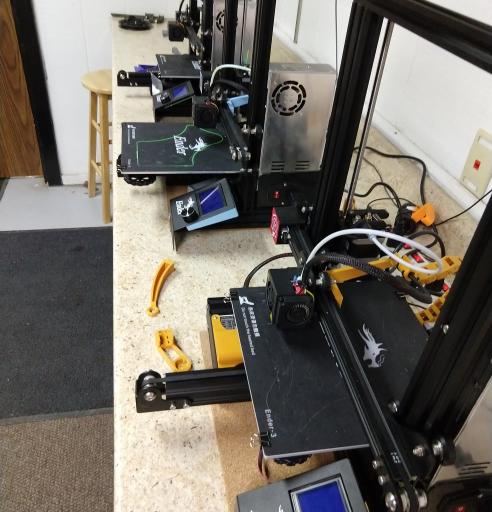 Jesse, our tech shop manager, did some work researching 3D printers and found us some new ones. They look great and the prints that come off them look even better!

Woodshop Lights (Wednesday, Dec 19th - Miranda )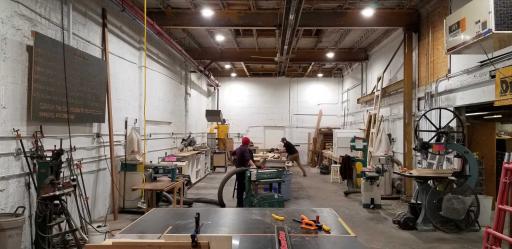 (A nice, bright woodshop. )

The woodshop lights have been replaced! Gone are the days of waiting 10 minutes for the lights to warm up. It's also now incredibly bright in there!
The metalshop lights were done about a month ago, so it's also significantly brighter and a more usable space now.

Thanksgiving Weekend Hours (Tuesday, Nov 20th - Alyssa )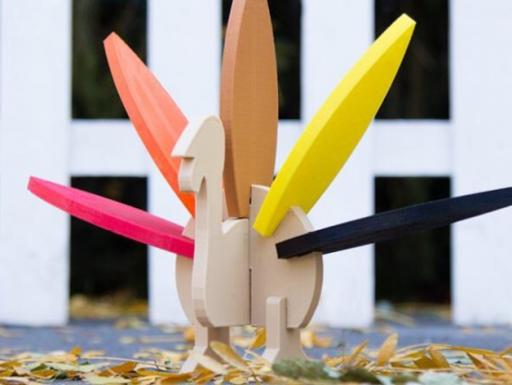 DMS will not have staffed hours on Thursday, Nov 22nd through Sunday, Nov 25. Members are still welcome to use the space using their card or keyfob.

Back In Business! (Tuesday, Oct 16th - Alyssa )
Good news, everyone!
After rectifying some code issues and getting the thumbs-up from the city, Duluth MakerSpace is back in business!

We have had to make a few changes to DMS in order to reopen, some only temporary, but we are confident that everything is for the good of the space:
- The pottery and lapidary areas have been removed. That whole area will need to be rebuilt after we file proper permits. If you have any ideas about improvements that can be done on the rebuild, please let us know!
- The large 100 watt laser is out of commission until it can be blessed by an electrical engineer. This should happen in the near future.
- The large CNC machine is also out of operation. Plans for it are still TBD, but one option is to cut it down and finish making a plasma cutter. We may buy a smaller CNC machine to replace this one.
- Any equipment in the woodshop that requires dust collection can't be used until our collection system is set up. We are working with Parsons Electric to complete this upgrade and should be done within a week or so.

We will continuing to make improvements to the building to bring everything up to code as well as making sure we have a welcoming and well-used space.


Progress & Update (Thursday, Sep 20th - Alyssa )
(Old lights)

We are submitting our letter of appeal to the city today and hope to be open for business again in the near future!

We are also getting the lights in the woodshop upgraded today with some nice LEDs. We had a lot of volunteers help with the woodshop and it is going to be even better than before!

Temporarily Closed For Projects (Tuesday, Sep 11th - Joe )
DMS is temporarily closed for member access. Volunteers are welcome to come and help work on DMS itself but starting Wednesday the 12th we are closed for normal member usage for a few days while we cross some I's and dot some T's. All memberships will be extended by the number of days we are closed. Thanks for your patience and understanding. We will update when we know what date we can open back up for full access.

Big Work At DMS This Month+ (Saturday, Sep 8th - Joe )
Pardon the Dust, or come help make some! DMS is making a big effort at improving the woodshop and a long term remodel of lapidary/pottery. So, we need volunteers and patience during the process :) See our Volunteers channel in our chat (Slack) for current efforts and how to help out.

Thanks For Your Patience And Support (Friday, Aug 31st - Joe )
We have had dozens of folks respond with interest in the Staff Position! This is great. We will be doing our best to find the best match we can, Thanks to everyone who responded. Give us another couple weeks to sort through and do some interviews! Thanks much!

PAID STAFF POSITION AT DMS! (Sunday, Aug 12th - Joe )
In an effort to improve day-to-day operations and communication at Duluth MakerSpace, we are considering hiring a Operations Manager (No experience necessary!) Please see and share our application: Operations Manager Position. We would like to find someone as soon as possible, so please do not hesitate to reply if you have interest!

New Door Access System Installed. RFID Working Again! (Thursday, Aug 9th - Joe )
Well, it's been a couple months of various issues plaguing the RFID system. We finally today installed an all-new-simpler build that hopefully fixed the several glitches that were occurring. Apologies for the delay and general frustration. I personally would make time to go fix it , and it would be working those nights, which makes it difficult to troubleshoot. By replacing the whole system, should be solid again. And We will have on-hand-backups!! :)

Official Non-Profit Status (Thursday, Aug 2nd - Alyssa )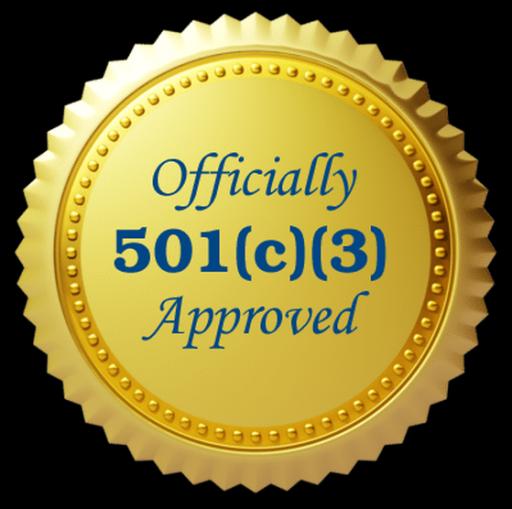 Duluth MakerSpace has attained its official 501c3 Non-Profit status from the IRS!

MakerSpace BBQ (Thursday, Jul 12th - Miranda )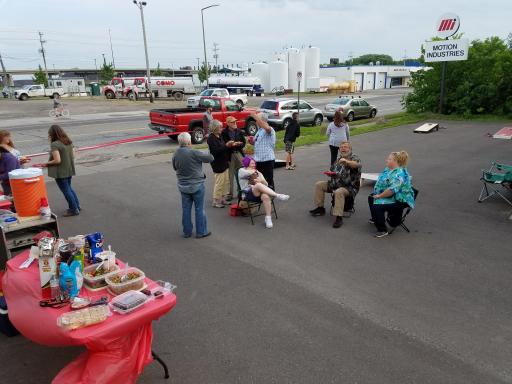 (Great attendance! )

We had our first MakerSpace BBQ on Wednesday evening. It was great! Thanks for organizing and setting it up, Shari. We will have another in August for those that missed this one.

Accordion Fold Shelves (Friday, Apr 6th - Miranda )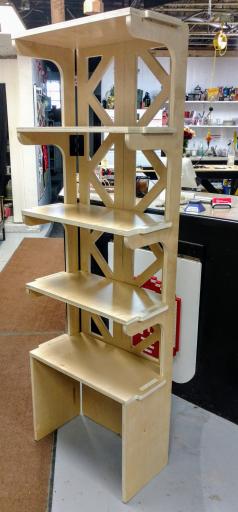 (Custom designed shelves )

Member Devan designed these accordion fold shelves and cut them out on the CNC. They turned out great!

Craft Room Upgrades (Thursday, Feb 8th - Joe )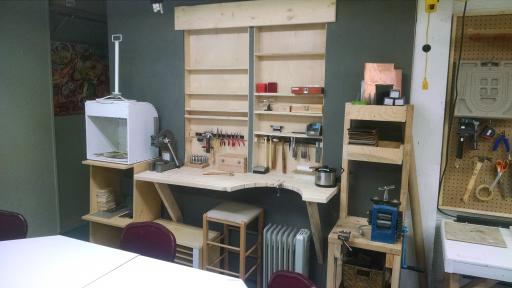 (Awesome Creative jewelry station setup!)

Shari has been doing some awesome work with the craft room! She has put dozens of hours into improving this space for everyone. Way to go Shari! She has improved shelving, painted a bunch, among other work. Most recently she built a custom jewelry bench with some awesome shelving built into the wall!

Gingerbread Dodecahedron (Monday, Dec 11th - Alyssa )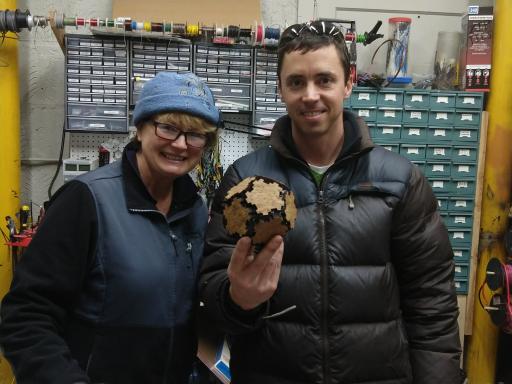 (Paul & Lynelle with their finished product)

Check out Paul & Lynelle's dodecahedron, cut precisely using our laser engraver. Note: Probably not as delicious as gingerbread normally is.

Two Loons Partnership (Sunday, Oct 15th - Miranda )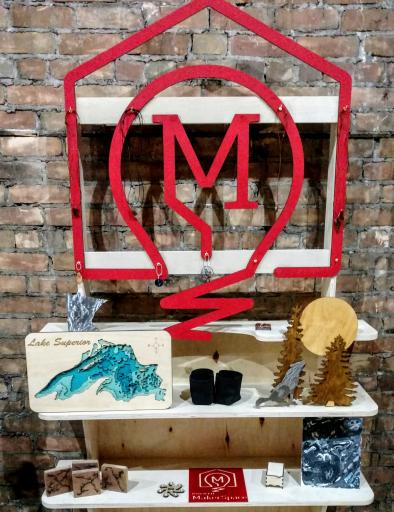 (Our display with a few pieces )

We have always wanted a way for members to be able to sell what they make to our local community. Two Loons Gallery and Boutique has now made that easier! We have partnered with them to have a display that shows off, and offers up for sale, items made by members of the MakerSpace, and they're even located in our same neighborhood, Lincoln Park! Go check them out.

Beautiful Cutting Board (Tuesday, May 16th - Joe )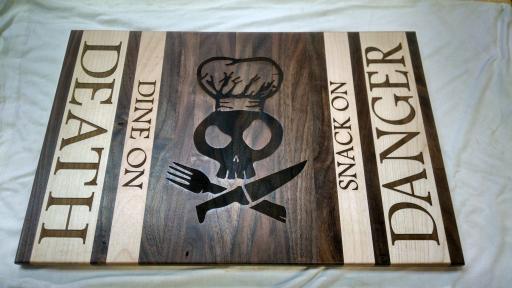 (Greg's board has a bit of attitude.)

Combination of using our woodshop for making cutting boards, and then big laser to engrave them is pretty sweet. Greg did a spectacular job with one recently.

3D Printed Bot (Monday, May 15th - Joe )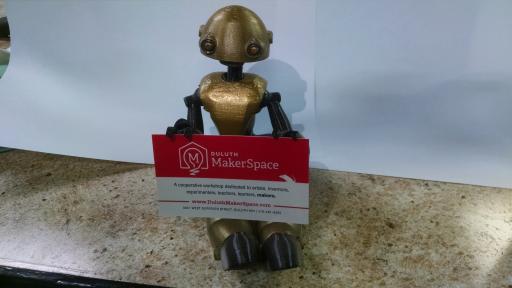 (Chelsey has spent some time sanding and painting to achieve a realistic old robot look)

Our 4 Makerbot 3D printers have been running well, we also have the fancier MendleMax3 finally producing as well. Easy to use tools to make most any part you can dream up.

Embroidered What? (Sunday, May 14th - Joe )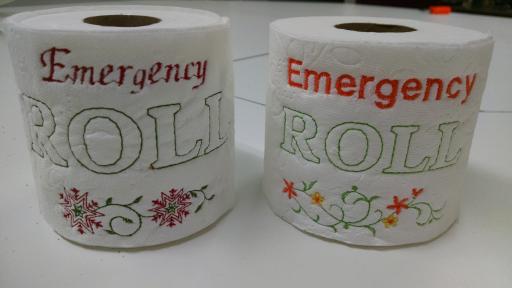 (Lynelle has a sense of humor in choosing her materials for embroidering!)

Our small brother embroiderer has a bunch of built in easy to use embroidery options, Lynelle recently ran a demo night featuring the machine and usage.

Fun School Tour (Thursday, Mar 16th - Joe )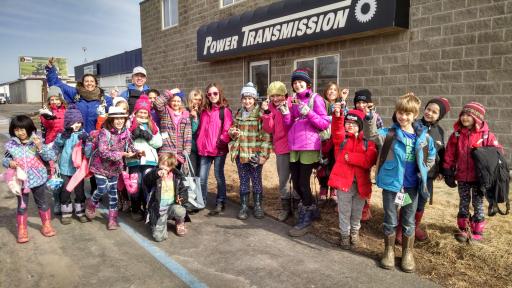 (a group of 20 students from Montessori were fun to show around. )

Had a group of 20 kids come through this afternoon and we showed them active 3D printing projects as well as a brief tour of woodshop/metalshop and then had them assemble some laser cut rocket ships to take home.

Member Drive A Success! (Sunday, Feb 26th - Joe )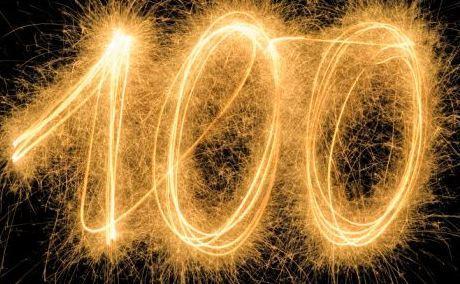 By the end of Saturday's Tour/Demo Night we had 104 active paid members! We reached our group goal! Way to go Everyone! Duluth MakerSpace is a complete success. Through Hard work and Volunteer Effort we all Built it, and now it's being enjoyed at a sustainable level. Boom! Spectacular Job. Thanks again to each and every awesome one of you!

Member Drive In Final Stretch! (Thursday, Feb 23rd - Joe )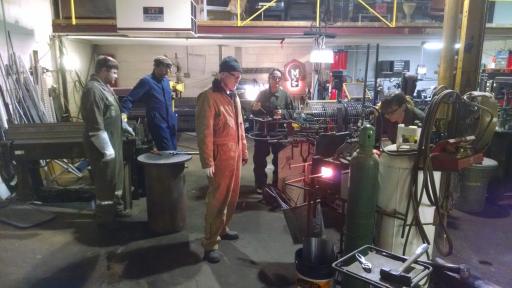 (Royal's Forge Bending Class produced some quality Trivets!)

Our goal for february was to hit 100 members by March 1st. We are getting very close! 94 members as of today. Only a few days left, but we might should be able to make it if we keep pushing! Great work volunteers! Come join this extraordinary group of cool people!

Fun Day Of Classes (Sunday, Feb 19th - Joe )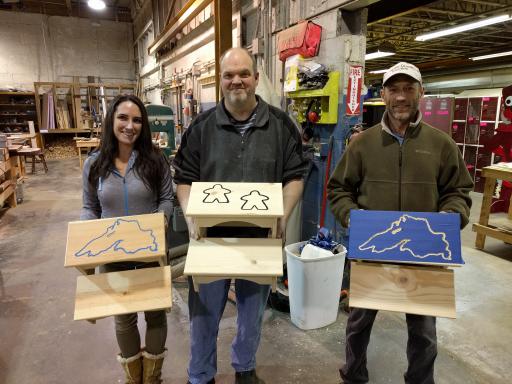 (Steven's step stool class turned out well!)

Rock engraving, lapidary and a step stool class all went well today, fun day down at the shop!


Comments
Miranda Durbin: Those turned out so great!

Lego Mindstorm Kits (Friday, Feb 10th - Joe )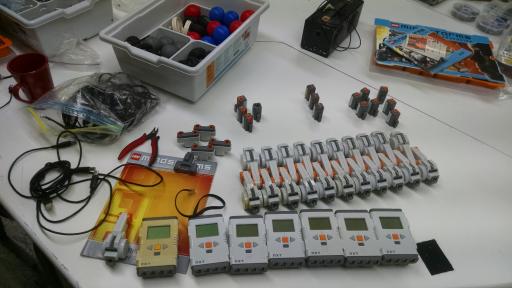 (Taking inventory and testing)

DMS is assembling 8 working Lego mindstorm kits and lots of technics Legos. We can offer these fun beginner robotics classes at the space as well as possibly renting the kits out. The space has Been very busy the last few days. Everyone is really pitching in with the member drive.

Metal Cutting Laser? (Sunday, Feb 5th - Joe )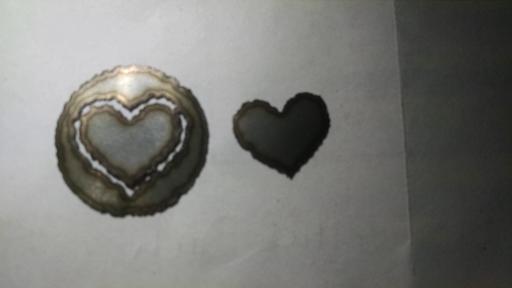 (.1mm Stainless Steel, The circle is about 2cm across.)

I lied! the 100w laser CAN cut metal. Every tour I've ever given I've said it cannot affect metal. Did a test recently and it can cut .1mm stainless steel, (Almost foil!) However, it is very slow, and a pretty horrible finish :) So, It was a mostly-true statement. Still, It may be fun for some artsy project. We need to finish the actual CNC plasma cutter soon, that's the real answer.

February Member Drive! (Friday, Feb 3rd - Joe )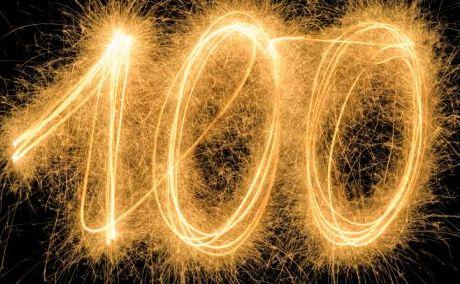 We are making a large group effort to grow our membership up to 3 digits this month! We've been hovering near 70 for a few months, and want to boost it to closer to 100. To that end, we are offering a class or event every night of February! Come take part in making our cooperative shop even better!

New Fancy Router Table (Friday, Jan 13th - Joe )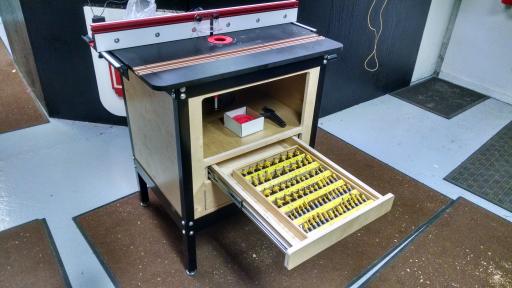 (Picture of table nearly finished.)

Very nice router table has been added to the DMS Woodshop! 3.5hp Porter Cable, plus a high-end Jessem Lift, and a huge array of 1/2" shank bits make this a great new asset for the space.


Comments
John Nephew: The lift works great and makes it really easy to raise it up and change bits as well as adjust the cutting height.

Wood CNC Rotary Axis Built (Thursday, Jan 12th - Joe )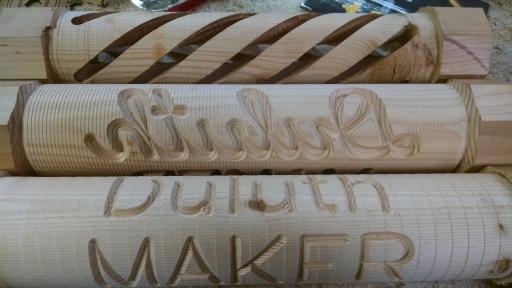 (three examples milled out of simple 4x4 construction lumber.)

We put a Rotary Axis together for the Big CNC. It spins the wood rather than moving along the Y axis. Text and helical designs and more are simple and elegantly accomplished! Max workpiece is ~7' x 7" diameter. Talk to Joe to get trained in on the attachment.

End Of Year DMS Potluck! (Wednesday, Jan 11th - Joe )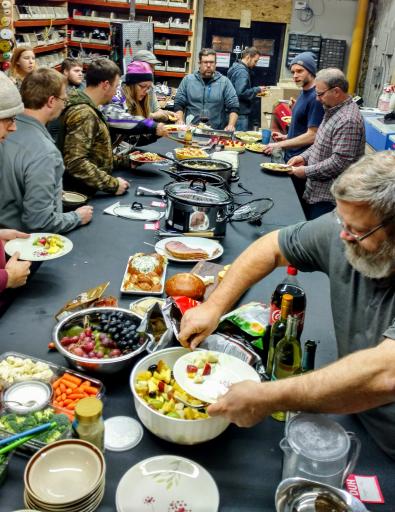 (What a great group of folks!)

Very End of December We had a lot of fun and good turn out for an end of year DMS potluck. As with any good potluck everyone got a fun taste of too much food and some time to hang out with great people. It may need to become ritual. Thanks everyone!

Fan Art (Friday, Dec 23rd - Joe )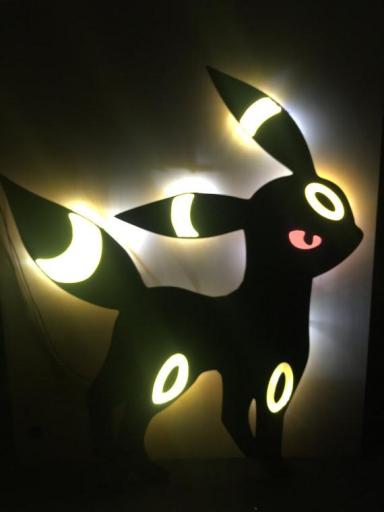 (Jessica's Pokeman fan art has custom Arduino controlled animated lighting!)

The shop has been busy. Many creative holiday gifts have been churning out. Lovingly laser engraved from scratch cutting boards, Fan art creations, Layered plywood Bathymetric maps, Original agate jewelry, Ornaments of many kinds, And much more. Always an interesting day down at DMS!

Great Holiday Gift Option (Monday, Nov 28th - Joe )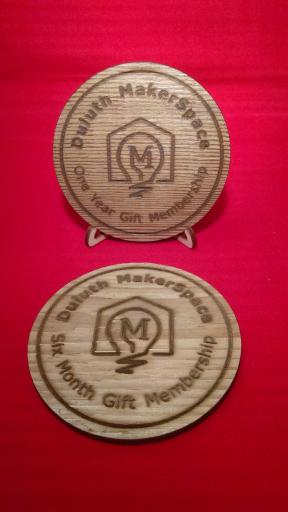 (Laser cut cedar gift certificates.)

What better gift than the gift of access to every imaginable tool and machine this holiday! Duluth MakerSpace is offering 6mo gift memberships for $270 including a free month for purchaser. Also full year membership for $450 includes 2 free months for purchaser. Stop by shop during staffed hours to receive a laser cut cedar gift certificate.

Huge CNC Project (Thursday, Nov 24th - Joe )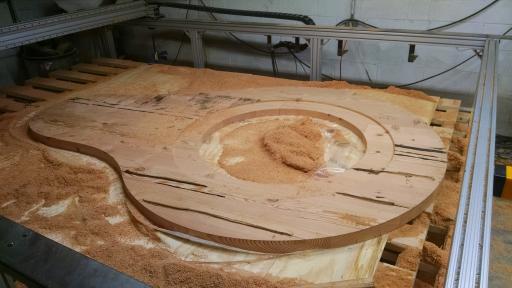 (Devin's Massive Smooth Avocado Shaped Creation)

The Big CNC finally did a project using most of it's large usable area. A smooth round 9'x6' timber glued table top. Turned out really nice. at 3" thick with lots of massive pocketing etc. it was several hours of machine time, but the results were very nice.



Comments
Miranda Durbin: That looks awesome!

Laser Cutter Versatility (Thursday, Nov 24th - Joe )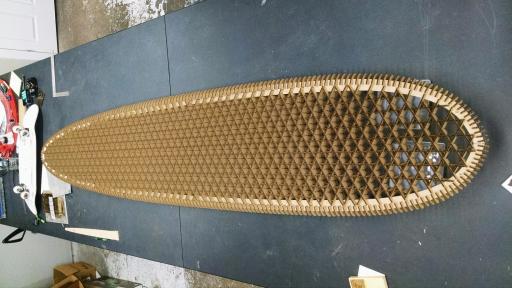 (Member Paul cut out hundreds of cardboard pieces for this slot-assembled surfboard form!)

Our big 100w laser is a joy to use and has thousands of applications. #1283: Producing a surfboard form for fiber glassing up! Bet we never thought of that :)

Saturn Systems Sponsorship! (Tuesday, Oct 25th - Joe )

(Saturn Systems a local software development company.)

Saturn Systems recently sponsored us a second time, donating $1500 towards Raspberry Pi Class Kits and our electronics area. This will allow us to start offering Pi Classes! Look for them soon. Thanks much for your continued support Saturn Systems!

Large CNC Work (Saturday, Oct 22nd - Joe )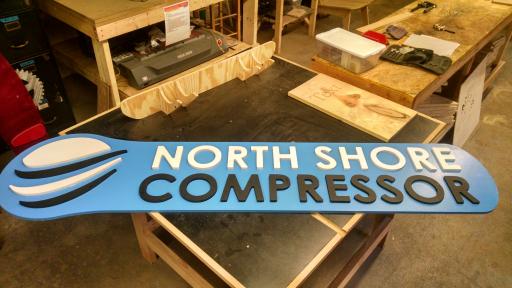 (Steve made a commercial sign, turned out very well.)

Our computer controlled wood routers are a lot of productive fun! Easy to learn and use, they are a real handy tool.

Lincoln Park Open House Event (Tuesday, Oct 11th - Joe )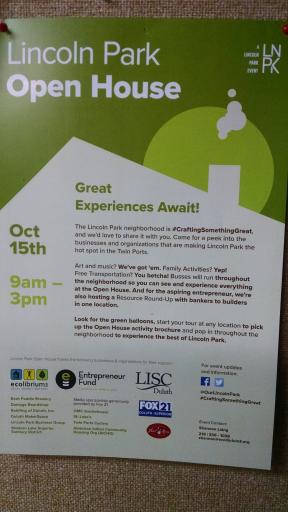 (Poster @ the shop)

Great experiences await in Lincoln Park! The people who live and work in the Lincoln Park neighborhood know about the great things we have to offer, and we'd like to invite you to a neighborhood Open House.
From Duluth MakerSpace to Frost River and Lincoln Park Middle School to WLSSD, you can test, taste, and experience amenities in the Lincoln Park neighborhood on October 15.
Best of all, you don't have to do the driving. Park near an identified location (look for the bright green balloons) and hop one of the free bannered event buses that will stop at all of the events throughout the day.

For More information on the event click HERE

Sixty Members! (Monday, Oct 10th - Joe )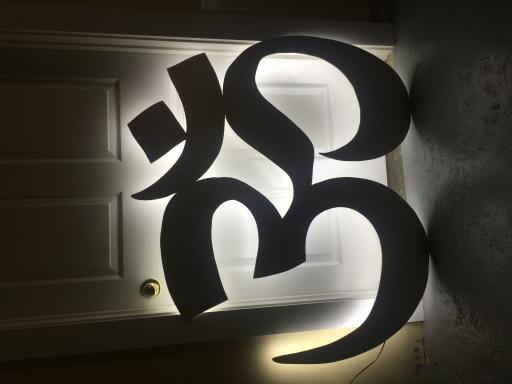 (Jessica's latest project was a large led backlit wood wall hanging. Turned out great.)

We've reached a new high paid membership level. We currently have 60+ paid members cooperatively working on projects at our great space. Great work everyone!

Grand Opening Success! (Sunday, Sep 18th - Joe )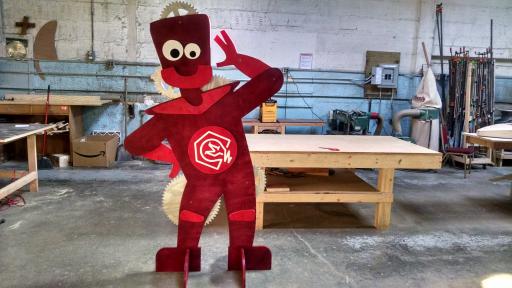 (The new MakerSpace robot some of our members made. )

Saturday's grand opening event was a complete success! We got the space cleaned up to a point we could be proud of and attendance was exactly where we hoped, close to 150 people came through. Stop by today as we continue the event noon to 3pm showing off our beloved space!

Woodshop Improvements (Thursday, Sep 15th - Miranda )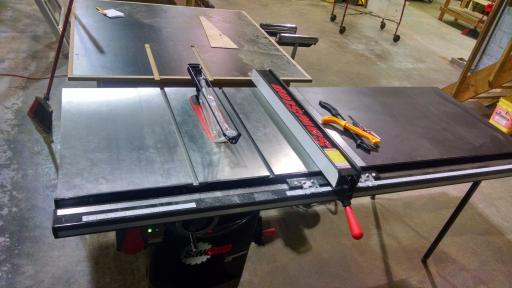 We've finally purchased a new table saw and it's a Saw Stop! This table saw will stop within 1/8" if skin touches it. This is a great new, safe addition to the woodshop.
We've also purchased a Bosch Sliding Miter Saw. Those larger cuts will now be possible. Come in and check them out!

Save The Dates! (Wednesday, Aug 3rd - Joe )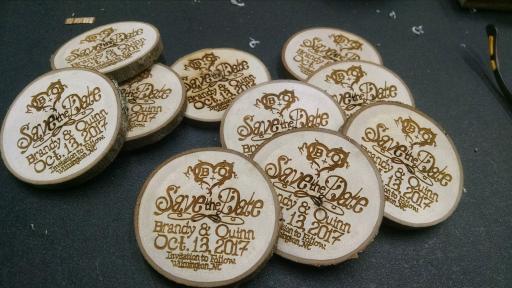 (Make your own save the dates! These were 3in maple slices)

The lasers are great for making little save the dates! Very easy project.

Laser Cooling System (Monday, Aug 1st - Joe )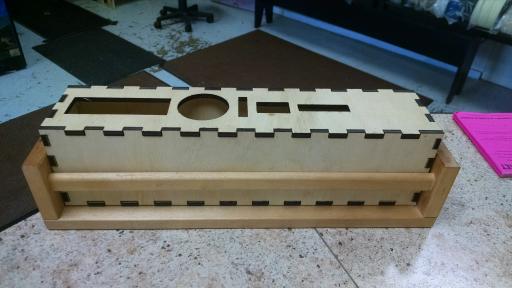 (Caleb our 12 year old intrepid maker laser cut a custom organizer box.)

We have implemented a custom cooling solution for our lasers. The requirements were to keep the water cooled lasers as cool as possible, but above dewpoint! Tricky. So, Arduino with temp and humidity sensors, coupled with a Minifridge with a coolant tank and a cooler with the laser reservoir. The arduino simply turns a circulation pump on inside of the minifrige cold tank to bring the temp of the laser tank close to dewpoint. Now we can run our big 100watt laser for hours at a time, even on warm days.

CNC'd Electric Violin (Sunday, Jul 10th - Joe )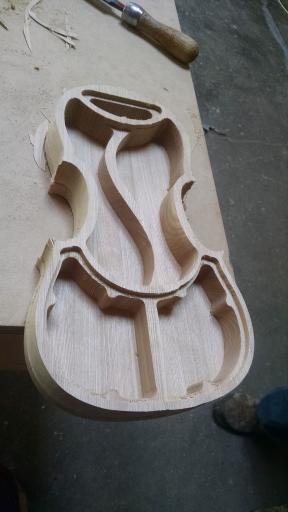 (JoeH's original design for an Electric Violin. )

We have our new X-carve nearly setup, And the big CNC has had a couple successful classes on it. JoeH took a bunch of glued hardwood and cut an electric Violin out with a deep router bit. Looked fantastic.

Nice Laser Project (Monday, Jun 20th - Joe )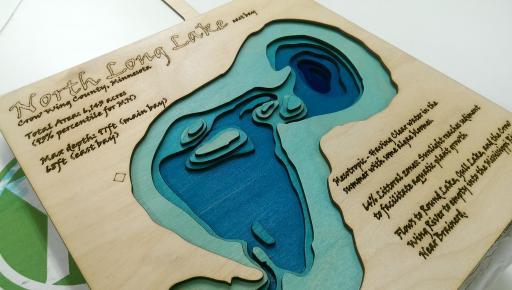 (Multiple layers of plywood bathymetry stained to help indicate depth.)

Max made a sweet laser project today. Lots of work and new things have been happening at the space. Come check it out!

Woodshop Yurts! (Saturday, May 28th - Joe )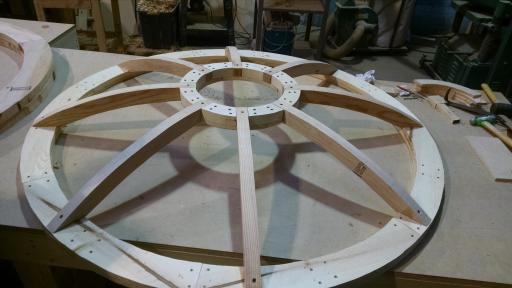 (Nate's central skylight yurt hub.)

Three different members have yurts in progress. Each member is approaching the project differently and it's been very interesting!

Garden Rocks! (Friday, May 20th - Joe )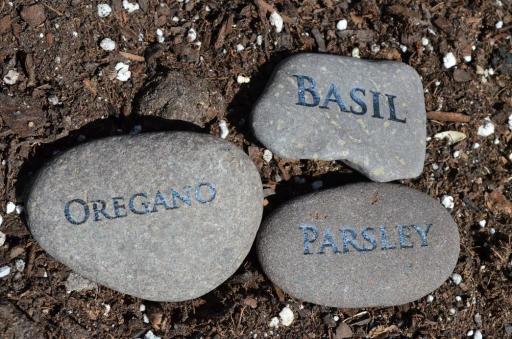 (Laser Engraving some rocks for your garden is super easy!)

Devan has a class on Sunday for rock engraving with the laser. Making garden identifiers is one of many projects that the laser engraver is super easy and handy to complete. Engraving a rock is similar to most anything else you would do with the laser so it's a good way to learn the general usage.

Giant CNC Streamlined (Sunday, Apr 17th - Joe )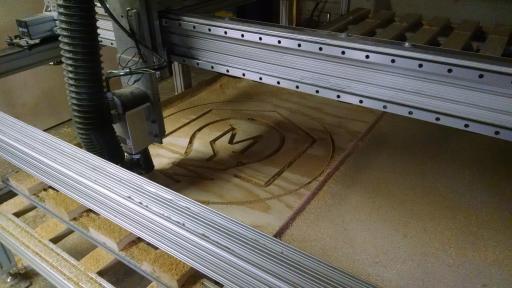 (CNC Machine setup well now.)

Our Giant 10'x8' CNC lent by Iconics has just been streamlined with a new flexible bed design, End stops, and an auto-Z plate. Ready to go into production on cutting plywood parts and even some 3D cutting. Our 5hp Spindle can make quick work out of most projects. We will try to setup some classes soon on it's usage. Otherwise a few members can privately consult to train people in. Initial Rates will be $20/hr for usage.

Woodshop Open! (Tuesday, Feb 9th - Joe )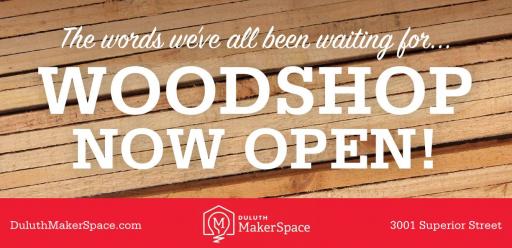 (Woodshop Open!)

Our first safety class for woodshop access is tonight!

Woodshop Opening Open House A Success! (Monday, Feb 8th - Joe )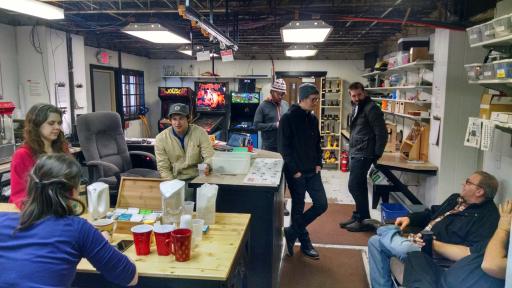 (Thanks for all the prep work members!)

Sunday's open house went well. Our main goal was to get the word out that the woodshop is now usable. We had great member participation in the event and prep. Lots of tours and snacks were given! Big thanks to everyone involved!

Duluth MakerSpace Open House (Monday, Feb 1st - Joe )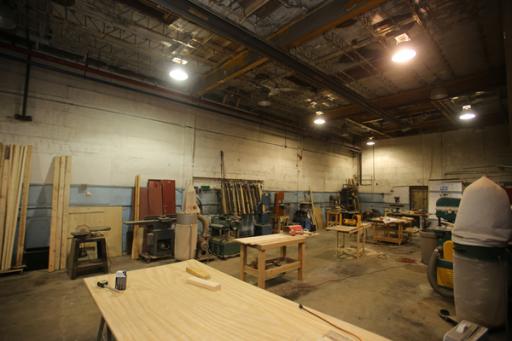 Woodshop is ready for use! We are having an open house on Feb 7th noon-4pm. Woodshop is legal now, and mostly usable. Still needs some longer term improvements. The rest of the space has been continuously improved and is running pretty smooth now.

Stop by for tours/demonstrations and snacks!


Buzzwire Arduino Group Project (Tuesday, Jan 5th - Joe )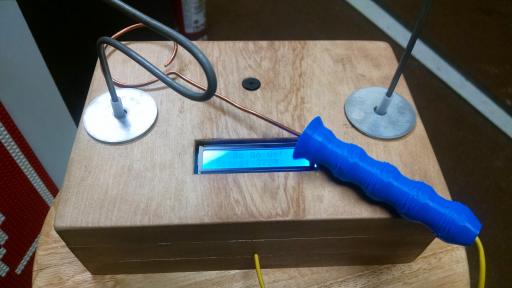 (Come try the Buzzwire challenge at Duluth MakerSpace, my best score is 9353! )

Another group project at the shop! A Wooden sandwich base was made to house the electronics. An arduino runs the project with custom code that looks for completing 3 different circuits. A score is determined foremost by not touching the wire while tracing it with the wand, and secondarily by speed. It's a fun challenge for all ages.

Barnes And Noble Mini Maker Faire (Tuesday, Nov 10th - Joe )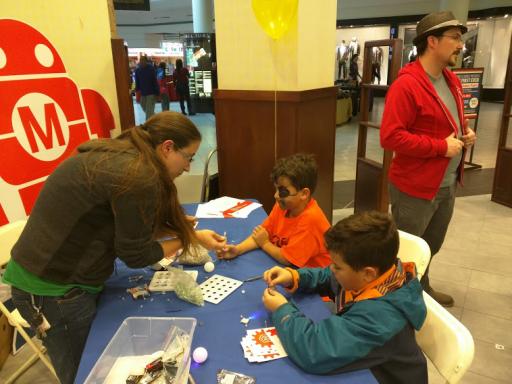 (Members Jenni and Chris volunteering at event.)

Barnes and Noble held their first mini maker faire last weekend, and Duluth MakerSpace ran some tables all weekend. It was a good time!

Final Stretch (Thursday, Sep 3rd - Joe )
We're in the final stretch now, Lots of stuff nearly complete. Code change requirements are nearly complete so as to have a legal woodshop. Craft Classroom/Work room just had a Giant 8' round table built. PC dedicated classroom nearly complete. ADA Bathroom about ready to be tiled/sheetrocked.

Edge Lit Acrylics Class (Tuesday, Aug 18th - Joe )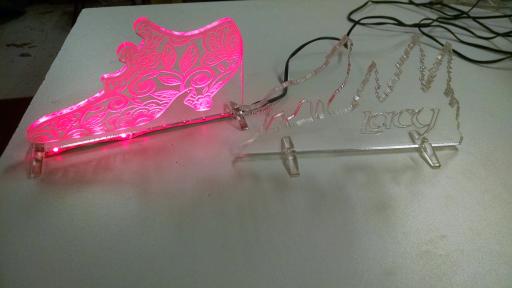 (class creations)

Couple of nice class creations from the edge lit class. It's quite a bit of work, deciding and editing graphics, using laser, cleaning, and then some basic electronics to boot! Fun time.

Lincoln Park Art Day (Tuesday, Aug 18th - Joe )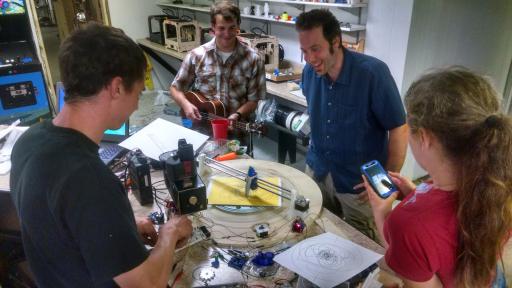 (Spinograph being tested)

As another group project we built a cnc Spinograph type pen writer. An arduino controls a rotating table and sliding pen to make various patterns, such as deep spirals, gears, stars, etc. Turned out to work pretty well and be a fun project showcasing laser cutting, 3d printing and arduino.

Giant Laser Operational! (Wednesday, Jul 15th - Joe )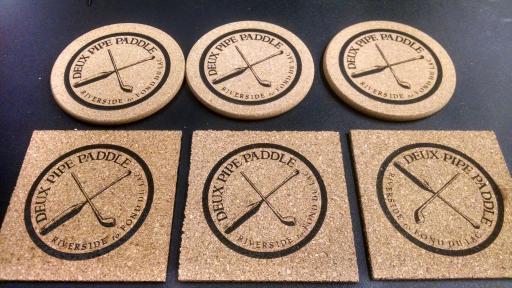 (Laser engraved cork coasters, nice work Julie!)

Our big laser is operational! Roughly 4' x 3' cut area! 100watts of CO2 power. This is the kind of equipment that we all can only get access to through working together! Come join up and further improve our awesome co-op workshop!


Clay Animals! (Monday, Jul 6th - Joe )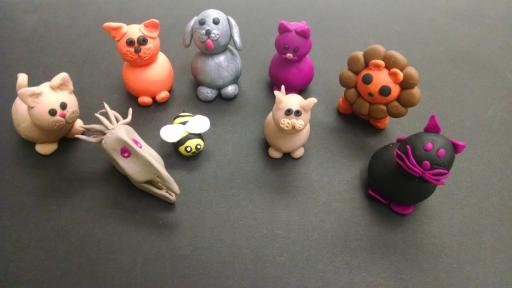 (Clay animal class creations.)

Fun class today! Also been making lots of progress around the shop. Always more work to do if you ever want to come 'play'!

Endless Summer Work! Any Volunteers? (Sunday, Jun 28th - Joe )
New laser is in building but remains untested. We have so many projects needing work. We've started offering free memberships per 5 hours of labor for those with more time than money. We also really appreciate any volunteer effort, and it can go towards your ownership of DMS since we are working towards a co-op structure. Weekdays noon to 5 are best for help, but we will take whatever we can get :). Everything from cleaning to station building to painting, sorting, etc. Just shoot us an email @ info@DuluthMakerSpace.com. Thanks!

3d Printing Group Event (Tuesday, Jun 16th - Joe )
(Big group 3d printed some interesting pieces.)

Big laser has arrived at DMS! Going to be several more days before we can use. Today a fun group from CSS came in for 3d printing. Chris, Matt and Adam went down to Ashland to present at a science on tap event.

Big Laser (Saturday, Jun 13th - Joe )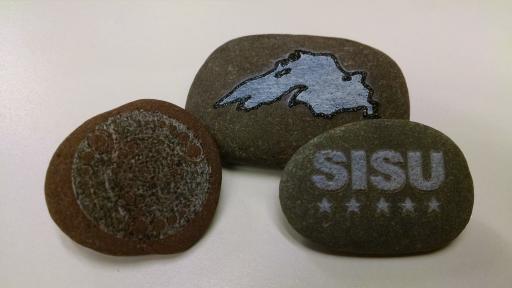 (Results from last weeks laser engraving of rocks!)

Supposedly one of our main pieces of serious equipment is available for pickup in the Cities on Monday. Our massive laser! 100watt, 3foot x 4foot cutting bed. As we test and get proper workflows figured out we will post more.

Planters Out Front (Friday, May 29th - Joe )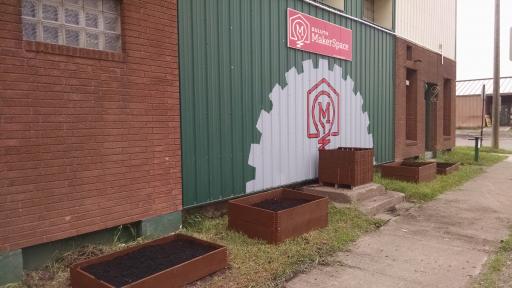 (5 Planters set up out front from shipping crates.)

Lots of miscellaneous work being accomplished. We (better late than never) finally got our new planters setup. Carrots, beans and some flowers to snack on later in the year. We are going to run a little booth at the Maker Fair in Twin Cities tomorrow.

Productive Lately (Monday, May 25th - Joe )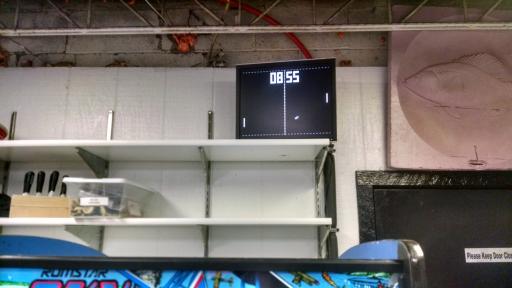 (Chris setup a pong clock running off a raspberry PI)

Been working hard at DMS! Jerry, Karl, Mikey, Danielle, Miranda, Max, Matt, Pat and Ben helped finish much needed roof repairs above storage area. Miranda and Paul went to TC Makers Minnie Fair Sunday and ran a table showing out infinity mirror. Max's Car finally started! 6 months after starting an engine swap! (Hobby timing)

Lincoln Park Event (Monday, May 18th - Joe )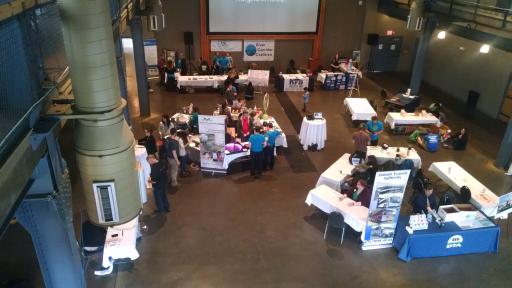 (our infinity mirror group project complete!)

We brought our group project infinity mirror to a local event at Clyde iron yesterday. The kids enjoyed trying to figure it out and monkey with the knobs. We have been working very hard on cleaning and painting and improving the building.

Group Project Progress (Sunday, May 10th - Joe )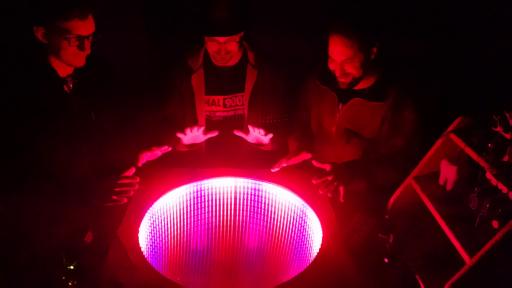 (infinity mirror testing success!)

Today Alyssa, Miranda, Chris, Josh, Karl, and Joe worked on the infinity mirror project for upcoming public events. The materials donated by st Germain's glass co, and the electronics worked really well. We need to have it all done by next weekend.


Comments
Joe Durbin: Great work guys!

Future Metal Shop Area Powerwashed (Saturday, May 2nd - Joe )
Big mess, but the walls have been prepped for painting now. After painting we can start moving some tools in and start figuring layout/needs.

Center (WoodShop) Roof Professionally Patched! (Thursday, Apr 30th - Joe )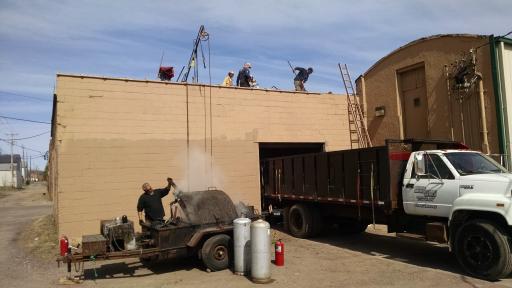 (Duluth Architectural Metals did a good job today.)

It wasn't cheap, but it was the best option available and Duluth Architectural Metals did a great job. The center roof has been given a full new mopped down layer which should last 10 years. We were able to keep the skylights. This fully covers the future woodshop area and office area. We still have work to do over the East Wing but that is far less complicated to roof.


Comments
Joshua Bailly: Great news. I can't wait to start working on the woodshop.

Pottery And Metal Shop Build Out (Wednesday, Apr 29th - Joe )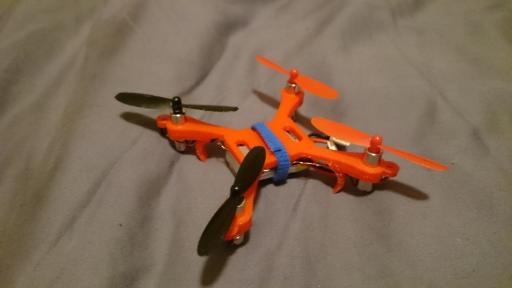 (Sweet Hubsan Mini Quad frame made by someone who took 3D printing class Sunday!)

We are looking for advice/help/equipment for Both Metal Shop and Pottery Studio. We are working on building both out over the next month now. So, if you are interested in being involved, stop on down/email!

Chainmail Class (Monday, Apr 27th - Joe )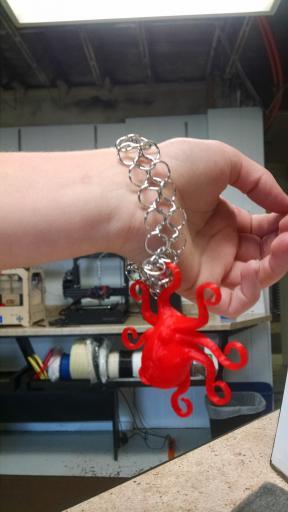 (Young chainmail class student's production. plus a 3d print.)

Chainmail class was held today. Roof work to happen later this week. fuzzy brought in a laser printer for dissection. 4 nice solenoids in a laser, plus optics and gears and motor. We may have to disassemble more!

Open House Was Successful (Sunday, Apr 26th - Joe )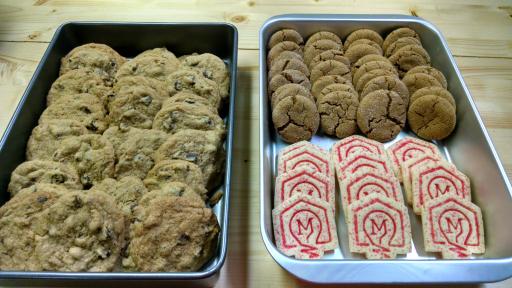 (Custom MakerSpace Logo Cookies by Leesa!)

The open house yesterday went well. We were quite busy noon to 2pm and were given the opportunity to show the space to many new faces. Most of the core group stuck around all day which was fun as well.

Open House Prep Work (Tuesday, Apr 21st - Joe )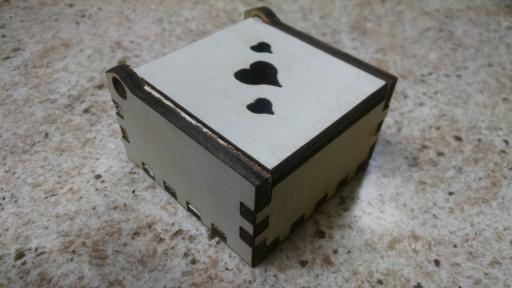 (laser cut plywood box)

Busy doing some organizing and open house prep work. Finally made the first plywood boxes with laser. Amazingly satisfying when you lightly tap the last piece into perfect place!

Front Of Building Mural In Progress (Friday, Apr 17th - Joe )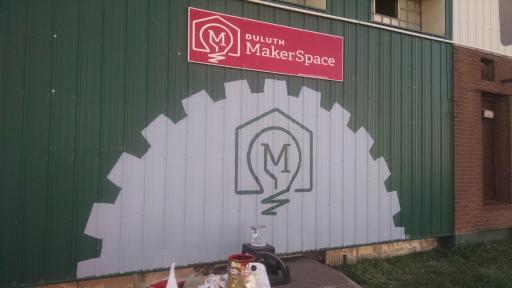 (In progress!)

A simple gear and logo mural is nearly done on front siding of building. Miranda did most of work with Alyssa, Danielle, and Joe helping.


Comments
Joe Durbin: Nice Painting!

Duluth MakerSpace Rocks (Wednesday, Apr 15th - Joe )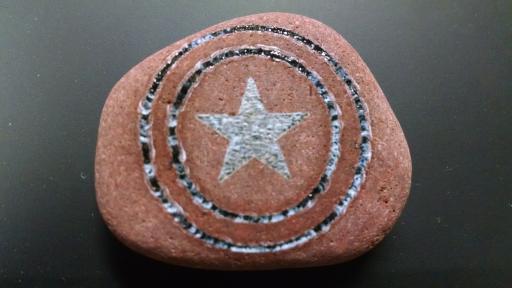 (Laser + Lake Superior Rocks = Fun)

We experimented with Lasering Rocks. Engraves a bit, and can also melt black glassy lines with cutting.

Beautiful Days For MakerSpace Work! (Wednesday, Apr 15th - Joe )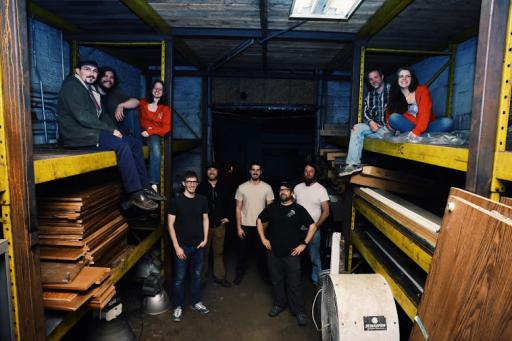 (Group Photo)

These days have been beautiful! Perfect time to come down and help create an amazing space for Duluthians! We are working towards a co-op structure, any work hours are permanently recorded and go towards ownership percentages in future.

Painting And Minecraft (Saturday, Apr 11th - Joe )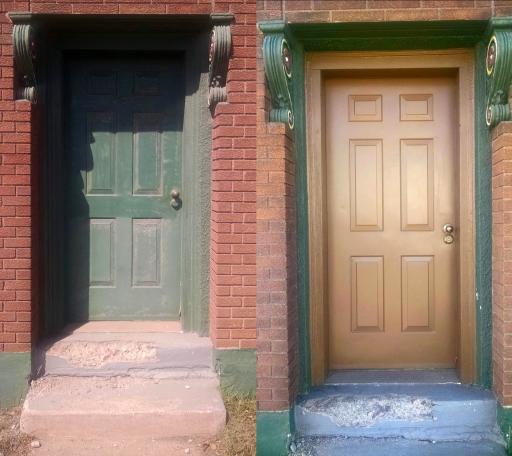 (before and after on front doors)

Alyssa and Miranda painted the front doors and old windows. Looks better. Matt brought in a new server with a little more power for running our Minecraft server. Now we have a makerspace minecraft server for our group persistent world. We also made further progress on improving front desk. We tested projecting on front of building so we can trace a nice gear logo mural.

Make Night/Work Night (Thursday, Apr 9th - Joe )
Karl, Alyssa, Chris, Fixx, Troy, Miranda, Jerry, All showed up and gave a helping hand last night. We got several things fixed up/improved at the shop. Mini machine room is better setup, front desk is half re-finished, Laser cutter settings worked on, and an awesome 9 color embroidery was completed! Nice work people!

Lathey Day (Tuesday, Mar 31st - Joe )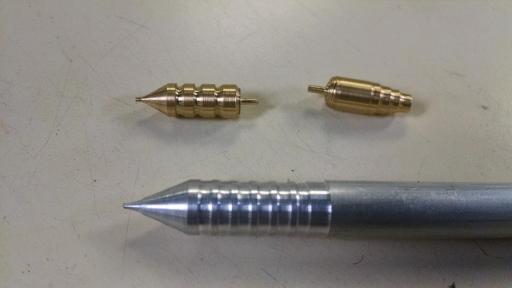 (Some quick little test lathe pieces)

Mini Lathe is fun and working well.


Comments
Miranda Durbin: Neat!

Productive Day (Sunday, Mar 29th - Joe )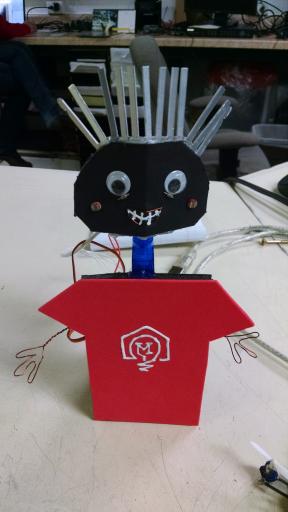 (Igor, the light seeker)

Had a few light classes today. Afterwords the bimonthly meeting went well. We decided to pursue an economical entry into ceramics. Also dropping auto shop push. Closing easter. After the meeting Alyssa and Chris got the big commercial embroiderer working. So it's finally ready to start being used. Paul did some standing wave string whipping with a motor. And Miranda practiced some custom embroidery design. Joe setup a servo controlled light-looker, which Alyssa decorated... Igor.

3rd Place Puzzle Derby (Saturday, Mar 28th - Joe )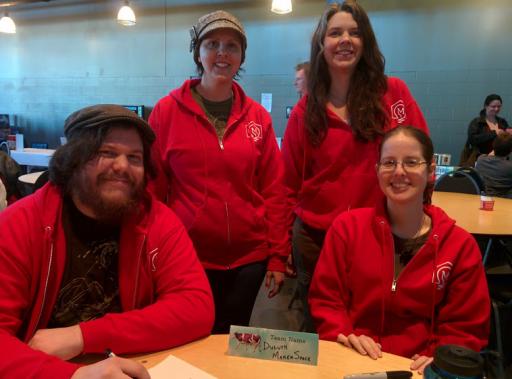 (Heather, Alyssa, Miranda and Matt)

Our Puzzle Derby Team Placed 3rd at today's 4 person team event :) Way to go. Out of 16 teams, that was pretty good.

Duluth Puzzle Derby (Friday, Mar 27th - Joe )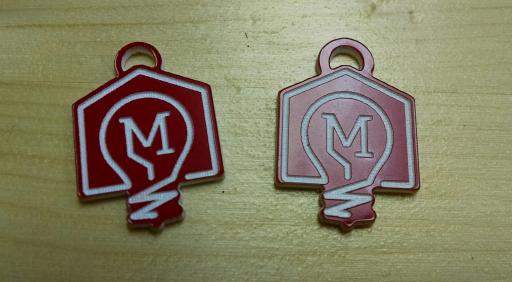 (Acrylic two tone laser cut logo keychains)

Tomorrow morning is the Duluth Puzzle Derby. We have a 4 person team entered. good luck Heather, Matt, Alyssa and Miranda!

Random Projects (Thursday, Mar 26th - Joe )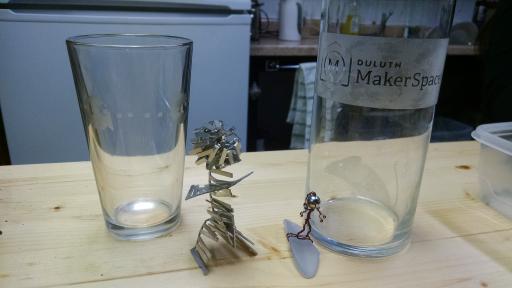 (Glass Etching , Wire Wrap Surfer, and... Aluminum Heatsink Monster.)

The shop has been progressing bit by bit. Duluth Coffee Company is our newest sponsor! They will be providing us with bags to make coffee for class attendees.

Auction Winnings (Sunday, Mar 15th - Joe )
We went to the second central high school auctions. Got some more shelving and storage for cheap. Along with a nice old band saw and large woodworking desk. We hope to be able to open woodshop asap after June 1st.

Lathe Operating (Thursday, Mar 5th - Joe )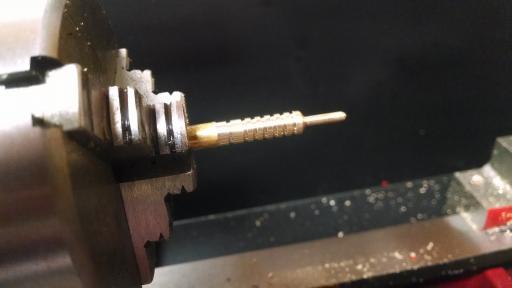 (Mike made some fancy brass cribbage pegs)

Mike was playing on the Metal Lathe. He got some good results out of solid brass round stock.

Minneapolis MakerSpace Tour (Monday, Mar 2nd - Joe )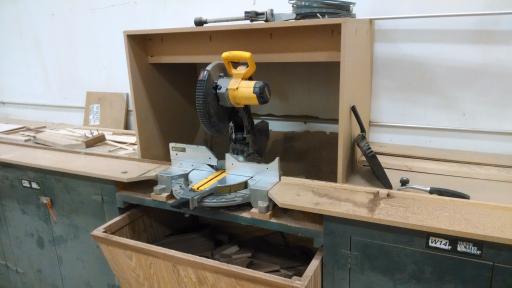 (A smart way of laying out a chop saw @ American Workshop.)

5 of us took Saturday and went to visit Nordeast Makers, TC Makers, and American Workshop. It was very interesting and we learned from all 3 locations that the woodshop is really the main draw. At our Sunday meeting we decided to double the planned woodshop square footage for this spring/summer.

Busy Class Day. (Sunday, Feb 22nd - Joe )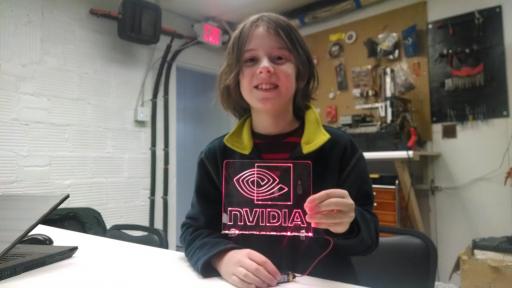 (Nice Edge Lit Acrylic Project!)

Arduino, Cricut and edge lit acrylic classes were help today and went well. A new member also brought in some fun donations and is loaning us a 36" Vinyl cutter!


Comments
Miranda Durbin: That looks awesome!

Laser Candy? (Saturday, Feb 21st - Joe )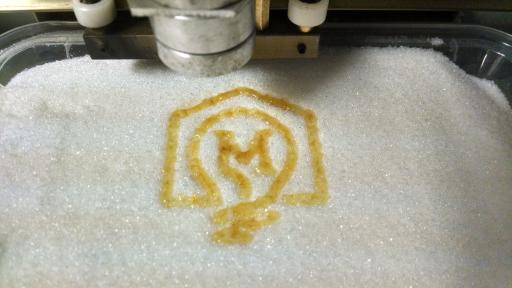 (Karl's sugar lasering experiments.)

Karl wanted to try melting sugars with the laser. We tried several settings and methods. Managed to melt the sugar in a sloppy manner that mostly held together. Tasted like campfire marshmallows :)

Mini CNC Working Well (Thursday, Feb 19th - Joe )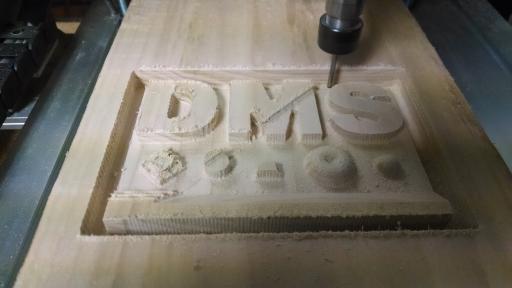 (Example Wood Cutting)

The Computer Controlled rotary wood cutter is working well. It can cut wood 15"x11"x up to 2" deep. We have camera monitoring on it, and a custom sawdust collector.

Game Cabinet (Thursday, Feb 12th - Joe )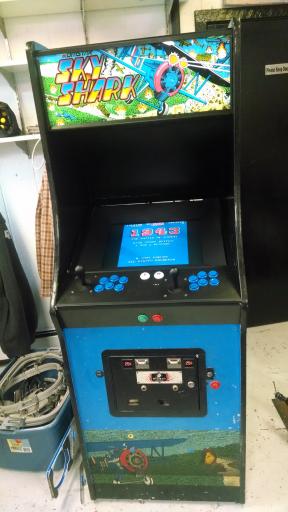 (Chris's game cabinet project.)

Chris Broughton has finished his game cabinet rebuild. Found an old game cabinet, ripped out the electronics and rebuilt with a raspberry pi emulator. Good fun! We had a few visitors on make night, nice turn out.

Laser Cutter Working Well (Tuesday, Feb 10th - Joe )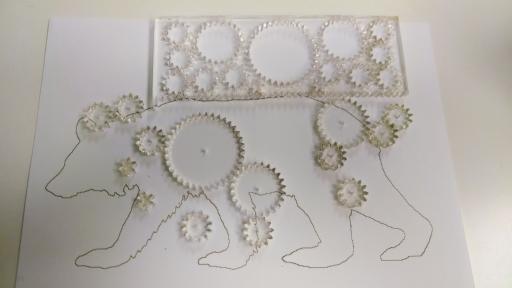 (Custom acrylic gears and full page paper cut out.)

After suffering through poor laser balance which we thought was just a design problem, We found a missing manual appendix and aligned the mirrors! Laser works way better now. More power, and works across the whole Cutting area. Today's Electric Imp class pushed back due to The weather today.

Edge Lit Acrylics! In Time For Valentine's Day! (Saturday, Feb 7th - Joe )
(Easy Valentines project with great results!)

Here are a couple examples of edge LED-Lit Acrylics done with our Laser Engraver. Stop by until Valentines day for private assistance on making your own. We can guide you to select or create a feasible artwork, Run the Laser, and then do the Simple LED lighting as you see fit. Red, Blue, White, and Green Lighting in stock. We can also help with a color changing design as well.

Custom projects like those shown here would run $25-$30. $10 off for members.

Troy's Musical Electronics Class (Thursday, Feb 5th - Joe )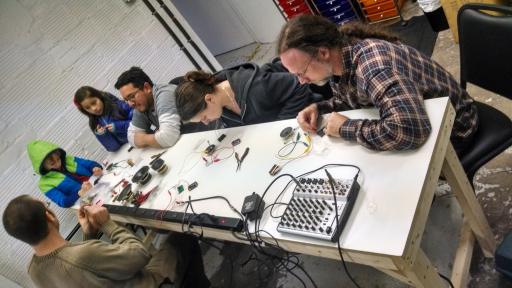 (attentive students)

Electronic synth class went well today. 5 students played with creating sound via light and simple components.

We also have started making project profiles on this website under the projects button. We hope they will make a good resource for inspiration and tracking down advice for similar projects.

Great Make Night (Wednesday, Feb 4th - Joe )
Great make night tonight. 3 new visitors. New member Bret worked on a hand woodworking project. Troy played with audio electronics. Matt continued work on 3d printer. Alyssa made good progress on giant embroiderer. Chris has the game cabinet emulator working! Karl, ChrisB, and Zack stopped by to visit a bit.

Busy Saturday (Saturday, Jan 31st - Joe )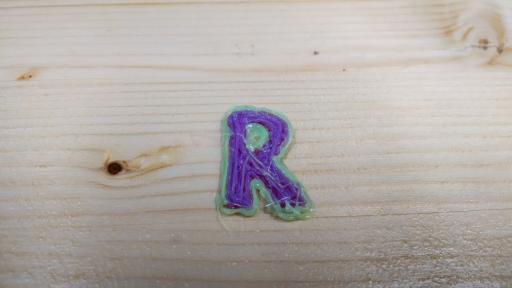 (A visitor's nice first creation by 3D Pen.)

Busy day with people being productive. Matt was around all day, worked on a web-based camera system and his 3D printer, and helped with some new laptops. Paul stopped in to visit. We had a UMD student come in and interview us. Howard worked on 3D printing and calibrating the DaVinci. Adam played with some mad scientist engineering. New member Steven did some 3D printing also.

Dr Who Night (Thursday, Jan 29th - Joe )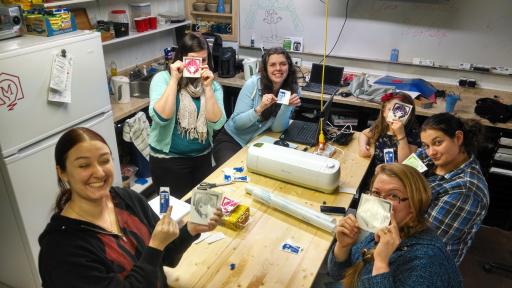 (Cybermen created)

Troy helped a lot in getting the remaining auction winnings. Nick luckily appeared to help unload. Dr. Who night was a success with attendees making fan art vinyl stickers. Alyssa, Karl, and Matt ran 3d printing booths at the public library.

Huge Auction Winnings (Saturday, Jan 24th - Joe )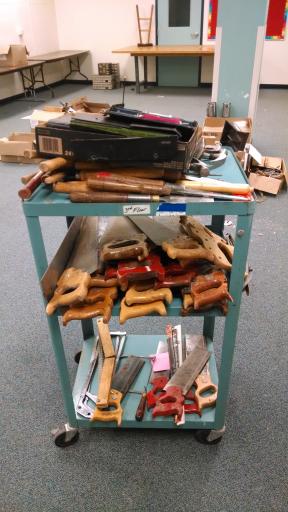 (one of many loads of winnings.)

Was a productive day, josh and I spent most of the day at a huge auction. We won many electronics, hand tools, and shelving bids. It's a great start to outfitting more of the space. Alyssa Paul and Miranda helped transport. And Sergio and Matt covered the shop. Good work everyone :)


Comments
Joshua Bailly: It was a heck of a day. I just want to thank Joe for letting me bid on his behalf on some pretty big tools.

Playing With Snap Circuits (Thursday, Jan 22nd - Joe )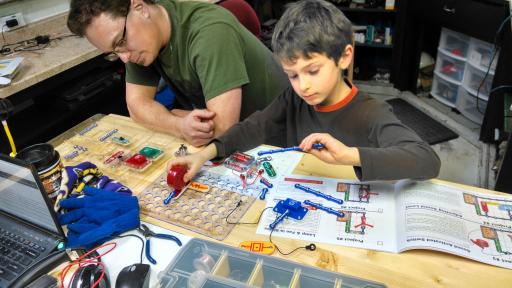 (Dennis' son figuring out circuits)

Been busy the last few days making small improvements and various cleanup. We just got some Large Old LED Ticker signs for hacking. We received a donation of a large older embroiderer which Alyssa is spearheading. We also were given a metal cut off saw. So that's exciting news.


Comments
Dennis Francisco: Tony had a great time and can't wait to come back.

Saturday Making + Sunday Meeting (Sunday, Jan 18th - Joe )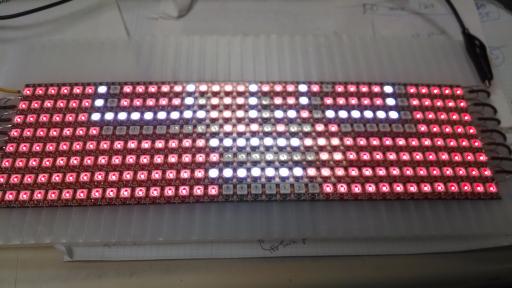 (Fancy RGB Addressable Display working - bottom of scrolling logo)

We got a fancy display working today. Could be setup for several different uses: Fancier open sign, Display the most recent chat line off of a web chat or post, Integrate into the RFID system for info.

This Sunday's 6pm member meeting will be full of updates and some decisions, make it if you can!

Busy Make Night (Wednesday, Jan 14th - Joe )
Today's make night had some fun projects going on. Sergio worked on a little arduino motor platform. Matt worked on his 3D printer. Miranda played with an rc kit. Paul converted a couple servos to continuous rotation. Troy soldered some custom PCBs. Max got his fancy rgb led strips working. Luke stopped by from Ashland to check the place out and show off an electric imp. A couple visitors stopped by also.

Wire Jewelry Classroom Success And Robo Room Work (Tuesday, Jan 13th - Joe )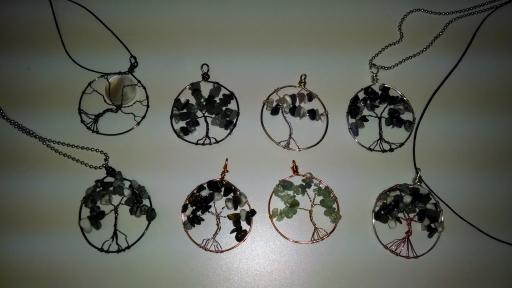 (class creations)

Today's wire wrap class went well, six students made some lovely pendants tonight. Progress on the robo room was also made, started painting work desk, and more shelving up now. Sergio helped a lot. LED light demo completed.

Robo Room Work Desk Built (Monday, Jan 12th - Joe )
Nick helped a ton today, put most of the Robo Room desk together among other things. Sergio helped assemble another shelving unit for the room as well, It's coming together well.

Robo Room Painted (Sunday, Jan 11th - Joe )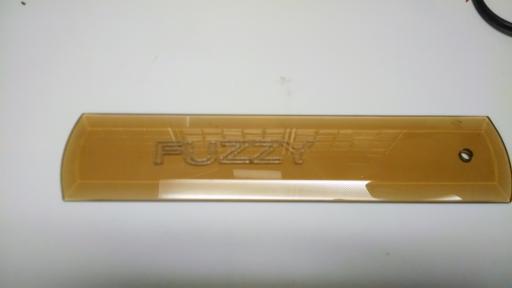 (We can etch glass! A surprising amount of meltage!)

After too many man hours of work, the Robo Room is painted. All ready for furnishing. Scott, Pat, Matt, and Chris helped set up shelving today in the room. Tomorrow I'll work on getting the center work desk built and the equipment organized. Full day of classes with light attendance, but they all went well.

Electronics Bench Improvements (Sunday, Jan 4th - Joe )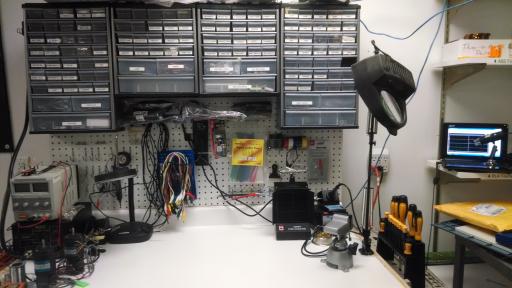 (Electronics Bench Outfitted!)

Among all the other cleanups and improvements, our electronics bench is getting set up better.

HotAir Rework and second quality soldering station.

More componenets, lasers, barometric sensors, tilt, lan, displays, etc!

USB Microscope

USB Oscilliscope
Concentrating work on Robo-Room over the next few days. As always, if anyone wants to help, let me know!

Cleanup Progress (Thursday, Jan 1st - Joe )
Adam helped put up some painful ceiling sheetrock, thanks! Miranda got our Stocked Items up and labeled for sale. We stock 7 items in the "store" now -
Arduino Uno & Wall adapters
Arduino Nano
A couple Arduino kits
SD card suitable for 3d printers
USB thumbdrives
We Also built a new filament rack to clean up shelving above printers to prepare for consignment/shop production stuff. Matt slaved away at building his fancy 3D printer.

Happy New Year! (Thursday, Jan 1st - Joe )

(Happy 2015!)

Lets give this Duluth MakerSpace experiment in 2015 one great effort to be successful. Goal would be at this time in 12 months to be membership sustainable against monthly costs. We've got a lot of work to do in 2015, but also a lot of promise. There has been good interest and progress so far. Some various notes for 2015:


We have made our first high-end tool purchase with our large 100watt laser to be ready in the next couple months.

We have acquired materials for MANY various creative and crafty classes, along with high-tech gadgetry. People taking classes is one of the best ways to support our dream.

Our RC/Robotics lab should be open soon. We will have some member pilot-able crafts.

We will be working on adding store type items in shop for sale soon, both member consignment and commonly needed stocked items. Another way to support our dreams.

Happy New Years! And a big thanks to everyone that has helped DMS get this far! It's been a great community effort.
Duluth MakerSpace

Cleanup Work (Wednesday, Dec 31st - Joe )
Alyssa helped assemble new shelving, tested out embroiderer and help get modine running, Thanks Alyssa! We made a bunch of progress sorting supplies and equipment better, and cleaning off shelves.

Lots Of New Equipment (Tuesday, Dec 30th - Joe )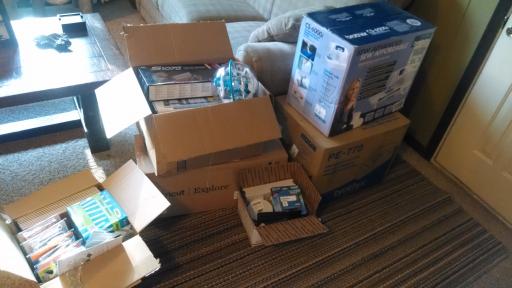 (Boxes and boxes of new equipment coming in)

Santa came late to DMS. Over the next few days we are receiving tons of fun equipment and materials! Embroiderer! + Sewing Machine, Jewelry Mill + related tools, + about 50 other separate items. The low-cost membership to the space grants you usage of any and all tools!


Comments
Alyssa Friesen: I'm so pumped to check this stuff out tomorrow

Christmas Gifts (Tuesday, Dec 23rd - Joe )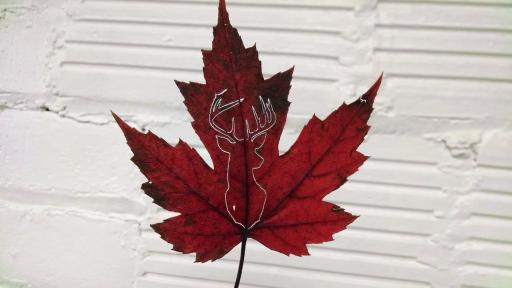 (Karl's Leaf Laser Cutting)

Pretty busy day with people making some last minute gifts. Sergio, Alyssa, Karl and Rick stopped by to work on some gifts. Quite the Santa-Elf shop. Nick and Sergio helped with some shop improvements.

Stained Glass + (Sunday, Dec 21st - Joe )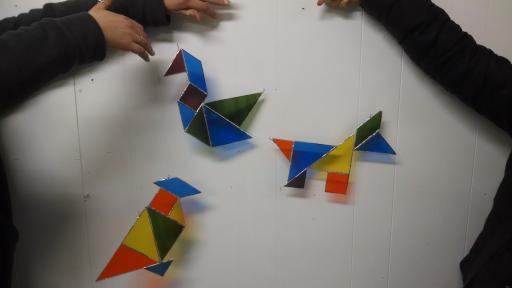 (Intro Stained Glass Projects!)

We assembled shelving and machines upstairs for a mini machine/proto shop. It will need some figuring yet to be usable. Weekly meeting decided to switch to every-other sundays from now on, and to hold a pong competition event asap. The stained Glass class went well!

Great Last Minute Gift Idea! (Saturday, Dec 20th - Joe )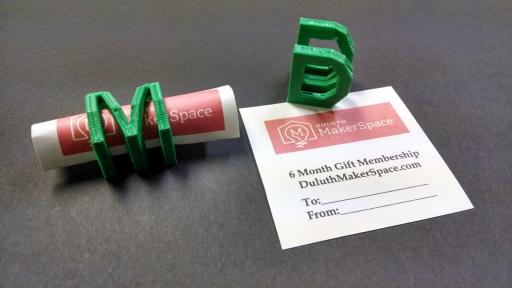 (DMS gift certificates available!)

Box Stuffers! 3month and 6month Gift certificates available down at the shop now ($75/$150) We 3D print a "perspective initals" For Duluth Makerspace (D one way, M the other) And roll a card in it. Great way to support us and the person you are gifting to with an educational and entertaining opportunity!

Pong Game Finally Up! (Friday, Dec 19th - Mirage )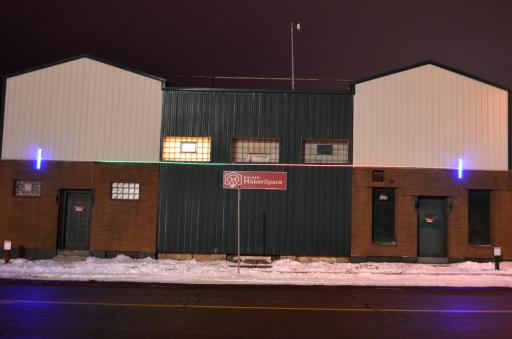 (Front of the building)

After a lot of work and a difficult time trying to hang it, the pong game is finally up and working on the front of the building. Stop by and play!

Pong Group Project (Wednesday, Dec 17th - Joe )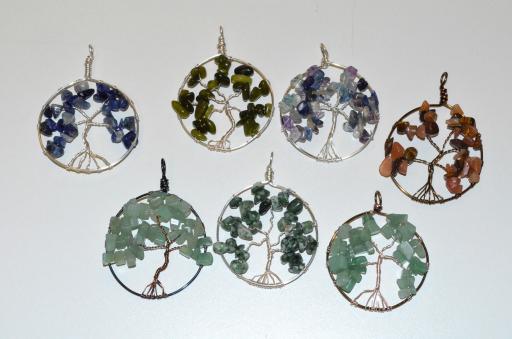 (Alyssa and Miranda's Wire Wrap Jewelry class.)

Big group effort today towards completing the Pong Project, But we just fell short of time. Sergio did a lot of soldering, Karl did some Pipe Engineering, Chris and Paul did a lot of LED installation, Matt worked on getting the Pedestals wired, Troy helped with troubleshooting, Miranda and alyssa helped a bit when they could, Russ had lent his voice earlier in the day. Great effort today folks! 10 people working on single project. nice. Alyssa & Miranda's Wire Wrap class went well also.



Comments
Joe Durbin: Nice Wire Trees People!

Intro To Woodcarving Class (Tuesday, Dec 16th - Joe )

(One of the student's of Travis' class hand carved spoon!)

Travis's intro to Hand carving was a fun but challenging class! He had the students attempt to hand carve Black Walnut rough cut outs into spoons. The walnut was difficult to carve, but with persistence the results are stunning.


Comments
Russ Kurhajetz: <---- = jealous

Sunday Classes And Pong (Sunday, Dec 14th - Joe )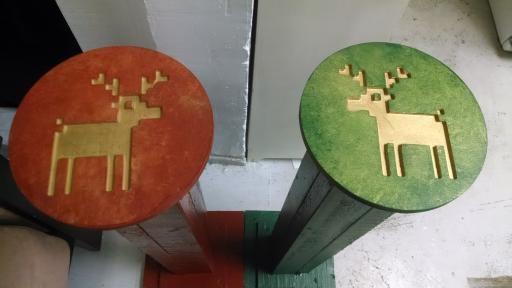 (Chris's dueling reindeer pong pedestals)

Sunday classes went well. Lower turn out than last week, the holidays are probably too hectic for people so we will hold off on many classes till January. Our pong project is nearly complete.


Comments
Joe Durbin: Oh! Karl ran the CNC to cut the Reindeer out also. Thanks Karl!
Russ Kurhajetz: Go Green!
Matt Faris: Go red!
Chris Broughton: "Go banana!" - Ralph Wiggum

Pong Project Partially Pinging (Saturday, Dec 13th - Joe )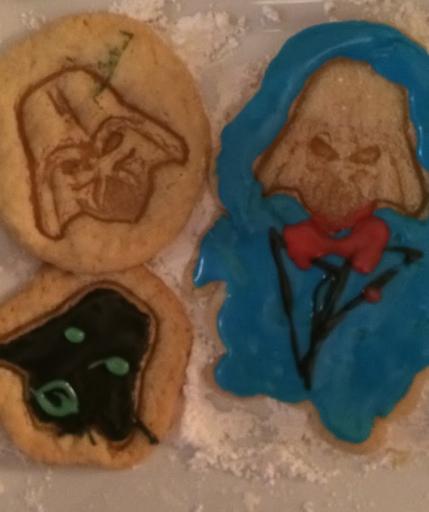 (Karl's fancy cookies with a 3D printed cookie cutter!)

Todays Group Pong Project went a little slower than anticipated. Alyssa and Chris both put in a good couple hours effort. Russ recorded some voice content, and Karl helped with CNC cutting a fancy plywood button. Tomorrow will probably be too busy to finish, so hopefully Monday we can get the system completed. YOU CAN 3D PRINT HOLIDAY COOKIE CUTTERS AT Duluth Maker Space!


Comments
Alyssa Friesen: That black one is pretty terrifying
Miranda Durbin: I like the one with the bow tie, personally.
Karl Wagner: It's in a parka suit!

Pong Group Project (Friday, Dec 12th - Joe )
Today (Friday) and tomorrow we will be working on our group building pong project. Anyone that has time to help, stop by and we'll try to get this thing finished by Saturday afternoon! This evening, or Sat. afternoon are the best times.

Many Classes (Thursday, Dec 11th - Joe )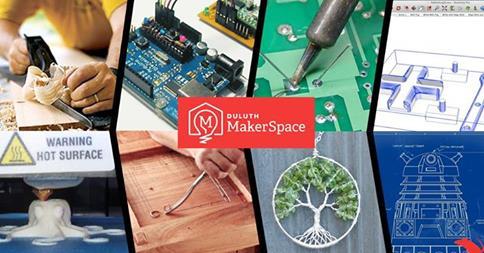 (Alyssa's Class Banner)

We've been working at offering a wide range of creative classes before Christmas. Also working on many small projects improving and sorting shop.

Tuesday's Progress (Tuesday, Dec 9th - Joe )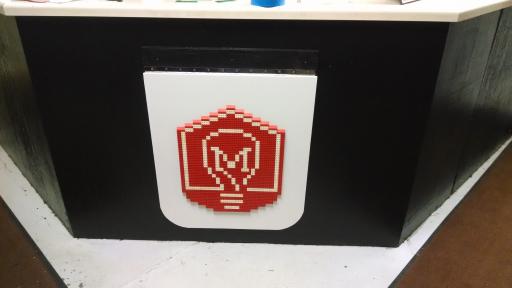 (Lego folding table purty!)

Sergio helped bring in an old game cabinet for chris to work on. The CSS CIS group stopped by. Matt got most of the RFID door components to work. Mary did a lot of paint touchups. Alyssa helped with some shop work.


Comments
Alyssa Friesen: Lego table looks great - we just need some kid chairs now
Wulfgar : That does look good.

New Sponsor (Monday, Dec 8th - Joe )

(Their Slogan: Offshore to the North Shore)

Saturn Systems, Inc. has recently sponsored our Arduino and electronics class Kits! This allows us to expand and improve our class offerings. It's great that some local companies have joined in to help make this community workshop better!


Comments
Russ Kurhajetz: A BIG Thank You to Saturn Systems!
Matt Faris: Go Saturn Systems! :p

Busy Class Day! (Sunday, Dec 7th - Joe )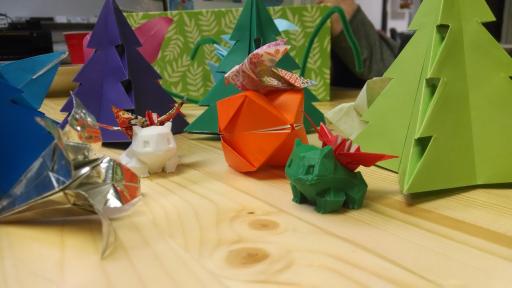 (Alyssa's happy little village)

Full day of classes that all went well. Heat was nice, full arduino and 3d printing classes. We are now rushing to get new classes up for the next couple weeks. If anyone has any requests or offerings please drop us an email. Thanks to everyone who helped today happen,teachers and students!


Comments
Russ Kurhajetz: Christmas Gifts made here in Duluth.

Saturday Progress (Saturday, Dec 6th - Joe )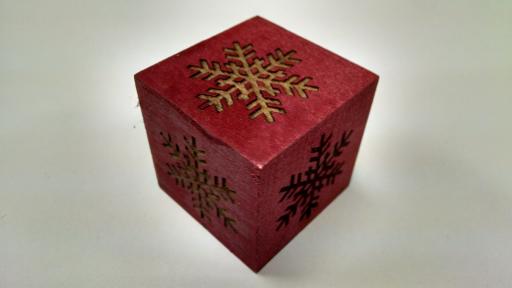 (Chris's handiwork?)

Karl finished assembling the 3d printers, Nick upgraded the printers with a printed mount. Finished up mounting Heating pex. A lot of cleaning up, worked on Lego table. Coat racks finally. Classes are almost full tomorrow!

Heat! (Friday, Dec 5th - Joe )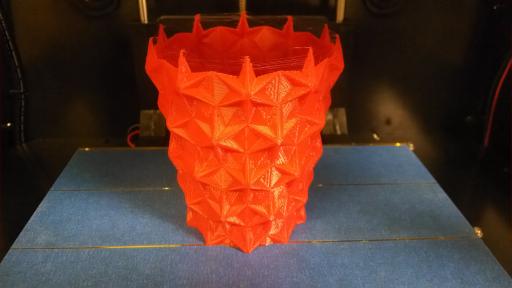 (Karl's print)

Additional radiators working now. Both spaces should be able to get warm now :). Many days lost on that endeavor.


Comments
Wulfgar : We had a great time at the Minecraft party tonight! And the new heat feels great. Thanks Joe!

Minor Progress (Thursday, Dec 4th - Joe )
One new radiator in, and a nice visit from the CSS Computer Club where 6 showed up to tour the place. The shop is a mess, Heading back in early for more work and then Cleanup prior to the Minecraft event tonight :) Anyone who wants to check out a cooperative creative building game, signup!

Make Night (Wednesday, Dec 3rd - Joe )
We brainstormed on pong ideas. Alyssa replaced a board on one of the laptops, Thanks! The rest of us goofed off with various levels of productivity.

Hand Woodworking Class Tonight (Tuesday, Dec 2nd - Joe )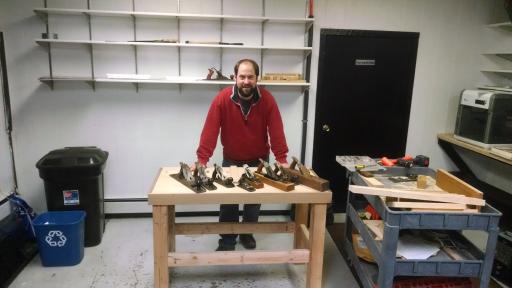 (Josh all ready to go.)

Josh's hand woodworking class is tonight! Learn about the complex old-school wood surfacing tool, the hand plane. Josh goes in depth about the best techniques and the tool itself. You do not have to be a member to take this inexpensive $10 class. Starts at 7pm tonight and goes for about an hour.

UPDATE: Class went well, four students attended!

Busy Day (Monday, Dec 1st - Joe )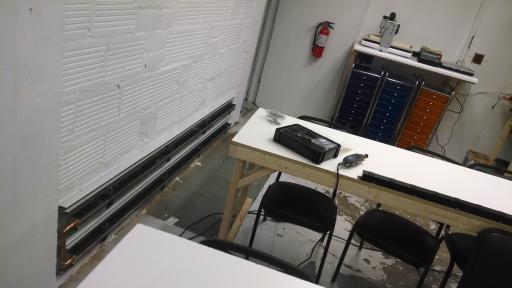 (More heat in progress!)

We had several members in working on stuff. Welcome to new paid members Sam and Nick! Several others stopped in to check the place out and some interest in Gift Memberships. Chris, Sergio and I spent the day working on Radiators, Storage racks, and a microwave shelf. Three more 3D Printers have finally come in! and the 250 LED addressable lights are in for our Group Pong project!

Great Gift Idea! And Woodwork Shop. (Sunday, Nov 30th - Joe )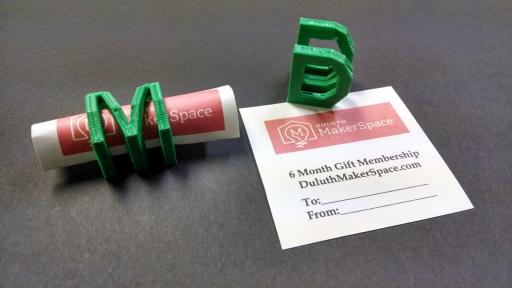 (DMS gift certificates available!)

Quite a few interested members showed up tonight to discuss woodworking shop machines and layout objectives. It was a good start, but it will be a long process! Matt, Paul, Chris and Joe spent several hours "making" at the shop today, it was great :) Box Stuffers! 3month and 6month Gift certificates available down at the shop now ($75/$150) We 3D print a "perspective initals" For Duluth Makerspace (D one way, M the other) And roll a card in it. Great way to support us and the person you are gifting to with an educational and entertaining opportunity!

Sign Finally Hung (Saturday, Nov 29th - Joe )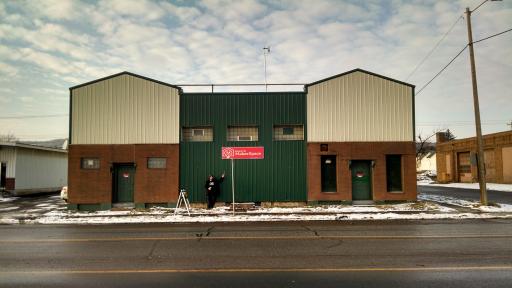 (Sign Finally Up)

Our sign permit finally came, Luckily it was a nice day. Matt helped me hang it. We also picked up a couch set for the shop thanks to Chris & Heather's help.

Furnace, Power, TV (Friday, Nov 28th - Joe )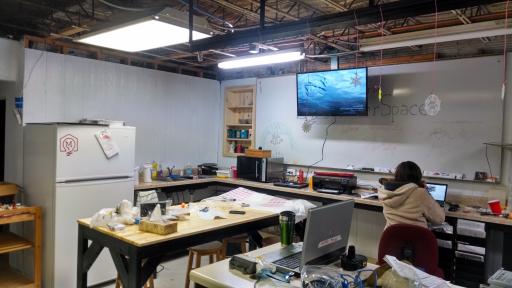 (TV mounted. good to use as a monitor for smaller presentation classes as well.)

New control board installed on furnace, hopefully solid now. 1 phase of our 3 phase power went out, causing all sorts of confusion of trying to trace the stange power issues until We realized an entire Panel was off. Called up minnesota power and they repaired a weak coupler. New TV mounted in break room. Looks good. Now we need a couch bad.


Comments
Joe Durbin: Whatcha workin' on Miranda?
Miranda Durbin: Nothin'

Happy Turkey Day (Thursday, Nov 27th - Joe )
We were closed for thanksgiving, Hope everyone had a nice day. Over the next few weeks, come down to DMS to make custom holiday gifts for loved ones. Learn something new, Save Some money, and make something more unique and special!

Make Night (Wednesday, Nov 26th - Joe )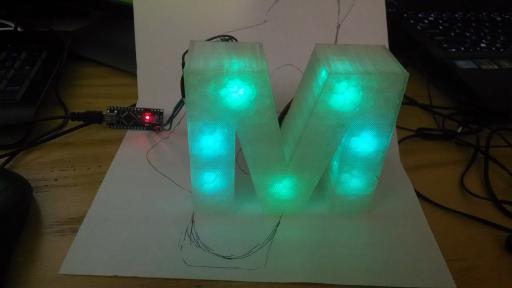 (Sketchup designed, clear pla printed M with RGB addressable Light Holes in Back, with random color drifting arduino program.)

Alyssa worked on getting a telepresence bot working, Austin was working on repairing an old stereo, Joe made a gift for mum, Chris was fighting arduino wifi some more, We all tested the minecraft capabilities of network and laptops :)

Classes! And Meeting Notes (Sunday, Nov 23rd - Joe )
Our first big day of classes were mostly successful. Chris and Paul's Arduino Introduction went well after some Laptop glitching. They had 5 people take the class. One child showed up for Adam's kids class, which was nice as it gave some time to practice on the nice kid :) (and parents) 3D Printing class could have been better with the printers still stuck in transport (hopefully arrive in a few days) but the 5 students were patient. Make a Mini Synth was only attended by Paul and I, but should have been a much more popular class, as it was a lot of fun. We will definitely push that one in January when Troy returns. All in all The feeling was the students had a good experience, just could have had a warmer space and a little better technical setup which will definitely be improved. Great work everyone!
4 showed up for weekly meeting. We reviewed classes, discussed safety, and brainstormed on Building Pong group project construction.

Donations! (Saturday, Nov 22nd - Joe )
Bruce Duncan dropped off some toys a couple days ago, And then Ted Gustafson did likewise today! They both really Like the thought of youngsters getting off video games and learning how the real world works along with encouraging learning of the quickly fading tech arts. Thanks guys!

Furnace Battle (Friday, Nov 21st - Joe )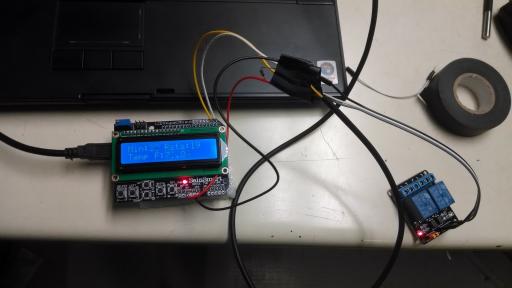 (simple project.)

Some random work today, along with misbehaving furnace. It locks up and stops cycling, requiring a hard reset. Perfect use for an arduino! Attached a temperature sensor to boiler pipes and then connected a normally closed relay to power furnace. After 20min if temp is less than 100deg it powers off furnace for 5 min. Working like a charm. Temporary solution until we get it repaired. About 2 hours total work.

Rubber Stamp Class (Thursday, Nov 20th - Joe )
(spent some time on open sign.)

Today's rubber stamp class went well with 3 students attending. Welcome Austin, our newest paid member who checked the place out for a bit and dove into some Arduino code. Paid member Wulfgar volunteered to rebuild our Lego Logo with his wife. Still fighting heat in the building, hope to get stuff sorted ASAP.

Open Make Night (Wednesday, Nov 19th - Joe )
Tonight's open make night went well, we had 5 members, 4 interested visitors and the news tribune hung out for a bit. Tested new laserable rubber and a flashy custom open sign.

First Class! (Tuesday, Nov 18th - Joe )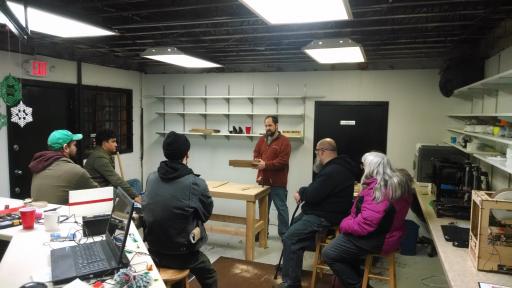 (Josh running his hand-planing class.)

Josh's hand woodworking class was a success. He had five students attend and it went smoothly. The remaining initial classes this week still have openings and are priced low. They should be laid back and fun to get involved. Click the Classes page to see the options.

Successful Opening (Sunday, Nov 16th - Joe )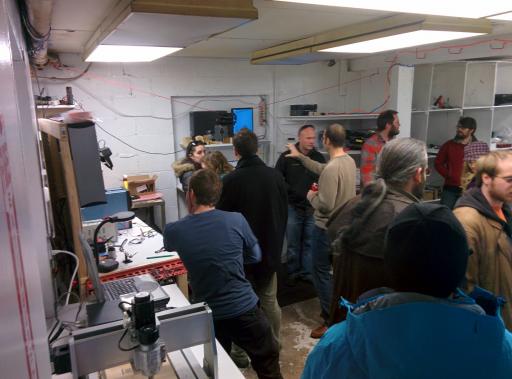 (A successful event!)

Today was a success. For the upcoming classes this week, anyone is welcome to sign up for them by signing in with a free member account and visiting the classes link at top of page. Just mark that you want to attend there, and then class payment will be taken at class time. Thanks to everyone who was involved today!

Endless Work.. (Friday, Nov 14th - Joe )
Matt, Sergio, Miranda and Jerry made up the slave crew today. Matt helped me make a couple trips hauling our new chairs and table tops? Hot water in Bathroom working. Some florescent light plastic replaced. Sergio artisticated our Whiteboard. Miranda Sealed Sign, Poly'd Break Table...

Work Work (Thursday, Nov 13th - Joe )
Sergio, Shanna, Chris, Matt and Miranda worked a lot. Shanna did some rough cleaning! Chris finished up sign. Matt sorted some electronics. Sergio was handy helper as always.

More Work (Tuesday, Nov 11th - Joe )
Alyssa cut out one sign worth on vinyl. Sergio and Shannon helped build break table. Scott and bro helped frame a shelf and some upstairs work.

Opening This Sunday! (Monday, Nov 10th - Joe )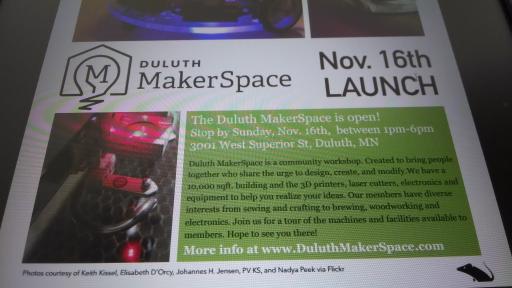 We have decided to Open this Sunday! Tons of work left, If anyone can help, this would be a great week for it. Flyers for distribution: https://docs.google.com/file/d/0B0r84xaN5N2LXy1sSk1kcmJrZ3M/edit

Weekly Meeting (Sunday, Nov 9th - Joe )
Busy day, did a little bit of Trim painting on top of everything else. We discussed class offerings and found teachers for all basic classes! We also discussed the possibility of Opening in a week! Sunday the 16th! We are going to spend today verifying we can do that, and then get the word out.

Work Log (Thursday, Nov 6th - Joe )
Miranda, Sergio and I worked hard all day:

Countertops End-capped
Bathroom and rest of areas touched up with white paint where needed.
Bathroom new lighting installed.
Some visible outlets and switches replaced.
Internet-entry window sealed with a proper board.
Fridge/Water Heater provisioned
One 4' metal clip hanger removed

Two new interested people showed up for tours as well.

Make Night (Wednesday, Nov 5th - Joe )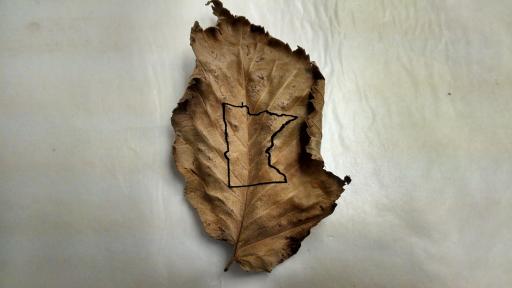 (Karl and Paul Laser Cutting Minnesota into Leaf)

Make Night was fun, a few new folks stopped by, Chris and Matt worked on Arduino Wifi, Karl and Paul played with Laser cutting leaves! Scott worked on FPV enabling a little RC car, but then the magic smoke was stolen from us.. still unsure why.

Prior to Make Night, Bathroom sink plumbing replaced and working, most of countertop installed now.

Another Full Day Of Slow Progress (Tuesday, Nov 4th - Joe )
Wow.. Worked hard all day, yet only managed to finish replacing the long old countertop, prep the big one. And Miranda cleaned and painted the bathroom Blue again.

Priority Renovations (Monday, Nov 3rd - Joe )
Replacing surrounding countertop and bathroom sink/med cabinent. Everything is a huge mess currently! Miranda and Sergio kicked butt today with the demolition.

Weekly Meeting (Sunday, Nov 2nd - Joe )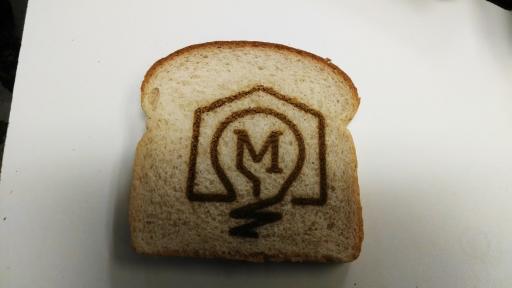 (We did Laser toast some bread though!)

Worked on framing new countertops, Weekly meeting was spent just discussing and going over minor things.. No big decisions this time. Rushing to get everything fixed up to open asap.

Break Room Beginnings (Saturday, Nov 1st - Joe )
I Craigslisted a nice fridge tonight. And we bought and hauled 34 feet of counter top! So next few days are going to be spent re-building countertop support structures.
Also scored some more free shelving, never can have enough shelving..

Work Day (Friday, Oct 31st - Joe )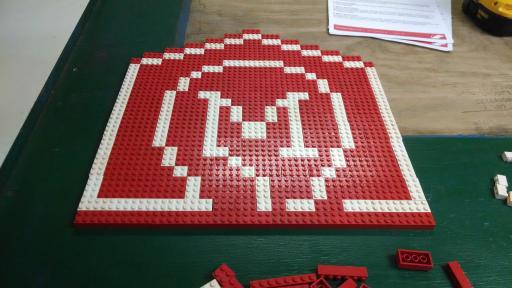 (If I had known this would take this much time...)

Bought another nice toy for the shop to arrive by next friday.
Sergio replaced the laser cutters outlet to GFCI. We properly vented the laser cutter to outside now with a high power vent. We discovered Polycarbonate is NOT a suitable material. I loaded a bootable USB drive with Ubuntu and attempted to boot the demo WYSE laptop.. It fails to complete startup. Definitely slow and not a good option. I also did some critical effort on the LEGO front, determining if we had enough LEGOs to build a table top. Of course, in doing this, We'll use up over half OF the legos.. but priorities.

Kids LED Party (Thursday, Oct 30th - Joe )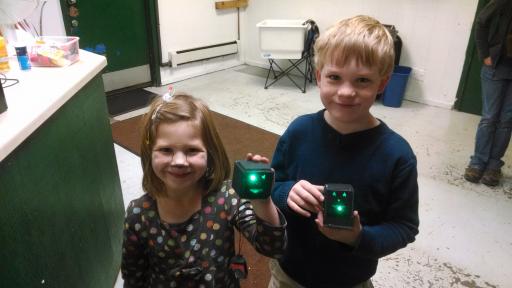 (Black foam board laser cut lanterns, and led strips.)

The Event went well. Several Members helped while around 20 kids came by. We helped them make LED Lanterns, And LED Throwies. Sergio stopped in and volunteered to help get setup which was great.

Troy's Robot Performance (Thursday, Oct 30th - Joe )
One of our interested folks is putting on a robot music performance. Anyone not helping with the kids tonight should go check it out. http://www.zeitgeistarts.com/teatro-zuccone/events/

Laid Back Make Night (Wednesday, Oct 29th - Joe )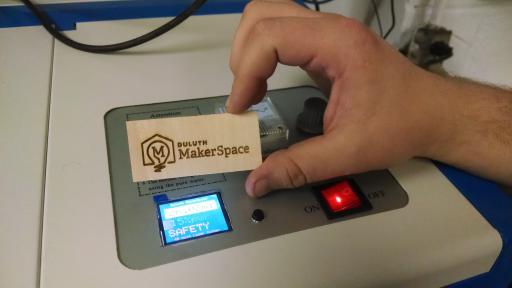 (Laser cutter much easier to use now.)

Only a few showed up tonight, good thing too since we still had a mess. We finished moving the Laser Cutter and mostly finished rewiring the desk outlets. Matt helped add an acrylic screen to the now finished laser status screen. Chris finished fixing his led Pong game. Paul helped get Foam cutter working. Miranda worked on assembling a mini RC kit plane.

Misc Prep (Tuesday, Oct 28th - Joe )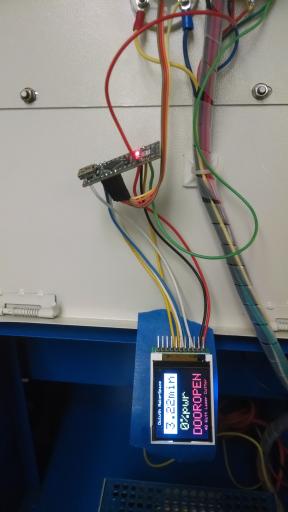 (arduino nano cheaper and smaller)

Came up with a desk wiring plan, and soldered an arduino nano in the laser cutter.

Weekly Meeting (Sunday, Oct 26th - Joe )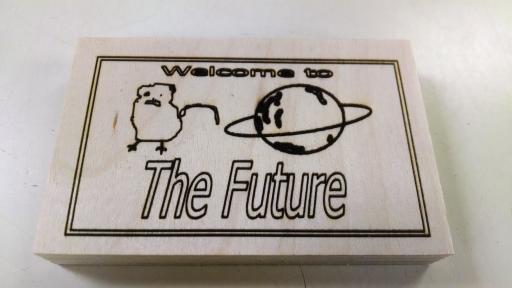 (Our newest member's first laser production! Looks great except for the monkey dog beast?)

We had three new faces stop by and show interest prior to the 6pm meeting, so that was a welcome surprise!
We didn't have many grand decisions this week:

brainstormed on sign construction.
Decided to move printers to Entry.
Decided to buy two additional tan printers.
Wire management brainstorming.
Bathroom fixup, hot water @ kitchen.
Lots of little things to do to prepare for opening yet!

Laser Brain (Saturday, Oct 25th - Joe )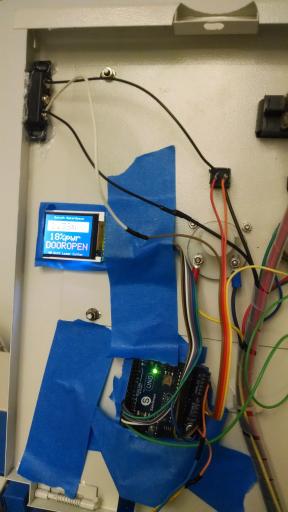 (Temporary Layout of Laser Panel)

Finished patching the roof as best as we can for now. We will see next big rain storm how much if any it helped!

Setup an Arduino to run a display showing Laser Cutter status. Power %, Timer in Minutes, door/switch status. Hopefully someone else wants to make it prettier :)


Roof Work (Friday, Oct 24th - Joe )
Spent the day spreading some tar... Fun! Trying to patch the few leaks well enough till spring where we can look into redoing the whole roof properly.

Roof Prep (Thursday, Oct 23rd - Joe )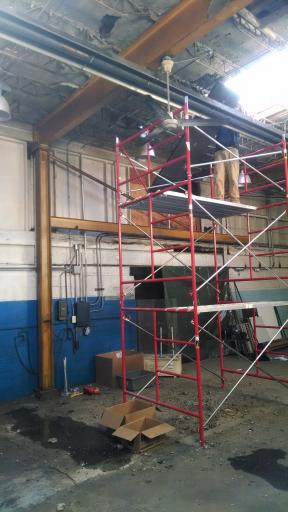 Finished the last scary section of roof which needed a reinforcement. Tomorrow we re-seal the roof and do some patches for the winter. Got the last required EXIT sign & backup lighting hung and wired in.

Make Night Success! (Wednesday, Oct 22nd - Joe )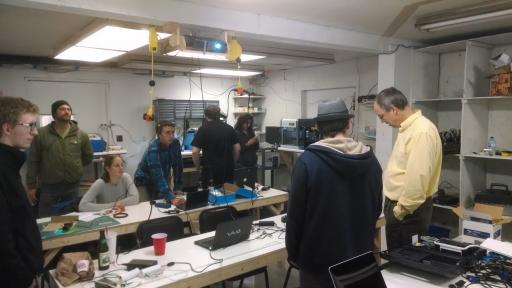 (Busy Place!)

Our first attempt to use the space as it should was a pretty good success. 9 people showed up and most machines worked although it was hard to focus on anything with lots of trouble shooting going on. We learned some things that need tweaking so that was very helpful. Thanks for showing up!

Nerd Nite (Tuesday, Oct 21st - Joe )
Nerd Nite was a good time. They put on an interesting show. One of the presentations was on makerspaces! We discussed working at cross promotions with nerd nite in the future. Chris, Paul, Matt and Miranda and I attended. Good work mingling guys :)

The biggest roof patch was mostly completed today. The roof may be ready to be re-sealed soon. Plan is to get it good enough so that it is leak free till next summer where we can then decide best route.

Request For Help! (Tuesday, Oct 21st - Joe )
Ok, we are now mostly done with the physical work on the winter space. Now we need to focus on the usable space, and our offerings before opening. We'd like to offer several classes to be scheduable at the opening. We are open to additional discussion, but are looking for interested teachers in the following:

Hand Wood Tools - Hand Planing - Josh Bailly
Laser Cutter - Rubber Stamp? - need teacher
3D Printers - Printing a downloaded model? - need teacher
Arduino - Simon Says? - need teacher
Other Classes? Jewelry? Crafts?

Class pricing and size negotiable, after materials, 50/50 profit split between teacher/space. Goals are low rates for introductory classes.


Who's At Shop Currently (Monday, Oct 20th - Joe )
At the top of this website above the address, A message will appear in bold whenever I, or anyone else that wants toset themselves up via Tasker for android to show they are at the shop. we do nto yet have an Iphone app figured, but will try to. (It needs to request a web URL when connecting and disconnecting from the shops wifi)

Weekly Meeting (Sunday, Oct 19th - Joe )
David H stopped by a little after 4 and helped with some electrical work. We had a small, 6 member meeting. Decided the following member related points:
Membership for this winter will be $25/mo including $5 shop credit. ($35 with spouse) The 3d printers will be tracked in an efficient way 5cents/gram which is deducted from your "shop credit". at membership renewal, you pay next months due + any shop credit deficit. Laser will probably be 5 to 10 cents per minute.

Halloween event may be put on hold for this year, unless a good operational idea and interest in running it can be put together.

Proper Opening will attempt to be ready in 2-4 weeks, where we'll make the place as organized, outfitted and professional as we can get it reasonably. We'd like to have the ~8 PC's ready, several classes scheduled, and safety all squared away.

Pre-Opening Open House Went Well! (Saturday, Oct 18th - Joe )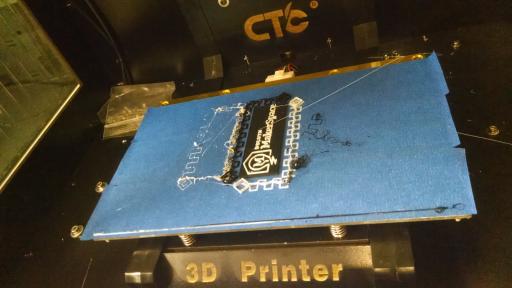 (Dual Extruded Logo Cards)

Today's open house went perfectly, we had roughly 20 new faces swing by. Both the laser cutter and dual extruder were busy turning out sample trinkets and a perfect amount of people showed up so it was easy to speak with everyone. I think we generated a good level of interest for this point in time! Thanks to everyone!

Mad Rush (Friday, Oct 17th - Joe )
Spent 14 hours on shop today :)

Lots More Cleaning Walls/Floors
Dual Extruder Heads Leveled
Ryan Installed internet, but still troubleshooting.
Thin Basswood Biz Cards Tested
Biscuited Shelving, finished install
Hand Planed and ground Bathroom door so it shuts and is latch-able.
Built Projector Screen Frame
Put SmokeDetector/CO2 Detector Up
Handed out some flyers for open house tomorrow.

Heat! (Thursday, Oct 16th - Joe )
Joe ran up north and collected a bunch of free donated hardware, etc. for our future needs. Miranda touched up some paint and did a bunch of heavy cleaning. We got the boiler running and leak-free heating the entry room and upstairs areas. Now we may need to finish those upstairs offices for the winter :) Re-did laser cutter's water system better.

Old Signs Down (Wednesday, Oct 15th - Joe )
Work Done:
Old PDQ building signs removed.
Laser Cutter Door Protection Added.
Bathroom Fixes.
Shelving Finished.
Ryan Verified Internet Availability.
+ Misc

Shelving (Tuesday, Oct 14th - Joe )
Accomplished minor tasks today:
New shelving bought and put back up in Entry.
Projector and Some ceiling power cord retractors mounted and wired up.
Replaced Laser Cutter outlet with GFCI since water involved.
Small shelving added to TechLab.
2 Small 1500 watt electric heaters wired to own circuits to take chill off.
Added Physical Mailbox and email account.


Good Day! (Monday, Oct 13th - Joe )
Karl dropped off some toys to donate.
Josh donated some nice sized wood pieces for Laser Etching Tests.
Ryan from Compudyne stopped by and Compudyne may be able to offer us $0 Internet Service! Work wise, shelving is going back up in entry area, and some other minor work.

MakerSpace Making! (Sunday, Oct 12th - Joe )
The hard-core makerspace makers got a chance to play with the new toys in the almost-working techlab! Scott and Karl got the laser cutter etching wood nicely. Alyssa and Paul got a new dual extruder 3D printer running. Chris and Matt helped finish up some desks and other stuffs. It was fun to finally have some toys! Shop will be open most nights now in a beta-testing for going proper-live open this weekend. So feel free to come down and play with toys or help get stuff ready.

Long Day (Friday, Oct 10th - Joe )
Trying to finish stuff up to go "Live" here. Did the following Today:
Josh helped build 4 nice materials shelves to tech shop.
Painted new shelves and patched/painted terrible white bathroom portions.
Class Desk number 2 of 4 assembled.
Furnace System tweaks planned and bought.
Keyangelo Assembled 2 Service Carts, Finished removing tile upstairs, and Insulated the 2 temporary walls.

Heating Pressure Tested (Thursday, Oct 9th - Joe )
Apparently only one major leak in heating plumbing. I replaced that piping, and It held air pressure. We got more painting done and Chris built a table. Scott traced all the gas lines to make sure look safe.

Couple More Equipment Counters (Wednesday, Oct 8th - )
Reed stopped by for a couple hours and we slapped up two equipment countertops on top of the temporary walls. These should work well to house our tech equipment for this winter. Cost under $25 for each. Also added a basic profile details page, so members can check their volunteer time logs, and the open accounting basic data accessible now.

Electronics Cart (Monday, Oct 6th - Joe )
Mostly finished a custom electronics cart.

Painting! + Weekly Meeting (Sunday, Oct 5th - Joe )
Painting went well, in the ~2 hours we managed to paint almost the entire entry area and classroom area. We also discussed Some initial Tech lab equipment options and tables/chairs options. Going to start putting some equipment orders in!


Walls (Saturday, Oct 4th - Joe )
Menards rents trucks $20/hr. nice. Works great for materials transport to shop. Mike and Joe got materials needed to replace some damaged sheetrock, and build temporary walls in door cavities. Got everything done short of one wall. Did some spray foam insulating as well.
Will do some final prep in morning for painting tomorrow.

Work Done! (Friday, Oct 3rd - Joe )
Brother Mike volunteered 5 hours today, so we washed the classroom walls, Got the bathroom all working, Powerwashed the woodworking area, and some other minor tasks. Rushing to be ready to paint Sunday!

Classroom Prep (Thursday, Oct 2nd - Joe )
Worked on removing some of the wall hangings and some old sheetrock from Classroom. Scott and Chris helped out.
Plumbing to bathroom ran, but not working yet.

Wall Cleaning (Wednesday, Oct 1st - Joe )
Walls in Entry all cleaned. Lots of work hand cleaning the rough surfaces, But entry is now ready for paint! Also organized room better by cleaning and using shelves.

Demo And Cleaning (Tuesday, Sep 30th - Joe )
Bathroom separation wall removed and bined. Some plumbing removed. Rooms swept and paint scraped. Prepped for wall cleaning.

Weekly Meeting (Sunday, Sep 28th - Joe )
Reed and Scott showed up before meeting to do some demo and hauling.
The meeting was pretty laid back, decided against attempting Boo at the Zoo this year. May still attempt a Halloween Eve local thing. Reed proposed a new logo and it's being vigorously considered.

Powerwashing + Misc (Saturday, Sep 27th - Joe )
Powerwashed both the bathroom and 1/2 of main area. Worked on various other areas to prep for Sunday's volunteers.

SouthEast Room Powerwashed (Friday, Sep 26th - Joe )
One more room powerwashed.. only 10% of building!, It did look like the previous room had dried pretty well. Of course powerwashing the room next to it blew in a bunch of mess.. oh well.

Powerwashing (Thursday, Sep 25th - Joe )
Joe Demo'd a bathroom wall. Adam and Chris Helped powerwash the classroom area.. It was good to have help :) Josh Swung by and helped wash and put scaffolding together.

Hose Water! (Wednesday, Sep 24th - Joe )
We have a working hose now, So makes cleaning possible now :). Also tested out flying at the nearby field, enough room for foamies. Shop vac and Hose Ready for power-washing now as well.

Curb Alert And Demolition (Monday, Sep 22nd - Joe )
Curb-Alerted half of the children's junk we hauled out. Picked up a commercial 36" fan and wet vac for cheap. Half demolished the bathroom wall.

Weekly Meeting (Sunday, Sep 21st - Joe )
A good couple hours of volunteer work where 4 people showed up and were a great hauling help. Followed by a good Logo selection meeting which was pretty unanimous. Chris will be working on some variations, but it's a good inclusive, creative logo, and will make for a great physical sign! We also discussed kitchen layouts, inclusivity, and touched on funding methods. Decided to chase down Russ some day in the next week to have him help explain options with possible SLS integration.

Demolition (Saturday, Sep 20th - Joe )
Joe gutted most of the 'scary bathroom' and then Scott swung by to help deal with most of the server room ceiling.

Demolition (Friday, Sep 19th - Joe )
Peter, Karl and Joe made a royal mess today! SW office gutted! Server room walls and floor gone!

Demolition Continues (Thursday, Sep 18th - Joe )
Joe spent the afternoon making a mess, Karl swung by and tossed sledge around for a bit.

Demolition Begins (Wednesday, Sep 17th - Joe )
Joe spent the afternoon planning and beginning the demolition of several rooms. Dumpster comes Friday.

Building Purchased (Tuesday, Sep 16th - Joe )
10,000sqft! 30th Ave West Superior St. Duluth, MN! An empty building now, but Classroom, TechShop, WoodShop, MetalShop, +More, +More in the future!
We had 2 hours volunteer cleanup work, and then a Pizza and Name selection event with a gathering of a dozen dedicated supporters! - Duluth MakerSpace. This website was started.