RECENT NEWS All News (most recent at top)
Keep On Trucking ! (Wednesday, Aug 21st - Hg )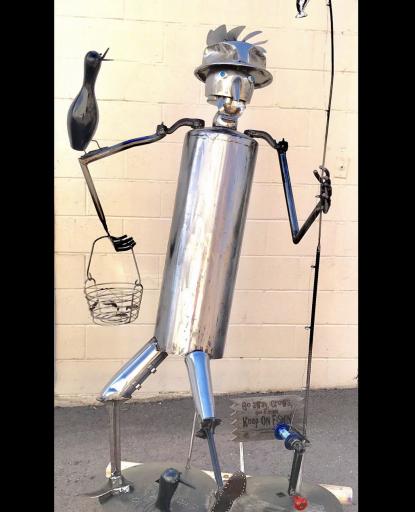 (Another awesome sculpture ! )

Another fun creation from member Mike O. This piece was created for the Minnesota State Fair Scarecrow Comp. This sculpture was based on a cartoon character from the 60's referencing the roaming nature of the nation at the time. It's welded out of recycled materials such as muffler, old shoe horns, and various other materials; all creatively assembled at the @duluthmakerspace. Keep on trucking, Mike.

3D Tap Handles !! (Friday, Aug 16th - Hg )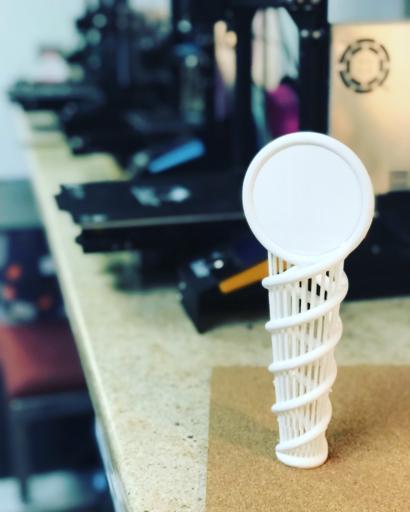 (So cool ! )

A great new tap handle for Duluth Kombucha, compliments of DMS member Troy compliments of the 3d printers at DMS and creator @robotrickshaw. Go see it in action @duluthkombucha !

Nefertiti Resurrected - From Stone To Plastic (Sunday, Jul 21st - HG )

(The Egyptian Queen )

As part of a 15 year running event, Fab Lab Egypt and Fab Lab new Cairo, are hosting the annual gathering for all Fab Labs and maker-spaces around the world. Each year, members of worldwide Fab Labs gather to share and create communities around the different local and global interests regarding digital manufacturing, innovation, and technology.

This year it's gonna happen in Egypt, which has more than 7000 years of making history. This year, they are assembling a large version of the original, an 18" sculpture of Bust of Nefertiti which is currently on display in Germany. As a brief history recap, Nefertiti reigned as queen of Egypt from 1353-1336 BC and may have ruled as Pharaoh after her husband's death.

In comes the Duluth Makerspace. Jesse Ferguson, a member at DMS, decided that this would be a cool project to work on and so, took up his share. They will begin to assemble these 3D printed pieces of the sculpture will be built at Fab15, a conference taking place July 28th to August 4th in Cairo and ElGouna Egypt. Congratulations to Jesse for collaborating on this unique project.

UPCOMING CLASSES & EVENTS See All

Today
Wednesday
Aug 21st

Tomorrow
Thursday
Aug 22nd

Class: Welding 101 (6:00pm-8:00pm)[$90]
Learn the basics of welding. With a focus on terminology, applications and safety. At the end of class, you will have the opportunity to schedule one-on-one time with Matt for the second portion of the class where you learn and practice welding. Price includes two hour class along with three hour one-on-one time to be scheduled.

This
Friday
Aug 23rd

Class: Cold Process Soap Making (6:00pm-8:00pm)[$25]
Learn the basics of cold process soap craft from start to finish using lye and different oils and fats. We'll cover safety, tips, resources, and the fundamentals of the age-old craft. This handmade soap makes a great gift, maybe for Mother's day - especially for those with chemical sensitivities.

This
Saturday
Aug 24th

This
Sunday
Aug 25th

Class: Lapidary 101: Stone Cutting and Polishing (2:00pm-5:00pm)[$30]
Learn the principles for stone cutting and polishing in order to create something such as a pendant. Get hands-on experience with the 10" saw, the trimming saw, and grinding wheels. The class will cover basic tool use and how to operate them safely.

This
Monday
Aug 26th

Class: Skateboard Ring (6:00pm-7:30pm)[$18]
Reuse old skateboards to make a wooden ring. Using the band saw, drill press, belt and disc sanders. This is a great introduction to some of the Woodshop equipment. Beginners welcome!

This
Tuesday
Aug 27th

Next
Wednesday
Aug 28th

Next
Thursday
Aug 29th

Class: Woodshop 101 (6:00pm-8:00pm)[$10]
A basic introduction into the wood-shop and the tools available.

Next
Friday
Aug 30th

Class: Intro to the X-Carve CNC (6:00pm-8:00pm)[$23]
Learn how to run the X-Carve CNC router. You will be guided through designing a small project then learning how to set up the X-Carve to cut your project out of wood.

Next
Saturday
Aug 31st

Next
Sunday
Sep 1st

Next
Monday
Sep 2nd

Class: Acrylic Painting Basics (6:00pm-8:00pm)[$30]
Learn to paint like the masters. Learn basic color theory and composition in a painting you can take away with you.

Next
Tuesday
Sep 3rd

Wednesday
Sep 4th

Event: Project Show-and-Tell (6:30pm-7:30pm)
Free event open to anyone. Stop by the shop to show off a project or come check out an interesting project or something else interesting!