RECENT NEWS All News (most recent at top)
Sharpening Ol' Skills (Monday, Jun 3rd - Hg )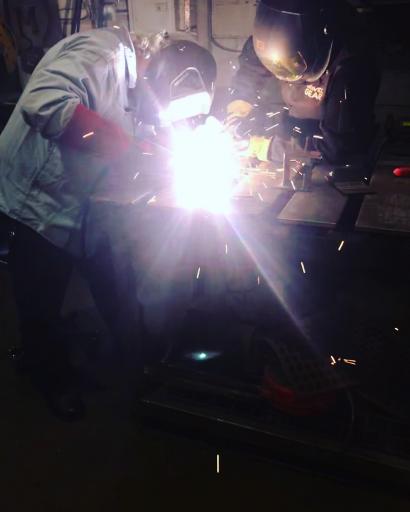 (Turns out you can always teach a old dog new tricks! )

It had been a while since DMS member, Steve, picked up a welder and did some work. To remedy this, he set up a 101 class with one of our metal workers and tuned up his skills. Pictured above is Steve, working on a spot weld.

Do you need to sharpen up those welding skills ?
Or are you a total beginner with a project in mind ? Let us now and we'll set up a class at the Duluth makerspace!

DIY Kitchen Island (Monday, May 27th - Hg )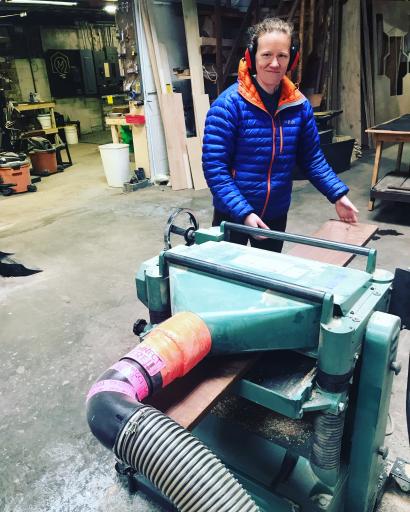 (Why not just do it yourself!)

Whatever the idea is, the Duluth Makerspace is the place to make it happen!

DMS member Lisa, needed more counter-space. So after a little deliberation, she decided to make her own. Keep up the creativity !

Memorial Day Weekend (Thursday, May 23rd - HG )
DMS will be closed to the public this Memorial Day Weekend. Thanks

UPCOMING CLASSES & EVENTS See All

Today
Sunday
Jun 16th

Tomorrow
Monday
Jun 17th

Meeting: Member Meeting (6:30pm-6:30pm)
Member meeting ! Tell a member ! If you have a topic to bring to the meeting, please email duluthmakerspace@gmail.com or message Hyland Garvey on Slack in advance.

This
Tuesday
Jun 18th

This
Wednesday
Jun 19th

This
Thursday
Jun 20th

Class: Intro to 3D Printing (6:00pm-8:00pm)[$17]
This class will introduce you to 3D printing with a short primer on how it works. Then you will be guided on arranging your model and printing it on one of the shop printers to take home.

This
Friday
Jun 21st

This
Saturday
Jun 22nd

Next
Sunday
Jun 23rd

Class: Intro to Plasma Cutting (12:00pm-3:00pm)[$35]
Learn how to use the hand held plasma cutter to cut out a small (up to 12"x12") design out of metal. Then learn different finishing techniques depending on your design. No experience necessary. Please come with a design in mind and your own safety glasses, hearing protection and gloves. Last sign up will be the Friday before the class by 1:00.

---

Class: Wire Wrap Jewelry (1:00pm-2:30pm)[$15]
Come try building your own wire-wrapped jewelry. All of the tools and materials will be provided along with some guidance on making a tree of life which can be used as an earring, pendant or window hanging! No experience necessary.

Next
Monday
Jun 24th

Next
Tuesday
Jun 25th

Class: Welding 101 (6:00pm-8:00pm)[$90]
Learn the basics of welding. With a focus on terminology, applications and safety. At the end of class, you will have the opportunity to schedule one-on-one time with Matt for the second portion of the class where you learn and practice welding. Price includes two hour class along with three hour one-on-one time to be scheduled.

Next
Wednesday
Jun 26th

Next
Thursday
Jun 27th

Next
Friday
Jun 28th

Next
Saturday
Jun 29th

Sunday
Jun 30th

Class: Lapidary 101: Stone Cutting and Polishing (2:00pm-5:00pm)[$30]
Learn the principles for stone cutting and polishing in order to create something such as a pendant. Get hands-on experience with the 10" saw, the trimming saw, and grinding wheels. The class will cover basic tool use and how to operate them safely.