RECENT NEWS All News (most recent at top)
Member Drive Month ! (Wednesday, Oct 2nd - hg )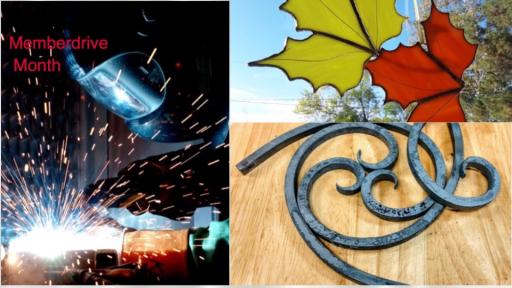 (Bring your friends, family and coworkers!)

Its that time for our annual Member-drive ! We encourage everyone to spread the word and let as many folks know about us as they can. Tell a friend, family member, or coworker all about the space and. All throughout the the month of October, we will be hosting a plethora of classes and special events such as an open house and student night. More details to come! See ya at the Duluth Makerspace!

Gecko (Monday, Sep 23rd - hg )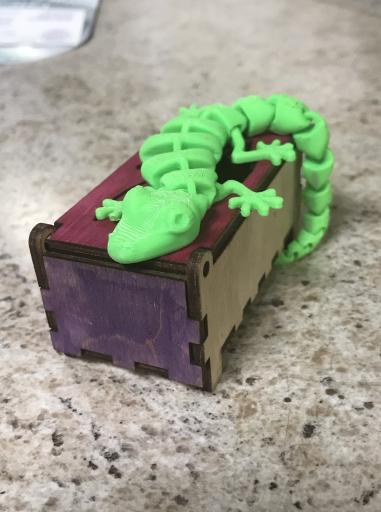 (A little Gecko to start the week )

Check this little guy out! A fun project from your Duluth Makerspace 3D printer lab.

Media Desk (Monday, Sep 23rd - hg )
(Another Phenomenal woodwork project )

Another fun product from the work shop from DMS member, Ian Nicks. Upon realizing he was in need of a media station he got to work in the wood-shop @duluthmakerspace. This desk/media center is the result of a little creativity and elbow grease. Looks like it turned out great!


UPCOMING CLASSES & EVENTS See All

Today
Monday
Oct 14th

Meeting: Member (6:00pm-8:00pm)
Standard Member Meeting, held the second Monday of every month. If you have subject matter for the meeting please submit at duluthmakerspace@gmail.com. See you there!

Tomorrow
Tuesday
Oct 15th

This
Wednesday
Oct 16th

This
Thursday
Oct 17th

Class: Woodshop 101 (6:00pm-8:00pm)
This is a requirement to use the wood shop. This course will review all basic skills necessary to utilize the woodshop.

---

Class: Intro to 3D Printing (6:00pm-8:00pm)[$17]
This class will introduce you to 3D printing with a short primer on how it works. Then you will be guided on arranging your model and printing it on one of the shop printers to take home.

This
Friday
Oct 18th

This
Saturday
Oct 19th

This
Sunday
Oct 20th

Class: Basic Stained Glass (11:00am-1:00pm)[$35]
In this beginner stained glass class, you will learn the basic techniques of cutting glass, construction using copper foil and solder. Hang onto the Fall colors a little longer. By the end of this class, you will have constructed a beautiful stained-glass maple leaf. If time allows you will have the opportunity to make additional leaves for an additional fee of $10 per leaf.

---

Class: Intro to Plasma Cutting (12:00pm-3:00pm)[$35]
Learn how to use the hand held plasma cutter to cut out a small (up to 12"x12") design out of metal. Then learn different finishing techniques depending on your design. No experience necessary. Please come with a design in mind and your own safety glasses, hearing protection and gloves. Last sign up will be the Friday before the class by 1:00.

Next
Monday
Oct 21st

Class: Welding 101 (6:00pm-8:00pm)[$90]
Learn the basics of welding. With a focus on terminology, applications and safety. At the end of class, you will have the opportunity to schedule one-on-one time with Matt for the second portion of the class where you learn and practice welding. Price includes two hour class along with three hour one-on-one time to be scheduled.

Next
Tuesday
Oct 22nd

Class: Intro to Arduino (6:00pm-7:30pm)[$18]
Arduino! Automate, interact, log, build all sorts of amazing possibilities with an Arduino Micro-controller. This class is an introduction to the very basic programming of an Arduino and how to control very basic components. Completely geared towards beginners. No programming or electronics expertise recommended!

Next
Wednesday
Oct 23rd

Event: Demo Night! Musical Robots! (6:00pm-7:30pm)
Free event open to anyone. Stop by the shop to see to this week's demonstration! Our members demonstrate products, machines, and techniques. Usually hands on opportunities and always fun.

Next
Thursday
Oct 24th

Event: Cleaning Night (6:00pm-8:00pm)
Come help clean up the space and get some pizza! Sweeping, mopping, and a general clean up of the space. Bring your gloves, lets make this place look good.

Next
Friday
Oct 25th

Class: Skateboard Ring (6:00pm-7:30pm)[$18]
Reuse old skateboards to make a wooden ring. Using the band saw, drill press, belt and disc sanders. This is a great introduction to some of the Woodshop equipment. Beginners welcome!

Next
Saturday
Oct 26th

Next
Sunday
Oct 27th

Class: Lapidary 101: Stone Cutting and Polishing (2:00pm-5:00pm)[$30]
Learn the principles for stone cutting and polishing in order to create something such as a pendant. Get hands-on experience with the 10" saw, the trimming saw, and grinding wheels. The class will cover basic tool use and how to operate them safely.

Monday
Oct 28th