RECENT NEWS All News (most recent at top)
Drum Kit Facelift (Friday, Apr 19th - Hg )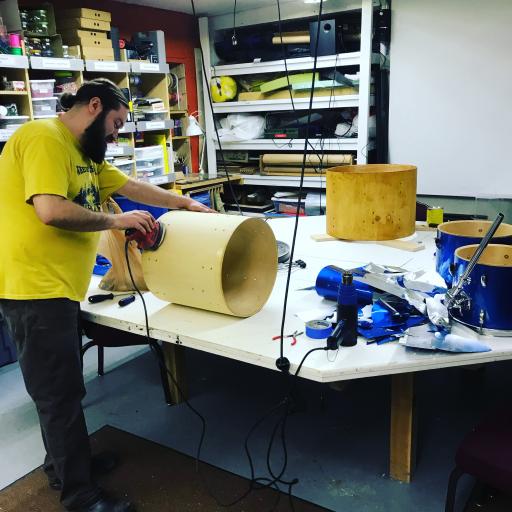 (Rat-a-tat)

From old to new! DMS member, Alec deciced it was time to give his drum kit a new look with Homegrown just around the corner. Picture here is, post-removal of the cracker blue vinyl. Once sanded, he plans on giving them a few coats of stain. Way to be creative!

Woodshop Work (Friday, Apr 19th - Hg )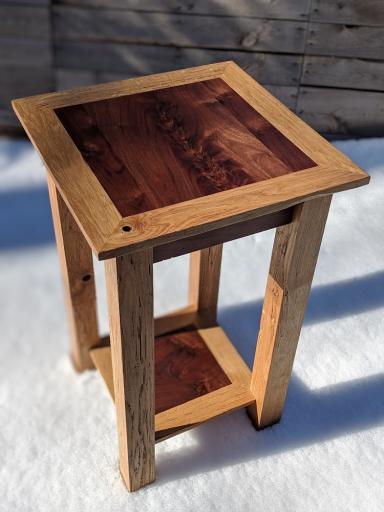 (Amazing what a little stain does )

It's amazing what a coat of stain can do. Beautiful finished product of DMS member Ian. A great example of the work from our full fledged wood-shop @duluthmakerspace !

Even Barbie Needs A Toilet. (Thursday, Apr 4th - Hg )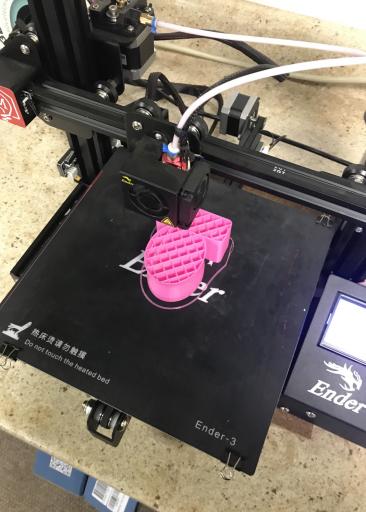 (Pretty Pink 3D potty )

Even Barbie needs a toilet.
DMS Chris' daughter requested a pink potty for her Barbie and, Chris creatively answered the call. Here, he is having one of our new 3D printers print such a pretty pink thunder-throne for the dolls. Well done, Chris!

UPCOMING CLASSES & EVENTS See All

Today
Tuesday
Apr 23rd

Class: Rock Engraving (6:00pm-7:30pm)[$15]
Learn to laser engrave a rock with artwork or text! A 2x2 inch engrave area is optimal for this class. You will learn to use the 40watt lasers and mini-rock beds to engrave a mostly-flat rock. Stop at a beach or bring a rock from home. We will have a few rocks at the shop to choose from as well.

Tomorrow
Wednesday
Apr 24th

This
Thursday
Apr 25th

Class: Welding 101 (6:00pm-8:00pm)[$90]
Learn the basics of welding. With a focus on terminology, applications and safety. At the end of class, you will have the opportunity to schedule one-on-one time with Matt for the second portion of the class where you learn and practice welding. Price includes two hour class along with three hour one-on-one time to be scheduled.

This
Friday
Apr 26th

Class: Cold Process Soap Making (6:00pm-8:00pm)[$25]
Learn the basics of cold process soap craft from start to finish using lye and different oils and fats. We'll cover safety, tips, resources, and the fundamentals of the age-old craft. This handmade soap makes a great gift, maybe for Mother's day - especially for those with chemical sensitivities.

This
Saturday
Apr 27th

This
Sunday
Apr 28th

Class: Wire Wrapping: Bales (1:00pm-2:30pm)[$15]
Learn two different, simple bales. One includes a spiral. A technique that can be used in other projects. Bring your own button to put a bale on if you have one you like.

This
Monday
Apr 29th

Next
Tuesday
Apr 30th

Next
Wednesday
May 1st

Event: Project Show-and-Tell (6:30pm-7:30pm)
Free event open to anyone. Stop by the shop to show off a project or come check out an interesting project or something else interesting!

Next
Thursday
May 2nd

Next
Friday
May 3rd

Next
Saturday
May 4th

Next
Sunday
May 5th

Next
Monday
May 6th

Class: Acrylic Painting Basics (6:00pm-8:00pm)[$30]
Learn to paint like the masters. Learn basic color theory and composition in a painting you can take away with you.

Tuesday
May 7th